Will Ashton Kutcher Cheat On Demi Moore Even More With New Sitcom Job
"Two And A Half Men" Role Means More Groupies
August 16. 2011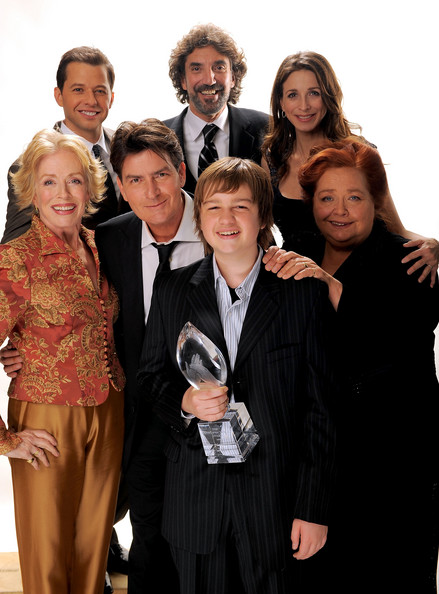 "Two And A Half Men" with Charlie Sheen (second from the left)
Will Kabbalah member Ashton Kutcher, 33, cheat on his wife, Demi Moore, 49, even more, due to his new job on the CBS television show "Two And A Half Men." Kutcher, who couldn't act his way out of a paper bag, replaces seasoned comedic actor, Charlie Sheen, who is also in Kabbalah.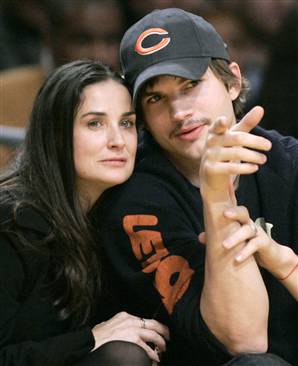 Demi Moore and Ashton Kutcher
Suffering from Kabbalah induced psychosis, Sheen lost the plot and went on a series of bizarre rants, repeatedly spewing the cult's nonsensical and destructive lingo, which shocked the public. He even attacked the makers of the show "Two And A Half Men" who paid him $2,000,000 per episode as the sitcom's leading star.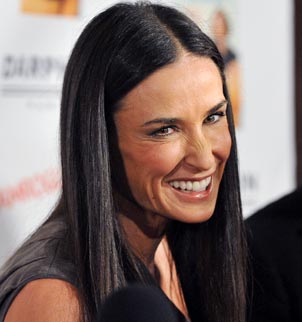 Demi Moore
Kutcher, like Sheen, is a playboy that has a penchant for bedding young women, in spite of their marriage vows. Kutcher was publicly humiliated last year for cheating on his wife with two women. Being given a role on the top sitcom in the nation will increase his visibility...and infidelity.
RELATED ARTICLES
Report: Ashton Kutcher Involved With One Of His Stepdaughters
Demi Moore Treats Ashton Kutcher Like A Child
Ashton Kutcher And Demi Moore Look Defeated
Ashton Kutcher's Mistress: He And Demi Moore Have An Open Marriage
Ashton Kutcher Not Serious About Marriage To Demi Moore
Demi Moore Is So Desperate To Keep Younger Ashton Kutcher She Tolerates Cheating
Ashton Kutcher And Co. Not Influential On Twitter
Kabbalah Hackers Erase Ashton Kutcher Adultery Story
Ashton Kutcher Should Not Have Married Demi Moore
Ashton Kutcher's Text Messages Betray Wife Demi Moore
Ashton Kutcher Cheated On Demi Moore With Two Women