Woman Arrested Hiding Money And Drugs In Her Spacious Vagina
You Know, The Vagina Really Isn't Meant For That!
December 11. 2015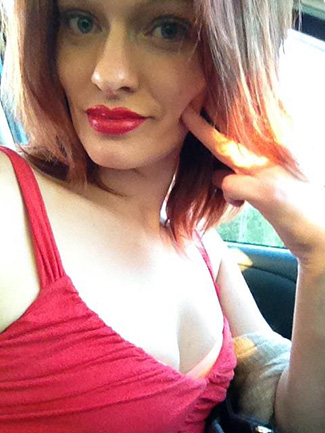 Chelsea Sperry
A woman in Alaska, Chelsea Sperry, was arrested for using counterfeit money to pa for items at a store. Police then discovered she was driving on a suspended license, which is a legal offense. While being processed at a local jail on the two aforementioned offenses, police noticed Sperry making "furtive movements towards her vagina."
Police ordered a "body scan" which revealed Sperry "had items concealed in her vagina or anus." A body searched was ordered using a female police officer, who retrieved "A wad of cash and drugs from inside" Sperry. According to the Smoking Gun website the items that were hidden inside Sperry's vagina included counterfeit money in the form of, "Six $100 bills, three $50 bills and seven $20" totaling $890. Two baggies of meth, morphine pills and heroin were also found inside Sperry's vagina, for a total of six bags of drugs. And to boot, she had a real $10 bill in her anus. First class all the way (LOL).
Seriously though, you were paying store clerks with money you were carrying in your vagina and your butt. That's highly disrespectful. And why are you carrying all this stuff in your vagina, as it really wasn't meant to be a carry all. Don't you have a purse (LOL).
STORY SOURCE
Cops Find "Wad" Of Cash, Drugs Inside Alaskan
DECEMBER 11--An Alaska woman appears to have set the record for the amount of counterfeit currency and narcotics hidden inside body orifices, according to court records. Fairbanks police were dispatched last month to an adult novelty store after a clerk called 911 to report that a couple sought to purchase merchandise with a counterfeit $100 bill.
Before cops could get to the Castle Megastore, suspect Chelsea Sperry, 31, left the business with a "large wad of cash" provided by her boyfriend (who waited for police to arrive). Shortly after Sperry drove away from the business, she was pulled over by police who had been given her description by the store employee.
When a check revealed that Sperry was driving with a suspended license, she was arrested and transported to the Fairbanks Correctional Center. At the jail, a corrections officer observed Sperry "making furtive movements toward her vagina," according to a criminal complaint. Sperry was then "put through a body scan," which revealed that she "had items concealed in her vagina or anus."
A female corrections officer subsequently "removed a wad of cash and drugs from inside" Sperry. The haul included six $100 bills, three $50 bills, and seven $20 bills, all of which were counterfeit. The $890 in funny money, however, was supplemented by a genuine $10 bill that "was discovered in Sperry's anus."...
Sperry's arrest--which was first reported by Dorothy Chomicz of the Fairbanks Daily News‑Miner--was brought to TSG's attention by a reader who demanded to know, "How big of a hoohaa does this woman have?" The correspondent then answered their own question, declaring, "Bigger than a backpack!" (3 pages)