Woman Charged With Manslaughter For Goading Her Boyfriend Into Committing Suicide
June 8. 2017
Conrad Roy II
18-year-old Conrad Roy II, committed suicide in 2014, after his girlfriend unconscionably goaded him into committing suicide, as she wanted attention and sympathy as the "grieving girlfriend." 20-year-old Michelle Carter has been charged with manslaughter in Massachusetts, in reference to his tragic death, after she concocted a vicious scheme to mentally and emotionally manipulate her distraught boyfriend.
Roy was already suffering from depression due to his parents divorce and physical abuse from a relative. Carter sent Roy a stream of abusive, terrible text messages, numbering 40, pushing him into killing himself. In fact, she demanded it in the texts, in what is a very twisted plot.
Carter sent Roy evil text messages which contained lines such as, "The time is right and you're ready, you just need to do it!" and "well I guess [that I am frustrated] just because you always say you are gonna do it but you donít. But last night I know you really wanted to do it and Iím not mad. Well, I mean, kind of, I guess, just because you always say youíre gonna do it...but you donít but last night I knew you really wanted to and Iím not mad."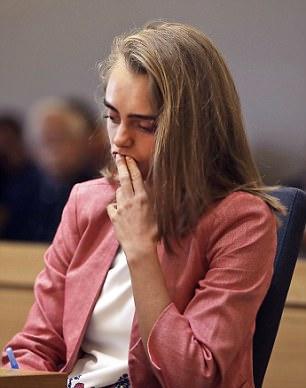 Michelle Carter
Another of Carter's text painted a deceitful picture of how Roy's family would possibly react if he committed suicide, "Everyone will be sad for a while but they will get over it and move on. They wonít be in depression. I wonít let that happen. They know how sad you are, and they know that you are doing this to be happy and I think they will understand and accept it. They will always carry you in their hearts."
Those are not the words of a kind, caring girlfriend trying to save someone's life. They are the words of a selfish, abusive person. It's heartbreaking that someone who was suffering through emotional trauma was manipulated and pushed over the proverbial edge. Someone who cares about you would not do that. Though family members sometimes disagree, they do not want anyone committing suicide. It is very emotionally painful for those left behind.
Roy was found dead in his truck from carbon monoxide poisoning. After his death, Carter sent text messages to friends about a baseball memorial and demanded all the credit for it. She is an attention seeking woman, who only cares about herself. It is fitting that Carter has been charged with manslaughter, as her callous, calculated, evil actions cost another human being their life.
STORY SOURCE
'A pawn in her sick game': Woman, 20, 'persuaded her boyfriend, 18, to kill himself in a calculated bid to get attention as the grieving girlfriend and she even carried out a dry run two days before his suicide'
Published: 14:59 EDT, 6 June 2017 | Updated: 19:45 EDT, 6 June 2017 - Michelle Carter is charged in the 2014 death of 18-year-old Conrad Roy III who was found dead of carbon monoxide poisoning in his pickup truck in Fairhaven in July 2014. Prosecutors say that the 20-year-old had persuaded Roy to kill himself in calculated a bid to get 'attention' as the grieving girlfriend.
'She used Conrad as a pawn in her sick game of life and death,' said prosecutor Maryclare Flynn. They added that on July 10, two days before his suicide, she had carried out a 'dry run'. 'She knew her plan to get attention would work because she pre-tested it,' they said. 'Two days before Conrad committed suicide, she did a dry run, texting several girls that Conrad had gone missing while simultaneously testing Conrad, telling him to get the gas machine.'...