Karrueche Tran Spotted With Manchester United Millionaire Football Star Memphis Depay Who Posts Selfie
June 19. 2015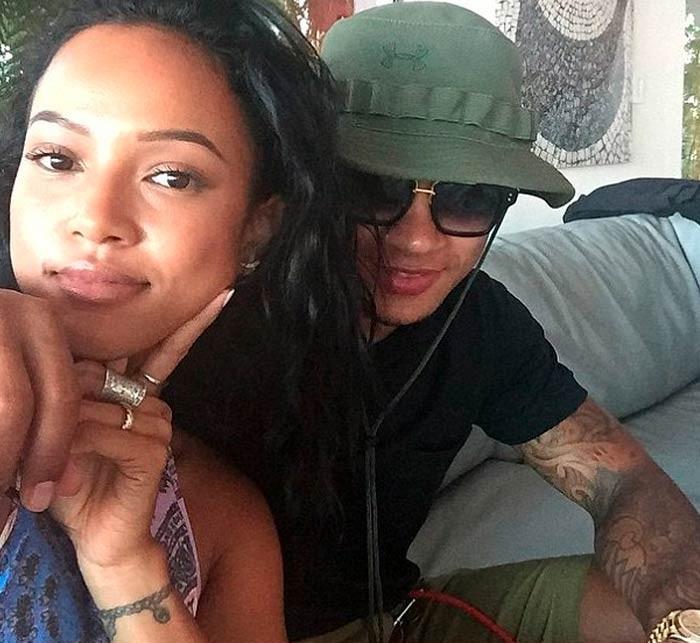 Karrueche Tran and Memphis Day
21-year-old Manchester United footballer, Memphis Depay, who signed a $40,000,000 deal with the English football club this year, posted a photo of himself sitting beside Karrueche Tran, the ex-girlfriend of R&B singer, Chris Brown. The two took the cozy photo in Miami yesterday. Depay is smirking and Tran is smiling. The people on Depay's social networking pages are congratulating him (LOL).
Depay is brave, because if you remember correctly, last month, Tran took an innocent selfie with male supermodel, Tyson Beckford and the singer threatened to break his legs and have his Bloods gang associates shoot him in Las Vegas, Nevada (Chris Brown Having Ex-Girlfriend Followed And Threatens To Have His Bloods Gang Members Kill Model Tyson Beckford Over Selfie With Karrueche Tran). I hope Depay has good security (joking).
Side Bar: A $40,000,000 deal…Depay got de-pay as in the pay (LOL)!
RELATED ARTICLES
Tyson Beckford Slams Chris Brown Stating He Is 'Not A Real Man' Over Death Threat Regarding Selfie With Ex-Girlfriend Karrueche Tran (Video)
Chris Brown Threatens Tyson Beckford's Child Over The Model's Selfie With His Ex-Girlfriend Karrueche Tran
Chris Brown Apologizes To Tyson Beckford And His Family Over Threats Of Violence
Chris Brown Apologizes To Fans Over Tyson Beckford Incident And Other Outbursts