Mariah Carey Slammed For Lip Syncing During Live Concert (Video)
February 2. 2015
Singer Mariah Carey was slammed by mainstream news sites and blogs for lip syncing her way through a live concert in Kingston, Jamaica at the Jazz and Blues Festival this past Friday. Carey performed her past hits and dishonestly mimed the entire show at what is a live event, again confirming to the world her voice is badly damaged.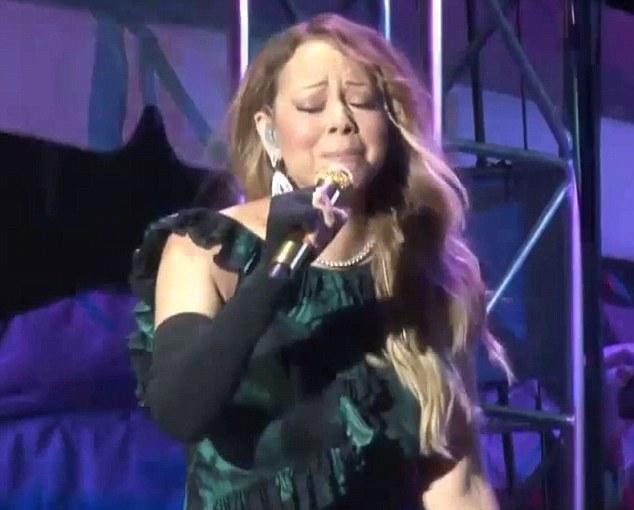 Mariah Carey struggling to even lip sync
Weeks before her disastrous performance at the Jazz and Blues Festival, the Judiciary Report stated Carey should forgo an announced Las Vegas residency, where she has signed a contract to perform night after night (Mariah Carey Planning Las Vegas Residency But Will Her Voice Hold Up). The Judiciary Report has been proven right again, as this week it has been revealed ticket sales for Carey's upcoming Vegas shows are very low.
Mouth wide open...no music coming out
Years ago the Judiciary Report was the first to state Carey's voice is badly damaged. Then some of her fans raised a stink on my Twitter page, only to be confronted by the truth years later when mainstream sites and television shows began stating the same, airing footage to illustrate said claims. These same fans have not said a word to me since, as the truth has now come out about Carey's voice. Ironically, those same fans have not supported Carey's CD released last year or her new Las Vegas show, both of which have bombed in the sales department.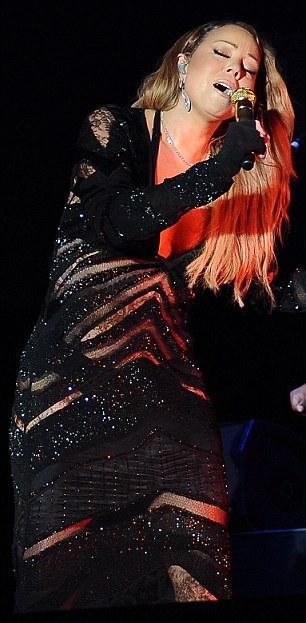 Mariah Carey singing lip syncing her little heart out
Carey has made her vocal problems worse year after year with poor practices that have created additional damage. It should be a scary warning to singers about the perils of forcefully belting in an upper octave range while singing. Take care of your voices (those of you who can sing, that is).
RELATED ARTICLES
Mariah Carey Planning Las Vegas Residency But Will Her Voice Hold Up
Mariah Carey Booed In Japan As Her Voice Gives Out During Concert Where She Slammed Husband Nick Cannon As A "Motherf******"
Mariah Carey's Disastrous Tree Lighting Performance In New York Leaves Critics And Fans Slamming Her (Video)
Mariah Carey And Nick Cannon Headed For Divorce After He Does Interview About His Sexual Conquests
Nick Cannon Dates New Woman While Mariah Carey's Tour Descends Into A Costume And Vocal Disaster
Mariah Carey And Nick Cannon Headed For Divorce After He Does Interview About His Sexual Conquests
Men Who Make The Mistake Of Publicly Bragging About The Number Of Women They've Had Sex With
Nick Cannon Left Mariah Carey Because He Says She Is Mentally Ill