Meek Mill Calls Drake A Fake (Video)
Drake's Ghostwriter Comes Forward Damaging His Career With New Scandal
July 24. 2015
A feud has erupted between rappers Meek Mill and Drake. Meek Mill, who has collaborated with Drake in the past, has accused the rapper of not writing his own lyrics, which is a big no no in rap music. Meek Mill slammed Drake on Twitter, labeling him a fake, in deeds that has greatly damaged the latter's career.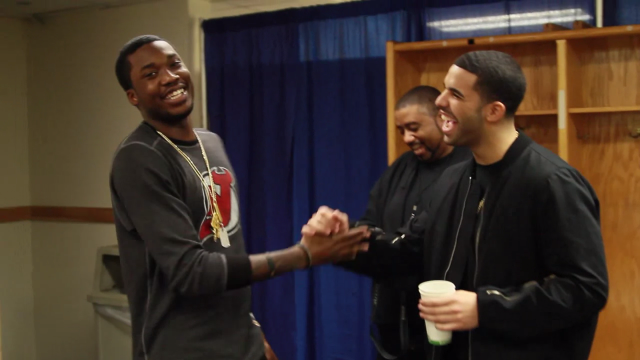 Meek Mill and Drake before their friendship soured
One day later, a man comes forward by the name of Quentin Miller, who reveals he is Drake's ghostwriter. He posts his version of Drake's "101 Bands" and it is aired on the Hot 97 radio station in New York. Thus far, Drake has not denied the allegations that has social networking questioning his career.
STORY SOURCE
Drake vs. Meek Mill Drake 'Ghostwriter' Track Leaks, Eerily Similar
7/22/2015 6:28 PM - Drake and Meek Mill's beef just went way beyond a silly Twitter war -- because an alternate version of a Drake hit was just leaked ... and it features the alleged ghostwriter's vocals and verses. The song is "10 Bands" ... and Quentin Miller's version is damn near identical to Drake's. Funkmaster Flex first played it late Wednesday on NYC's Hot 97 ... throwing gasoline on the fire Meek started by accusing Drake of not writing his own raps -- a HUGE insult in hip-hop.
Meek and a few other rappers are claiming Drake used Quentin's take as a reference to record his final version. For what it's worth ... Miller does have credits on several Drake tracks, including "10 Bands." Drake's remained silent about the allegation -- except for a comment to a friend on social media ... "I signed up for greatness. This comes with it." We're reaching out for Drake's response to the Miller track.