Pharrell Williams Steals More Copyrights
July 17. 2009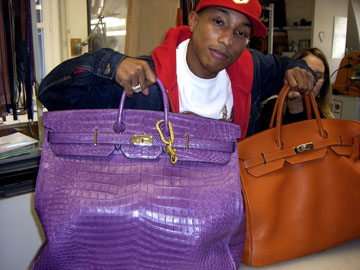 Pharell Williams spending the ill-gotten proceeds of his financial crimes
Phony, so-called writer/producer, Pharrell Williams of the Neptunes, has been sued for the umpteenth time in the umpteenth copyright infringement case brought against him. Many songwriters and artists, have publicly complained and denounced Pharell for willfully stealing their preexisting copyrighted music. He is one of the entertainment industry's most notorious thieves.
The latest lawsuit against him appears quite credible. The band, Geggy Tah, put out a song in 1996 titled "Whoever You Are" which Pharrell stole over a decade LATER in 2007, for the Clipse rap tune "Feel Like Me." I listened to the two songs back to back and it is a dead rip off. The guitar and drum lines are very similar, constituting an infringement.
The melodies and lyrics, especially the line "All I wanna do" and the manner in which it is sung and repeated throughout the song, is an infringement that is a duplication. There is a substantial amount stolen from the 1996 preexisting copyright, via pilfered music, melody and lyrics, for the 2007 rip off by Pharrell and co.
Previously, Pharrell was sued for ripping off Canadian teenager, Joseph Zuckoni, even flying him to New York, as a ruse, to get more beats out of him, which Williams and his producing partner sold to artists in Hollywood for $250,000 each, not paying the young man a dime. Pharell kept lying to Zuckoni, telling him he would make him a production partner, to induce the teenager to bring him several new CD-ROMs full of beats he'd made, which Pharell illegally took payment and writer's credit for, to the tune of several million dollars.
There are several other cases against Pharell, by different artists, regarding this very same pattern of criminal misconduct and financial fraud. You're not a real writer or producer, Pharrell. You are a lawbreaking, fraud committing thief that needs to retire. You've done this too many times now. Your name is gone.
STORY SOURCE
Man Claims His Beat Nicked by Pharrell
Posted Jul 16th 2009 12:25PM by TMZ Staff - Ever heard of the band Geggy Tah? We hadn't either until one of its band members just accused Pharrell of some serious musical thievery. In a federal lawsuit filed this week, Thomas Jordan claims the Pharrell produced track "All I Wanna Do (Feel Like Me)" is a total rip-off of the Geggy's '96 tune "Whoever You Are." The suit alleges Pharrell produced "Feel" for the rap group The Clipse -- made up of Malice and Pusha T -- back in '97 ... but the song wasn't released until 2007. Check out the two songs -- "Whoever You Are" and "Feel Like Me" -- and judge for yourself.