42-Year-Old MMA Star Kimbo Slice Dies From Fatal Heart Attack In Florida
June 7. 2016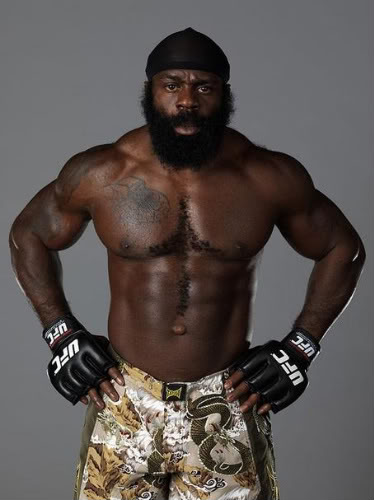 Kimbo Slice
MMA star, Kimbo Slice, real name Kevin Ferguson, died last night in Coconut Creek, Florida, a city on the outskirts of Miami. Slice was hospitalized at the Northwest Medical Center, after feeling unwell and died shortly after. Reports indicate the popular MMA star had a fatal heart attack. The hospital has not released the suspected underlying cause of Slice's fatal heart attack. No official statement has been released by the medical examiner on the exact cause of Slice's early passing. An autopsy and toxicology report is expected in coming weeks.
Some on social networking are openly speculating steroids use lead to Slice's cardiac arrest, as he tested positive for the anabolic steroid Nandrolone in February, after a win against Dhaffir Harris. A number of wrestlers have died early in life from steroids use (for more information on the dangers of steroids please read: Boxer Alexander Povetkin Testing Positive For Steroids Causes Cancellation Of Deontay Wilder Fight And Possible Lawsuits). "Hollywood Illuminati" rumors are online regarding Slice's death, as he was friends with fellow Floridian, The Rock, real name Dwayne Johnson and appeared in the film series he made popular "The Scorpion King 3."
Slice is a former high school football player. He attended the University of Miami (as did The Rock). In 1997, Slice had a tryout with the Miami Dolphins, but did not make the team. Slice then became a heavyweight boxer and mixed martial artist, rising to fame in 2007. He became an online sensation, due to videos he released of himself on You Tube, fighting others in his backyard.
The videos attracted the attention of the EliteXC and then UFC, who signed him to successive deals. In 2007, Rolling Stone magazine proclaimed Slice "the king of the web brawlers" in reference to the popularity of his viral videos. Slice was scheduled to fight in London, England on July 16, 2016, as apart of a Bellator MMA show. He leaves behind a fiancée and six children.
People need to be careful in their pursuit of fame and fortune. Hollywood is full of vipers, who would have you sell your soul to the devil in exchange for fame and money, asking you to do things that damage your body, mind and soul. However, said fame and fortune is short lived and comes at a massive personal and professional price.
Leave that lifestyle alone, lest it destroys you. Take care of your health, body, mind and soul. You can make it without compromising yourself. There are no shortcuts to fame and fortune. The shortcuts are dead ends, with emphasis on the word dead. I've seen it happen to many people in music and sports. I've seen many quickly rise under the wrong circumstances, then catastrophically fall overnight, sustaining extensive, life changing damage, from having the wrong people around them, who claimed they were so-called friends and business associates, but proved to be their undoing and downfall.
STORY SOURCE
Kimbo Slice Dead at 42
6/6/2016 8:30 PM PDT - Slice has died ... TMZ Sports has confirmed. He was 42. We broke the story, Slice was hospitalized early Monday near his home in Coral Springs, FL. He passed away a short time later. The CEO of Bellator MMA confirmed the news ... saying, "We are all shocked and saddened by the devastating untimely loss of Kimbo Slice, a beloved member of the Bellator family.' ..
Details surrounding Kimbo's death are unclear. We're working on it. Kimbo -- real name Kevin Ferguson -- last fought at Bellator 149 back in February and defeated Dada 5000 -- but the victory was overturned when Slice tested positive for a banned steroid...Slice also did some acting -- appearing in 2012's "The Scorpion King 3: Battle for Redemption."
Report: Kimbo Slice Dead At 42
10:53 PM 06/06/2016 - The MMA fighter — whose real name is Kevin Ferguson — was hospitalized in Florida Monday for undisclosed health reasons. TMZ reported that he was in "dire" condition and that the situation did "not look good." The CEO of Bellator MMA also confirmed the news. "We are all shocked and saddened by the devastating untimely loss of Kimbo Slice, a beloved member of the Bellator family," he said in a statement Monday night. "One of the most popular MMA fighters ever, Kimbo was a charismatic, larger-than-life personality that transcended the sport."
Several sources on Twitter now claim he died of heart failure, but a cause of death has not been confirmed...He was scheduled to fight James Thompson in Bellator 158 on July 16 in London.
Kimbo Slice dead at 42
28 minutes ago - Popular mixed martial arts fighter Kevin "Kimbo Slice" Ferguson has died. He was 42. Slice was stricken at his South Florida home and taken Monday evening to the Northwest Medical Center in Fort Lauderdale, a spokeswoman for the Coral Springs, Fla., Police told Yahoo Sports Monday. TMZ was the first to report the news...
MMA fighters ever, Kimbo was a charismatic, larger-than-life personality that trancended the sport." Sgt. Carla Kmiotek of the Coral Springs police told Yahoo Sports no foul play is suspected. She said the department dispatched a team of officers to Slice's home because he is a public figure in order to control whatever crowd might gather.
"At 8 p.m. (ET) we received a call from TMZ," Kmiotek said. "Our communications department confirmed with Northwest Medical that he is there. We did not receive a police or EMS call from the residence. There is no foul play suspected and there is no investigation. It is being handled as a medical incident...
RELATED ARTICLES
Boxer Alexander Povetkin Testing Positive For Steroids Causes Cancellation Of Deontay Wilder Fight And Possible Lawsuits