Floyd Mayweather And Shantel Jackson Subtweeing Each Other Insults Over Their Break Up
December 7. 2013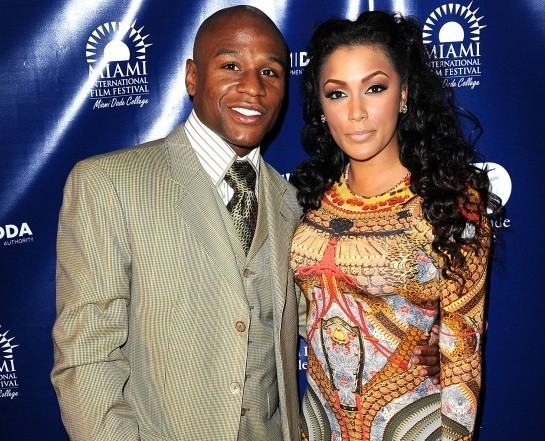 Floyd Mayweather and Shantel Jackson
The Money Team boxer Floyd Mayweather and his fiancée Shantel Jackson are experiencing a break up of sorts. According to reports online, Shantel unfollowed him on Twitter. Then, as stated in the column two days ago, "Money May" subtweeted an item directed at Jackson on Twitter, using an Instagram quote regardaing money hungry people and marriage (Floyd Mayweather Slams Women Who Are After His Money As Fiancée Shantel Jackson Unfollows Him On Twitter).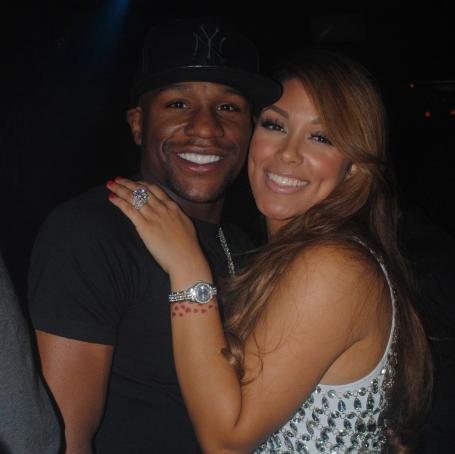 Floyd Mayweather and Shantel Jackson
Two days after Mayweather tweeted the item directed at Jackson, she fired back with her own comment, asserting her independence. However, how independent can you be when you're relying on Mayweather for everything (food, clothes, shelter, luxury vehicles, Hermes handbags, diamonds, haute couture and the launch of your unspecified career).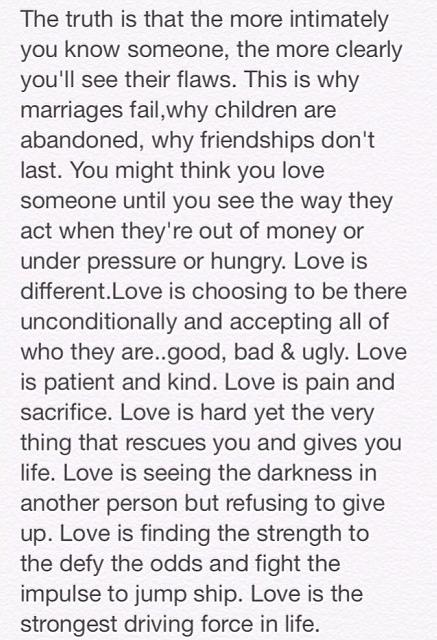 Mayweather tweet on December 3, 2013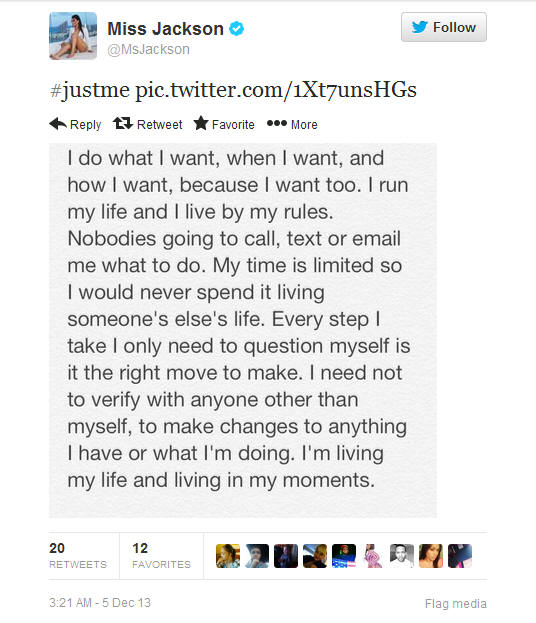 Shantel Jackson tweet of Instagram quote in the same font and style as Mayweather's two days later on December 5, 2013
Me personally, I'm not happy with with Mayweather and Jackson subtweeting and fighting...it should be Mayweather and Manny Paquiao subtweeting and fighting (LOL). It should be Mayweather and Paquiao on Twitter trading jabs about knocking each other out. So Shantel, unless you can fight like Paquiao and hit the ring with Mayweather, I'm gonna need you to calm down. Go rub Mayweather's head or something and while you're at it, gently whisper in his ear..."fight Paquiao! fight Paquiao!" I'm just kidding about the last part... and to reiterate the site's past and current view, Mayweather and Josie Harris, the mother of three of his kids, made a better couple.
RELATED ARTICLES
Floyd Mayweather Slams Women Who Are After His Money As Fiancée Shantel Jackson Unfollows Him On Twitter
Is A Floyd Mayweather vs. Manny Pacquiao Fight On The Horizon
---
Is Mama Joyce Correct About Todd Being A Gold Digger After Kandi's Money On 'Real Housewives Of Atlanta'
December 7. 2013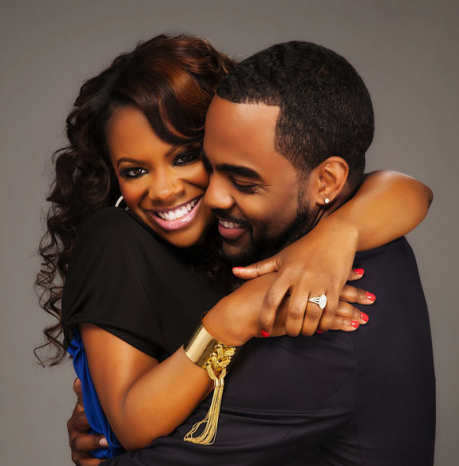 Kandi Burruss and Todd Tucker
I know I'm late with this,but I was busy. I just saw the most recent episode of "Real Housewives Of Atlanta" today and Kandi's mom Mama Joyce is something else. She is trying to protect her daughter's assets from her offspring's fiancé, Todd Tucker, whom she deems an opportunist and she may be right.
Mama Joyce basically laid down the law regarding a prenup, but Todd seemed unwilling to sign, which would give him access to Kandi's money and mansion in Atlanta's premiere neighborhood Buckhead. In a forthcoming episode, Mama Joyce is also seen attempting to fight one of Kandi's friends, whom she believes is messing around with Todd.
Mama Joyce is very protective of her daughter and it's understandable. Kandi's come a far way and amassed a couple million dollars. She feels Todd does not have enough money to marry Kandi or good intentions. However, you can't judge a man by the size of his pocket. You have to try to discern his intentions. Will he be good to your daughter. Will he show her love and compassion. Will he be a great dad if they have children. These are the questions you need to ponder.
Having written that, I must state this, what strikes me as odd is Todd will not sign the prenup. That's generally not a good sign. If you love someone and want to show them you're not after them for their money, you sign a prenup to show good faith. It's that simple.
In general, even if one is not rich now, a prenup is a good idea, as you may gain assets down the road. What if you become wealthy later and have a booming business. A vindictive spouse in a divorce could seek to get at you by demanding half the company, making it difficult for you to conduct business as you see fit. Something to think about. Protect yourself and your finances.
RELATED ARTICLES
Real Housewives Of Atlanta's Porsha Stewart Accused Of $4,000 Theft As Her Marriage Problems Mount
Real Housewives Of Atlanta Gets Scandalous As Phaedra Parks And Porsha Stewart Face Serious Relationship Problems
---
World Hero Nelson Mandela Has Died
December 6. 2013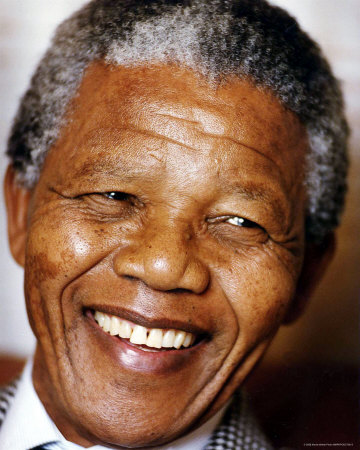 Nelson Mandela
Civil rights hero Nelson Mandela (Madiba) passed away yesterday at the age of 95. The wonderful, courageous South African, was cruelly and unjustly jailed for 27-years for peacefully opposing apartheid. After his release, Madela, born into African royalty, became the first black President of South Africa, in a monumental moment in history and one that is proudly remembered by many.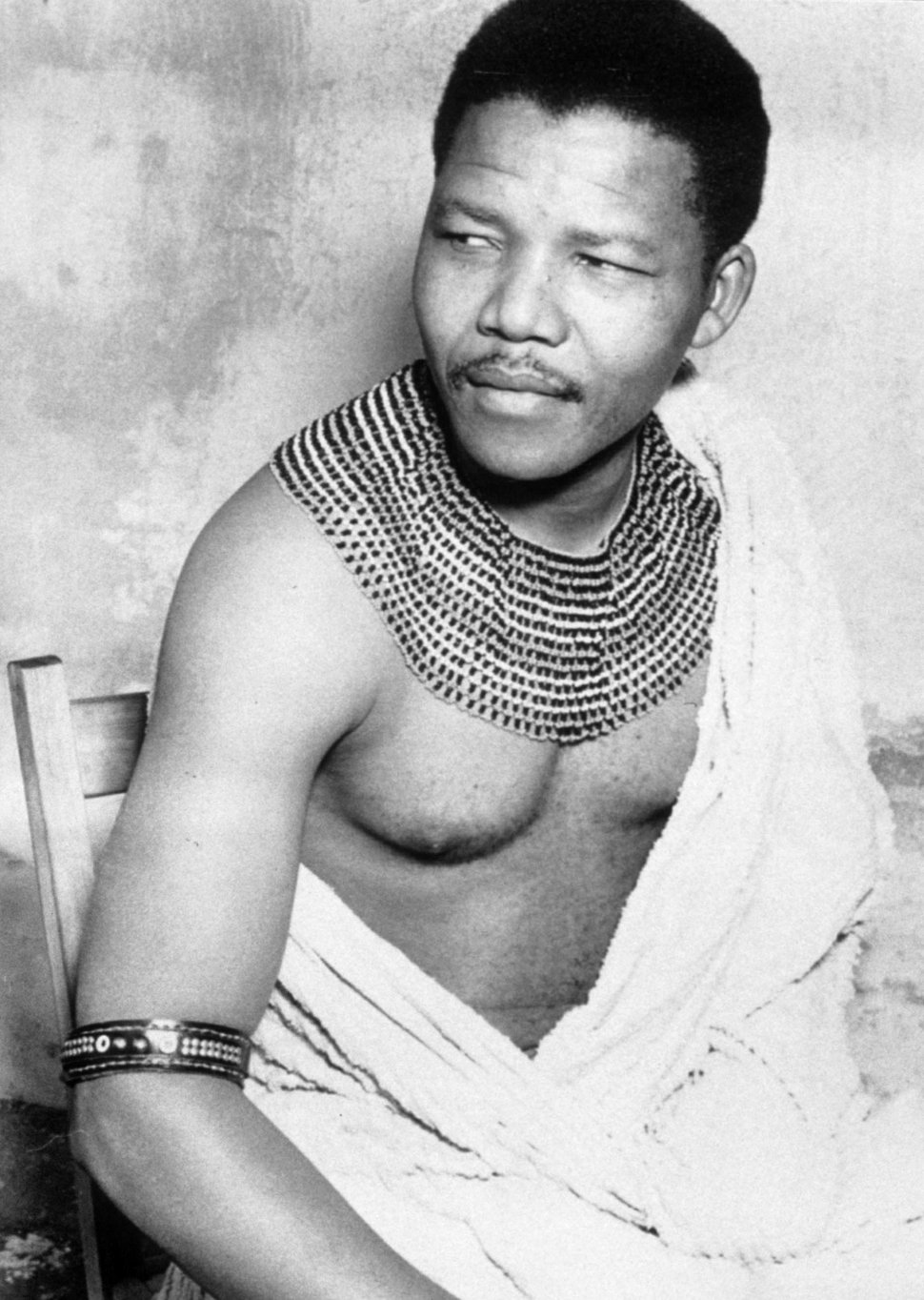 Mandela preached a beautiful message that all are equal. Mandela, like fellow human rights advocate and civil rights hero, Martin Luther King Jr, devoted his energies to uniting blacks and whites, which is an admirable life's calling. He stood and will always stand as a symbol of peace and perseverance. The world was made better because he was in it. God bless Mandela and may he rest in peace.
RELATED ARTICLE
Martin Luther King Day Reminds The World Of His Message Of Peace And Equality
---
Jameis Winston Will Not Be Charged With Rape After Side Chick Filed Police Complaint
December 6. 2013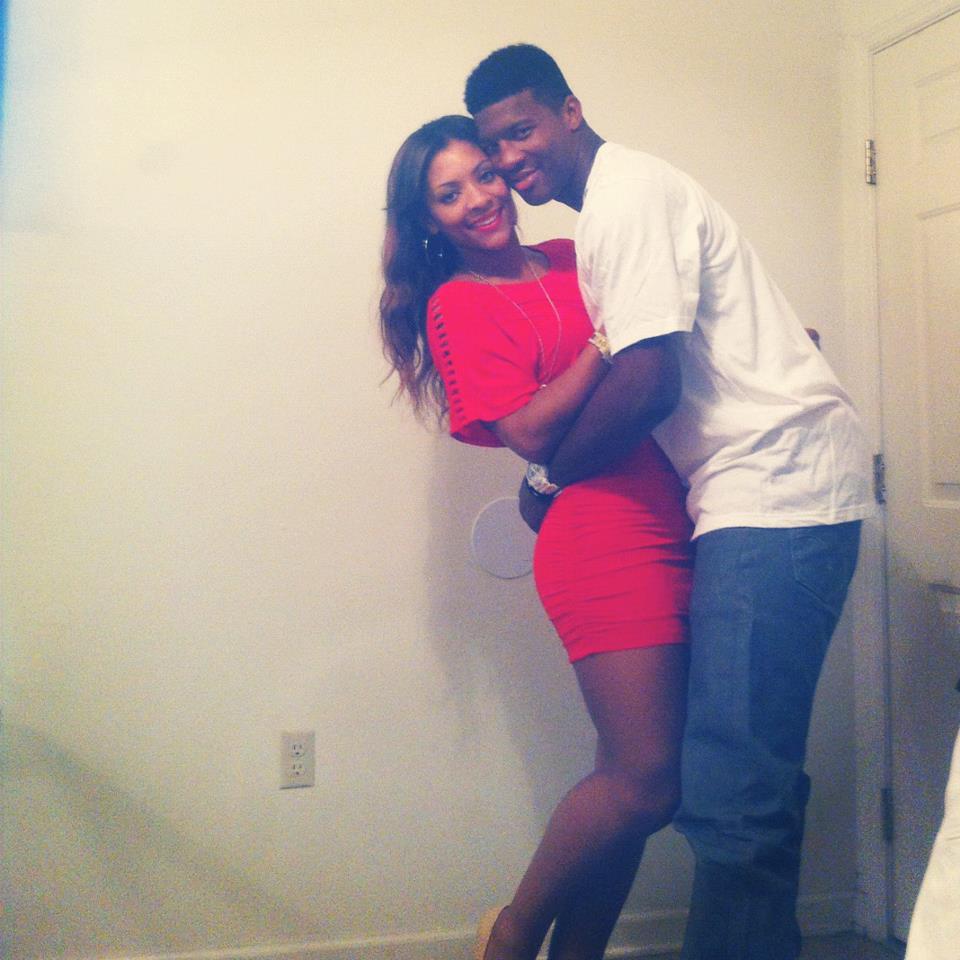 Jameis Winston and Breion Allen
Prosecutors announced yesterday afternoon that Florida State University football quarterback Jameis Winston will not be charged with the rape. The Terez Owens website alleges Winston's accuser is Eric Kinsman (http://www.terezowens.com/here-is-jameis-winstons-accuser).

Prosecutors cited lack of evidence in the case,as their reasons for not moving to indict and prosecute Winston. There are serious holes in the accuser's story. She stated she was drunk and raped by a man who is 5 feet 10 inches in height that she later named as Winston. However, blood alcohol tests administered after the alleged rape revealed, she was well below the legal limit, not drunk, had no roothies in her system (date rape drug) and Winston is 6 feet 4 inches in height.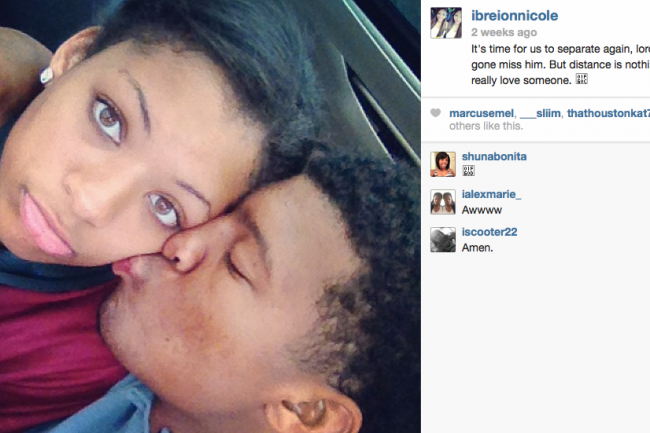 Breion Allen and Jameis Winston
Tests discovered Winston's DNA on the accuser, but also found that of another male. She refused to provide the other male's name to the authorities, which was very suspect. The State Attorney's Office was forced to investigate who the unnamed male was and found the DNA belongs to her boyfriend. This lack of cooperation delayed the case.
Someone close to me connected to the football team in Tallahassee privately stated weeks ago that Winston had consensual sex with the accuser, but after the sexual activity told her she would have to lay low as his girlfriend, Rice University student, Breion Allen, was coming to town. She became angry discovering she was the side chick and he wasn't dumping his girlfriend for her.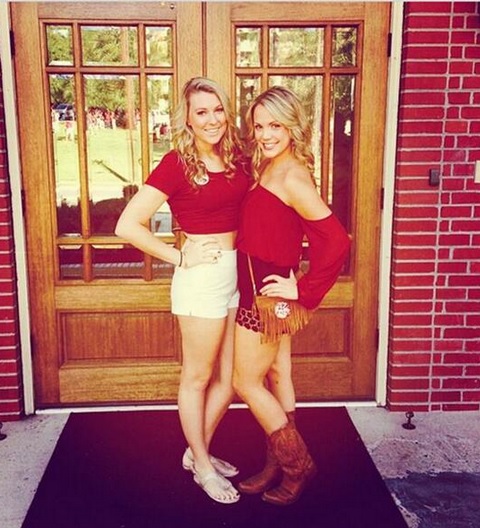 Erica Kinsman (left)
The investigative report into the case, released yesterday, revealed others were present in the apartment during the sexual encounter and testified the accuser willingly had sex with Winston, some of which they witnessed. They testified to this effect in sworn affidavits.
I am of the belief some women are raped. It is a terrible crime that has happened all over the world for ages. But I am also of the belief some women are not raped and lie for vindictive reasons. This story is sad all around, as lives have been damaged in so many ways.
RELATED ARTICLES
Man Wrongfully Imprisoned For 28-Years Due To The FBI
Did Don King Orchestrate Mike Tyson's Demise Years Ago
---
TMZ Retracts Claim Paul Walker Burned To Death
December 6. 2013
Paul Walker
Yesterday's Judiciary Report column contained an article regarding TMZ claiming "Fast And Furious" actor Paul Walker burning to death in a fiery car crash, while being driven by his financial adviser Roger Rodas (Coroner Tells TMZ Actor Paul Walker Burned To Death After Car Crash).
The Judiciary Report disputed this claim, as the lightweight, low riding, aerodynamic Porsche Carrera GT crashed into a light pole and tree going in excess of 100MPH, which ignited the gas tank, triggering a fire and explosion. Today, TMZ retracted their story regarding Walker burning alive and to death as well as the item stating the actor was seen flailing after the accident (see article below).
I'm a fan of the Porsche's aesthetic design (Boxster, Carrera, among others). I've also seen them up close and can tell you the obvious, it's not a heavy duty, military styled rugged vehicle like the Hummer. Therefore, a lightweight Porsche crashing into a solid, heavyweight object such as a light pole, whilst going at a high rate of speed, would inevitably result in catastrophic injuries to the human body (organ damage, profound blood loss, death). The impact was so terrible in the Walker tragedy, it split the Porsche in half (diagonally). The Judiciary Report is of the belief the men died instantly and did not feel the effects of the fire.
Furthermore, the gasoline based fire and explosion that ensued for several minutes consumed skin, flesh and did further damage to organs. How could they conclusively come up with an accurate profile of death in terms of consciousness after impact and feeling the effects of burning to death...
STORY SOURCE
Paul Walker Death Image in Burning Porsche Video is NOT Paul
12/5/2013 11:06 AM PST BY TMZ STAFF - Paul Walker did NOT make a final desperate attempt to escape the burning wreckage -- and the image seen in video shot right after the crash is definitely NOT Paul ... TMZ has learned.
There had been rampant speculation and buzz on the Internet that a shadowy figure seen around 23 seconds into the video of the burning Porsche Carrera GT ... was Walker trying to get out of the vehicle, but sources connected to the investigation now say it just isn't so ... for several reasons.
First, the sources tell us that, based on photographs of the wreckage ... Paul's body was pinned in an area of the car that makes it clear he couldn't have been flailing outside the vehicle. Also ...we're told that based on the injuries he suffered, Paul died within a nanosecond of impact, and therefore it's impossible for the image in the video to be him.
It's not clear how long after impact the video starts, but clearly more than a nanosecond. As for what the image really is -- we're told law enforcement has watched the video, and based on evidence from the crash site ... it appears to be a part of the car's roof burning.
---
Will Chris Brown Spend Christmas In Rehab
December 5. 2013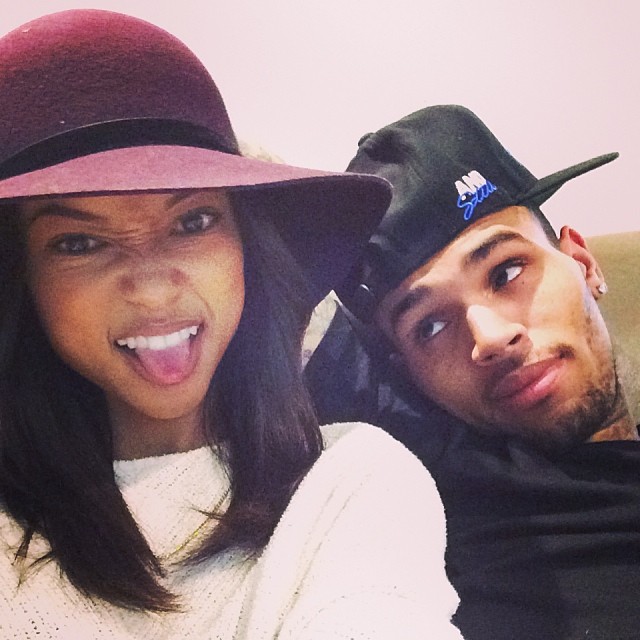 Karrueche Tran visits Chris Brown on Thanksgiving with a home cooked meal. If it had been Rihanna, she'd have visited him with a home cooked blunt (weed). Karrueche wins this round.
R&B singer Chris Brown was the subject of a court order issued last month, which stated he must spend 90-days in rehab. Brown's time in rehab is scheduled to end in January 2014. The question is, will Chris Brown spend Christmas in rehab, as a result of the court order.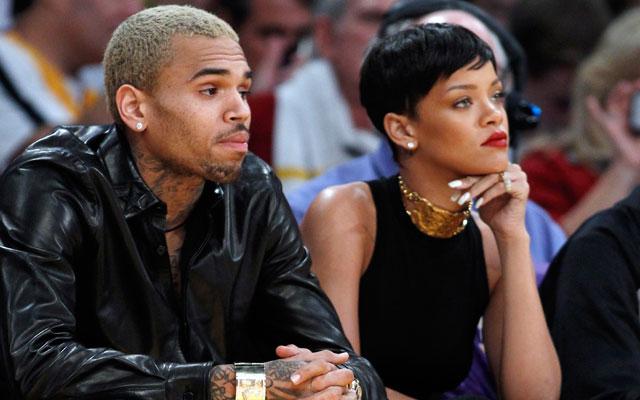 Chris Brown and Rihanna last Christmas
Brown's girlfriend Karrueche Tran brought the singer a full Thanksgiving meal containing some of his favorite foods. Will she do the same again or have him home for Christmas. Oh, what a difference a year makes. Last year there was a tug of war between Tran and Brown's on-and-off again girlfriend Rihanna.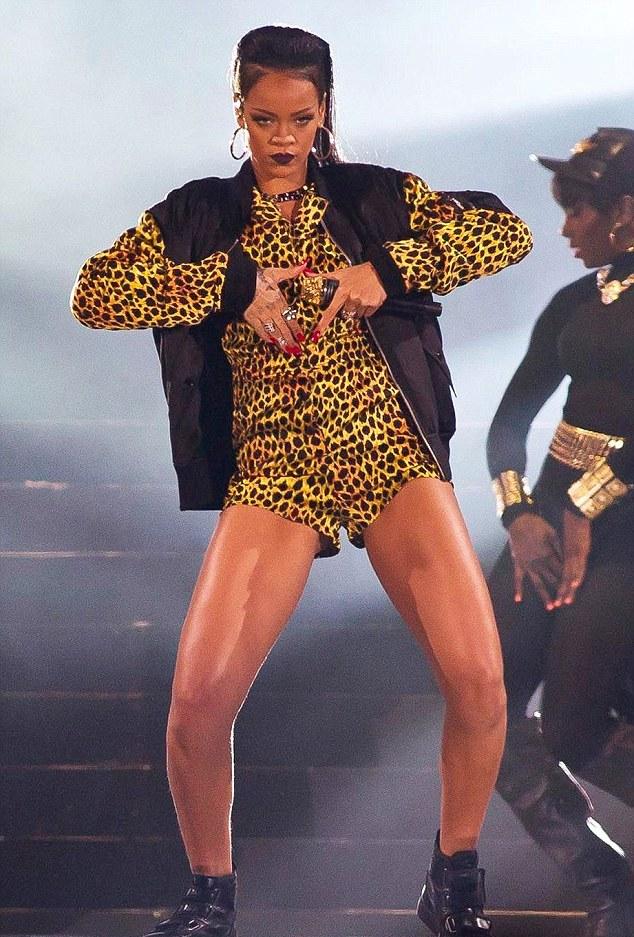 Rihanna
When Brown opted to spend Christmas in Los Angeles, snubbing Rihanna's invitation to be with her in Barbados, she was photographed crying, then boarding a plane for California. Tran, who has helped Brown through many difficulties, was sad over Rihanna's conduct. But one year later, Tran is the one who has stuck with him.
---
Coroner Tells TMZ Actor Paul Walker Burned To Death After Car Crash
December 4. 2013
The TMZ website is stating the Los Angeles coroner's office informed them "Fast And Furious" actor Paul Walker, burned to death after the initial car crash that claimed his life last week at the age of 40. TMZ stated Walker died of "trauma" and "burn injuries" but the driver of the Porsche GT, Roger Rodas, did not.
The question is how can they tell, as Walker and Rodas were both burned beyond recognition, requiring dental records for a positive ID, after the car burst into flames and exploded. How burned was the skin and internal organs that someone came to the conclusion the passenger burned to death, but the driver did not. It's like trying to guess the cause of death after a cremation, as the car was a raging inferno for several minutes before firefighters arrived and put out the blaze.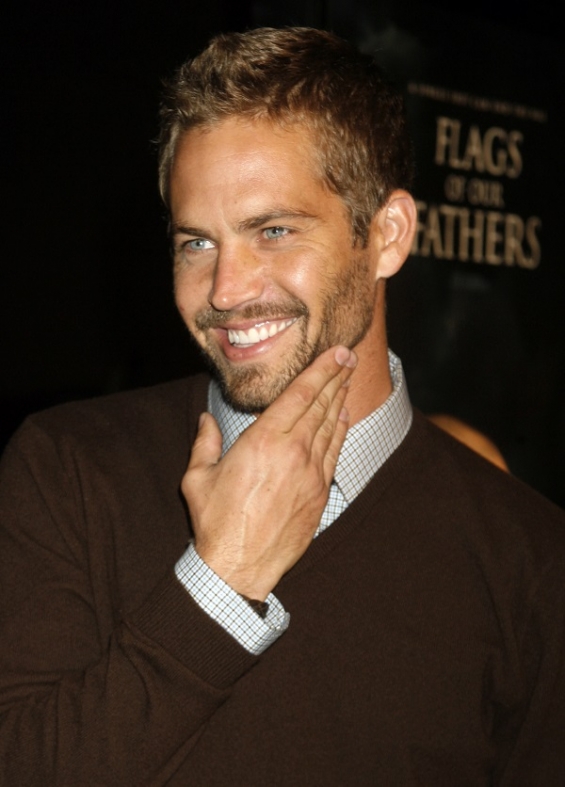 Paul Walker
Video surveillance tapes shot from a distance reveals debris and a thick black plume of smoke rising in the air at the crash site. Shortly after, it is stated an explosion occurred, where the smoke becomes even thicker and darker. The car may have been on fire then exploded.
Without video proof, how do they know Walker didn't die on impact, as the car was speeding, going in excess of 100 miles per hour, then crashed into a light pole and tree. There is talk of a video tape where Walker is allegedly seen flailing before the car explodes. However, how do they know it was not an involuntary reflex that sometimes occurs right after death. It's a terrible thing to tell his family that he burned alive for a time before dying in an explosion, especially with no concrete proof (video tape showing the crash, then explosion).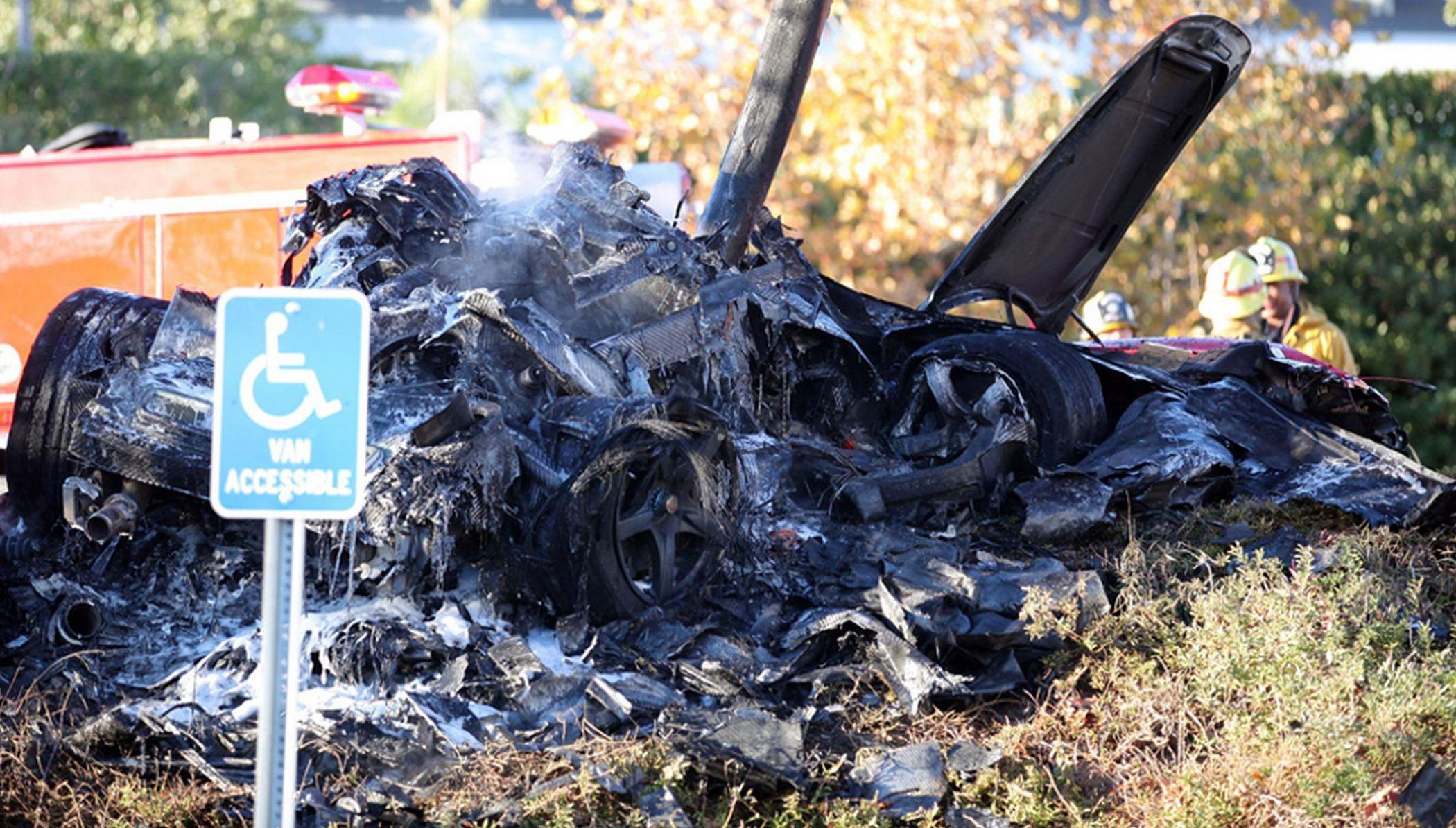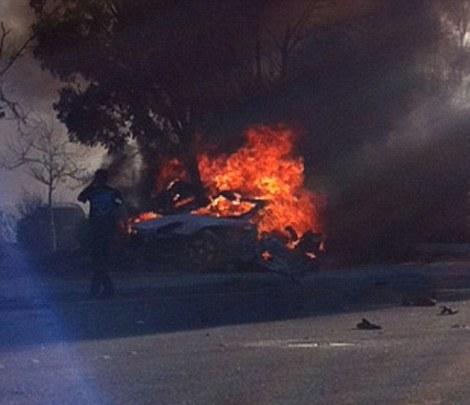 Photos of the car accident
Unless there exists clear cut video proof regarding the tragic accident (not a video obscured by buildings) to speculate and hypothesize in this manner, supposing something so gruesome, isn't fair to Walker's grieving family and friends. It's downright cruel.
STORY SOURCE
Paul Walker Burning Porsche Video May Show Escape Attempt
12/4/2013 6:08 PM PST BY TMZ STAFF - A close examination of the video showing the Paul Walker's Porsche engulfed in flames reveals a shadowy image appearing to flail. There is now a swirl of speculation that the image, seen roughly 23 seconds into the clip, is Paul attempting to escape the death trap.
Law enforcement sources who participated in the investigation tell TMZ ... there is strong evidence that Paul and Roger Rodas never got out of their seats, but when pressed they would not conclusively say that Paul didn't attempt an escape.
Our sources say ... investigators are confident Roger absolutely didn't move -- but they would not definitely say that about Paul. One source says it appears both men were trapped in their seats and therefore did not attempt an escape, but the key word is "appears."
We're told law enforcement is looking at the video now. We broke the story ... the L.A. County Coroner's Office says Paul died from both trauma from the crash AND burn injuries, which insinuates the actor survived the initial impact and the fire was partially responsible for his death.
http://www.tmz.com/2013/12/04/paul-walker-burning-porsche-video-escape-attempt/
Paul Walker Crash Cause Of Death Revealed Trauma and Burn Injuries
12/4/2013 12:20 PM PST BY TMZ STAFF - Paul Walker died from the combined effects of traumatic and thermal injuries sustained from the Nov. 30 car crash ... this according to the L.A. County Coroner's Office. Translation -- Paul did not die from the impact of the crash alone. He burned to death after the Porsche GT crashed into a tree and a pole and exploded into flames.
The man who was driving the Porsche GT, Roger Rodas, died from multiple traumatic injuries suffered upon impact. Burning was not listed as a factor in his death. The coroner says toxicology results for both men will be available in 6 to 8 weeks. The Medical Examiner says both deaths have been ruled as an accident. Sources in the coroner's office tell us ... both men were positively ID'd by using dental records.
Walker and Rodas were killed Saturday in Santa Clarita, CA when the Porsche GT they were in veered off the road, slammed into a pole and exploded in flames. The cause of that crash is still under investigation. Paul was 40. Rodas was 38.
---
Boycott Aventura Mall For Racial Profiling And Negligence
October 31. 2013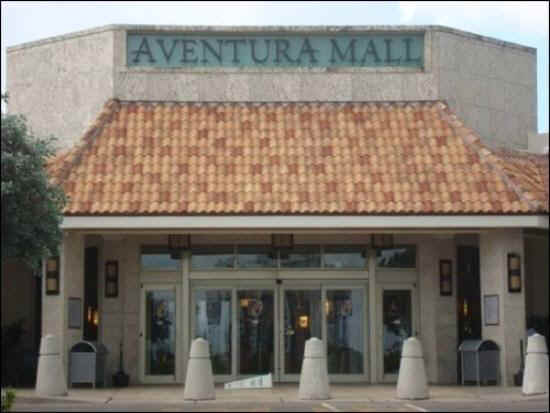 Aventura Mall
I am calling for a boycott of Aventura Mall in Miami. The mall is not properly maintained leading to shoppers being seriously injured and now according to television news broadcasts, the mall is being targeted by a roving set of pick pockets stealing wallets. Worst of all, I was racially profiled at Aventura Mall over the summer, after I covered an item regarding the mall on the Judiciary Report (Bad Lawyer Alert: Sarah Steinbaum Of The Jacoby And Meyers Law Firm (Broadspire And Turnberry Associates) and Bad Lawyer Alert: Sarah Steinbaum Of The Jacoby And Meyers Law Firm (Broadspire And Turnberry Associates) - PART 2 and Mafia Threat Issued In Aventura Mall Case).
Shortly after I published the aforementioned articles online, during a visit to Aventura Mall, a visibly armed, gun toting, surly security guard sat next to me and menacingly stared directly at me for several minutes, whilst violating my private space. I have to ask, since when do security guards sit on the job and snarl at a shopper.
It was patently offensive, inappropriate and out of line. This was a nasty thing to do to someone, who has literally spent thousands of dollars at Aventura Mall. I got tired of the guard sitting so close to me and nastily staring at me, so to break the tension I took out my laptop to do some work and when I opened the Judiciary Report site the guard saw it, quickly got up and hurried away.
I reported the incident to Aventura Mall's lawyer Scott Schomber in an email dated August 27, 2013. I spoke with Mr. Schomber days after and he stated regarding the incident, "This is not something I advise clients to do." Well they did and the incident is on surveillance tapes. I also have witnesses who saw the whole thing happen.
It was harassment and I am not standing for it in any measure. As such, I am asking you, my readers, both domestic and international to boycott Aventura Mall. There are other malls in Miami and South Florida you can visit such as the sprawling Sawgrass Mills mall, upscale and exclusive Bal Harbor Shops, the charming mall The Falls and family friendly Dadeland Mall.
The stores in Aventura Mall need to be careful regarding its owners Turnberry Associates, owned by the Soffer family. The mall is not being maintained properly leading to serious injuries to shoppers. Turnberry's executive staff is also engaging in imprudent conduct that will not contribute to positive sales for tenants. Turnberry Associates has breached fiduciary trust regarding rental contracts with tenants in the mall, via the aforementioned conduct and are a liability to their businesses. More on this story in a future Judiciary Report article...
RELATED ARTICLES
(Bad Lawyer Alert: Sarah Steinbaum Of The Jacoby And Meyers Law Firm (Broadspire And Turnberry Associates)
Bad Lawyer Alert: Sarah Steinbaum Of The Jacoby And Meyers Law Firm (Broadspire And Turnberry Associates) - PART 2
Mafia Threat Issued In Aventura Mall Case
---
PERMALINKS
Boycott Aventura Mall For Racial Profiling And Negligence
NSA Workers Admit To Reading The Emails And Listening To The Calls Of Americans In Violation Of The Law
Judge Rules The NSA Illegally Spied On Americans Confirming The Site's Previous Claims (Video)
NSA Admits Employees Illegally Spied On Love Interests And Significant Others Confirming Site's Previous Claims
New Scandal Erupts Regarding The FBI And Justice Department Monitoring Calls Of AP Reporters Confirming Previous Site Claims
IRS Says Sorry For Targeting Conservatives As Obama Denies All Knowledge Of Misconduct
President Obama Fires The Head Of The IRS For Targeting Conservatives (Video)
News Report: The IRS Targeted Christians
FBI Agent Arrested For Accepting A $200,000 Bribe To Derail A Criminal Case The FBI Was Supposed To Be Investigating
Another FBI Agent Caught Taking Bribes To Derail Serious Cases (Video)
HBO's New Pornographic Gay Show 'Looking' Is Depraved, Debauched And Unoriginal
Bad Lawyer Alert: Sarah Steinbaum Of The Jacoby And Meyers Law Firm (Broadspire And Turnberry Associates)
Bad Lawyer Alert: Sarah Steinbaum Of The Jacoby And Meyers Law Firm (Broadspire And Turnberry Associates) - PART 2
Mafia Threat Issued In Aventura Mall Case