Singer August Alsina Wakes Up From 3-Day Coma After Suffering Head Injury And Seizures Due To Substance Abuse
September 19. 2014
August Alsina
New Orleans singer August Alsina experienced seizures and sustained a serious head injury, when he fell off stage while performing in New York City this week. The accidental fall and head injury is thought to have occurred after the singer engaged in substance abuse before taking to the stage.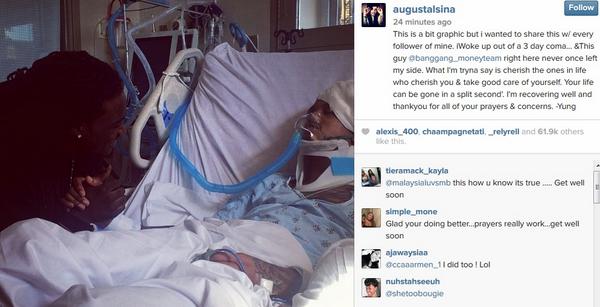 Alsina was placed in a medically induced coma for three days, to relieve the pressure on his brain. A member of his camp posted a photo of him in the intensive care unit at the hospital, along with a message that stated, "This is a bit graphic but I wanted to share this w/ every follower of mine. I woke up out of a 3 day coma...& this guy banggang_moneyteam right here never once left my side. What I'm tryna say is cherish the ones in life who cherish you and take good care of yourself. Your life can be gone in a split second. I'm recovering well and thank you for all of your prays a& concerns. - Yung"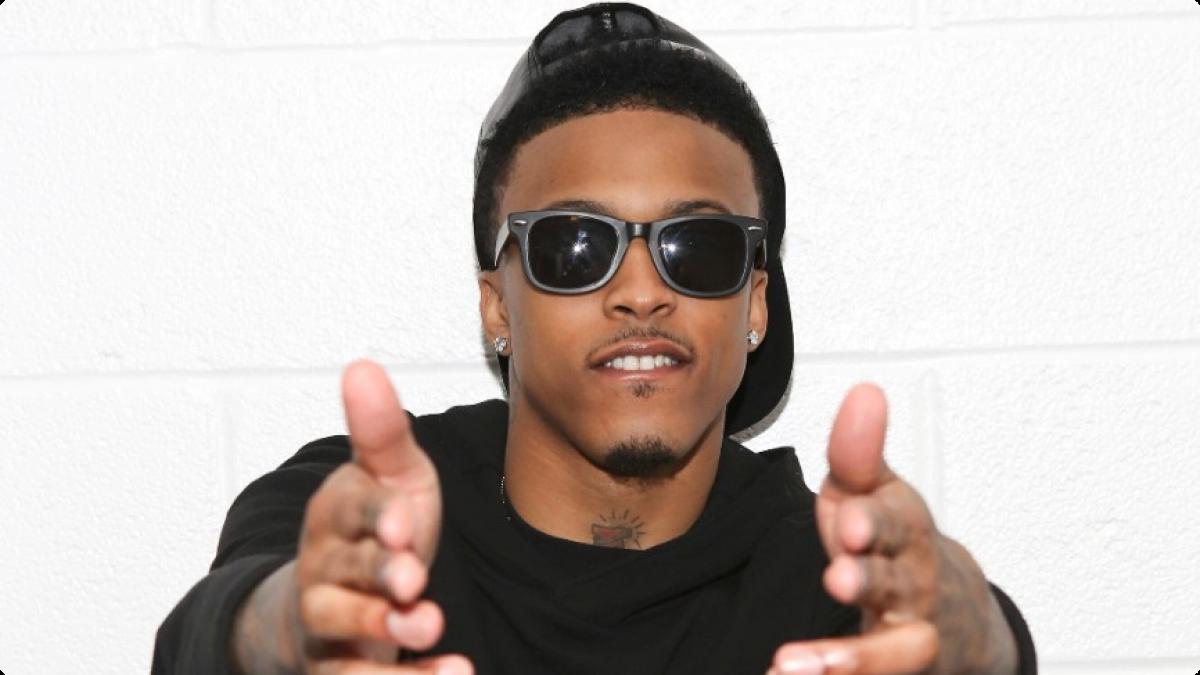 "Illuminati" rappers, Lil Wayne and Rick Ross, have repeatedly been rushed to the hospital suffering from seizures, due to illegal drug use they brag about on record and in interviews. This is not a good example to set for impressionable audiences, some of whom could overdose in trying to be like them.
RELATED ARTICLES
Lil Wayne Hospitalized With Another Seizure
Lil Wayne Is Still In The Hospital Indicating The Severity Of His Overdose And Seizures
Rick Ross Loses $5,000,000 After Being Dropped By Reebok For Promoting Date Rape In Song
Man Shot To Death At Rapper Rick Ross' House In Miami
---
Stevie J Being Pulled Down By Joseline Hernandez While The Love Of His Life Eve Marries A Billionaire
September 19. 2014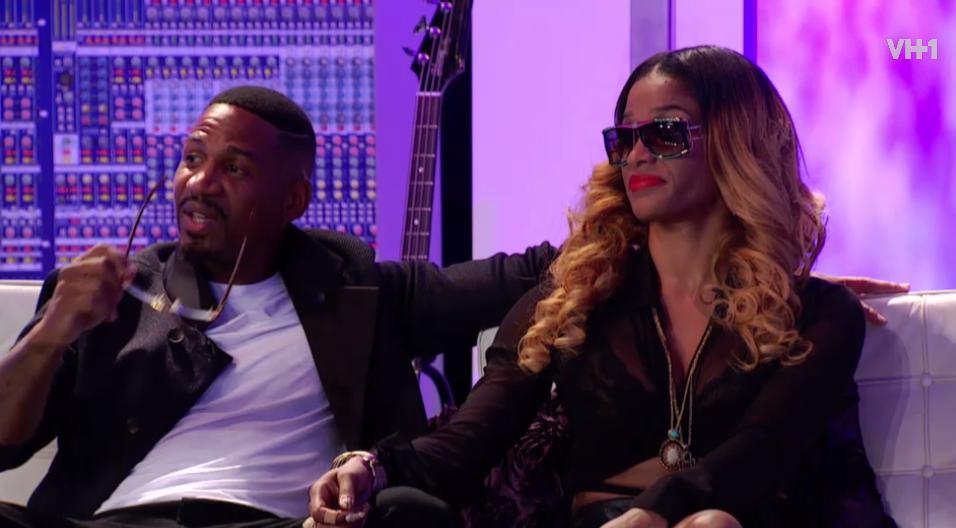 Stevie J and Joseline Hernandez
A little over a decade ago, "Love And Hip Hop Atlanta" reality star, Stevie J, used to date rapper turned actress, Eve. However, Stevie, a womanizer, cheated on Eve, taking advantage of his newly found fame as a Grammy Award winning producer. Eve dumped Stevie and moved on with other men. She eventually married Gumball billionaire, Maximillion Cooper. Let that be a lesson to you. If you love someone don't mess around on them because when you lose them for cheating, that's it.
Stevie, still taken with Eve, even named his little daughter Eva, which the mother of his child, ex-girlfriend and "Love And Hip Hop Atlanta" co-star Mimi Faust, should not have allowed. Mimi cheated with Stevie, while he dated Eve.
Fast forward over a decade and now Stevie has hooked up with stripper/prostitute/gold digger and aspiring rapper, Joseline "Don't Tell Her She Can't Rap" Hernandez, who is the most disgraceful of all the women he has publicly dated. Joseline uses sex to control Stevie. If he doesn't write her a song or pull string to get her in magazines and on TV, she will not have sex with him, in what is a destructive, exploitative relationship. The two claim to be married, but there is no evidence to support it.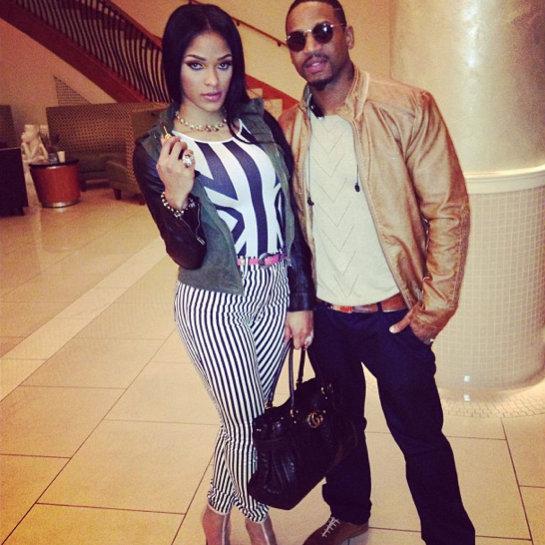 Joseline and Stevie
Stevie J is a gifted multi-instrumentalist and producer. He has a gift for music, but he makes poor choices regarding women. Stevie J has gotten five different women pregnant and is not paying child support. He's been arrested for non-payment of child support in one of the cases. Hooking up with Joseline, a woman he does not love (and vice versa), who cannot help him get his life and finances on track was another bad decision. To make matters worse, she repeatedly cheated on him (much like he cheated on her).
If Stevie had stuck with Eve and not cheated on her, he would be in a better place in his career and finances, rather than an emotionally crazy relationship with a woman using him for his money and to become famous, as he put her on the reality show. That's not love. But some women are like that. They latch on to a man who they think will make them rich or famous or a guy who has the potential to become rich and or famous, but when that doesn't materialize, they're gone.
RELATED ARTICLES
Joseline Hernandez Sued For Smoking Crack Cocaine Then Beating Up And Scratching Althea At 'Love And Hip Hop Atlanta' Reunion Show
Love And Hip Hop Atlanta's Joseline Hernandez Is Jealous Like Jay Z
Joseline Hernandez Is Raging Cocaine Addict And Stevie J Is Her Pimp
---
Teairra Mari's Violent Streak Cost Her Ray J And Other Men
September 19. 2014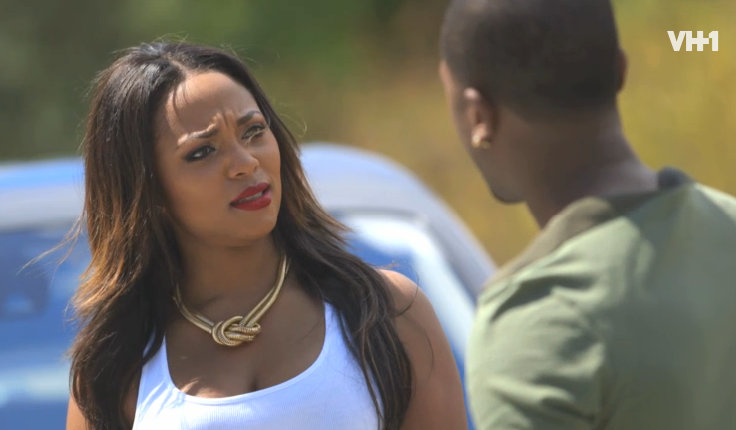 Teairra Mari and Ray J
Teairra Mari, the former Rockafella Records artists, whose career did not take off at the label, has dated famous men, including Ray J and Jay Z, in relationships that also fizzled fast (some weren't publicly acknowledged). The new reality show "Love And Hip Hop Hollywood" is giving audiences a glimpse into her personality, not seen during her music career and she is violent. Teairra is seen fighting different people for the least little thing.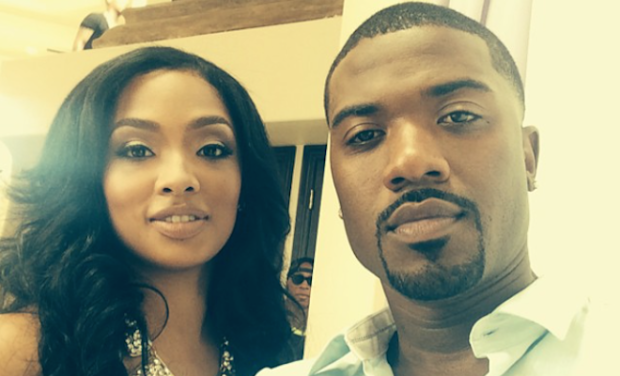 Princess and Ray J are dating after they snuck around behind the back of her former boyfriend Floyd Mayweather
Ray J, who is a rat that sells out the women he dates (Kim Kardashian and Whitney Houston, among others) stated Teairra is violent and he dislikes that. When a dude like Ray J, who has no integrity is saying you have issues, you have issues. Teairra is a pretty girl, but it takes more than that to make a relationship work.
RELATED ARTICLE
'Love And Hip Hip Hollywood' Is Full Of Fights
---
Rapper Iggy Azalea Sues Ex-Boyfriend Over Sex Tape She Says Was Made When She Was A Minor
September 18. 2014
Iggy Azalea
Australian rapper Iggy Azalea, known for the song "Fancy" has sued Atlanta based music manager and ex-boyfriend, Hefe Wine, over attempts to release a sex tape, she says was made when she was a minor. Iggy, real name Amethyst Kelly, signed a music management and production agreement with Wine, who also began having sex with her. The two began living in sin, as she traded sex for career favors.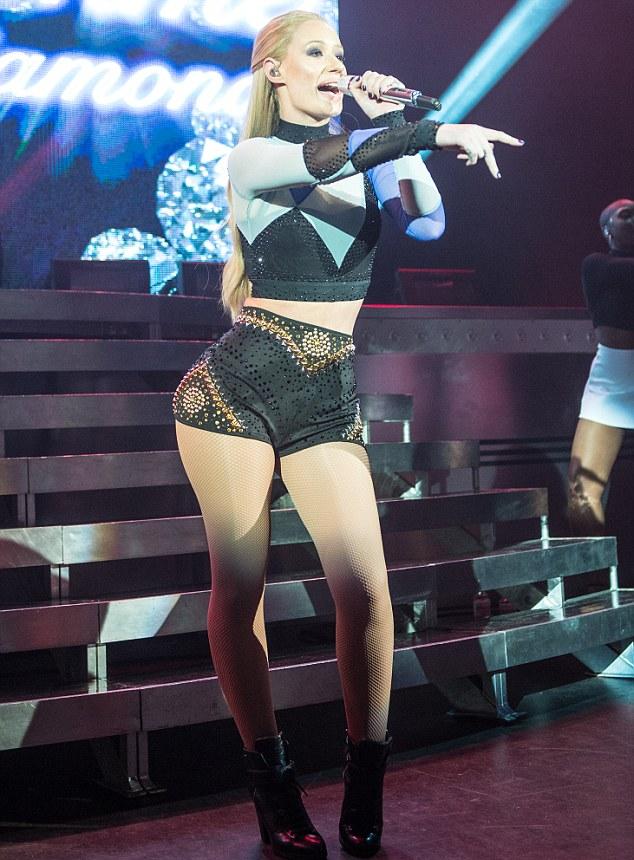 Iggy Azalea
Wine maintains Iggy was 18-years-old when she voluntarily made the sex tape. Iggy contends she was underage and the sex tape was made without her knowledge, while she lived with the older music manager. Wine states the contract Iggy signed allows him to use all music and video material she made during that time, including said sex tape, which is unheard of in the industry. Wine is now attempting to sell the sex tape and music Iggy states he illegally downloaded from her computers, to a porn company, notorious for this type of material.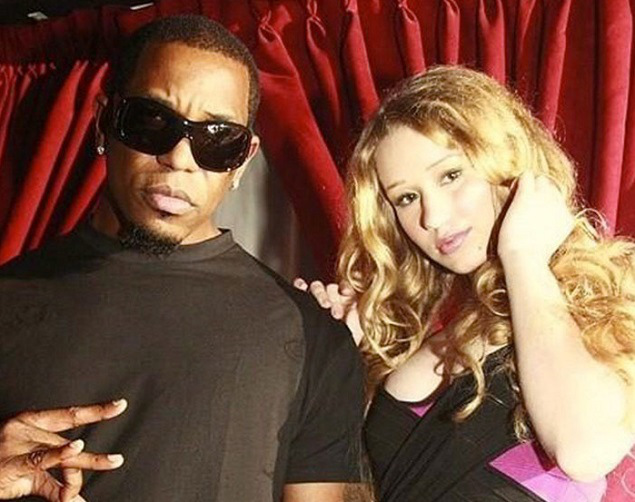 Hefe Wine and Iggy Azalea
Iggy dumped Wine in favor of having sex with married rapper, TI, who has been wed to singer/reality star, Tiny, for years. The couple have several children between them. This fact didn't stop Iggy from sexing him to become famous. The chickens are now coming home to roost.
RELATED ARTICLE
Rapper Iggy Azalea Makes Racist Remarks On Twitter Against Black And Hispanic People Offending Many
---
Sports Legends Agree On What It Takes To Be Champion
September 18. 2014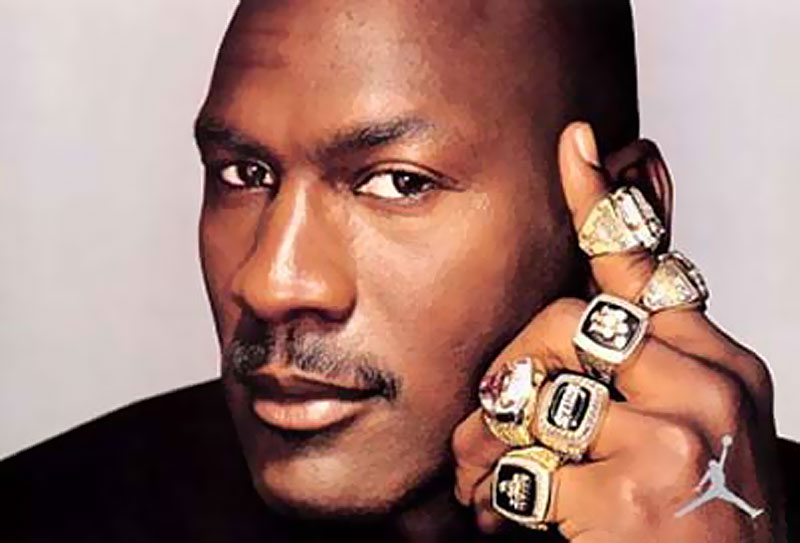 Michael Jordan
Legendary sportsmen such as Michael Jordan and Muhammad Ali have emphasized the importance of confidence and believing in one's abilities as an athlete. It's not an arrogance or cockiness, but a calm, assured mind fixed on the task at hand - winning and becoming champion.
Michael Jordan stated "As strong as my legs are, it is my mind that has made me a champion." The statement was in reference to his will to win, confidence in his talents and the mental grit he often displayed playing through physically grueling situations, including sickness.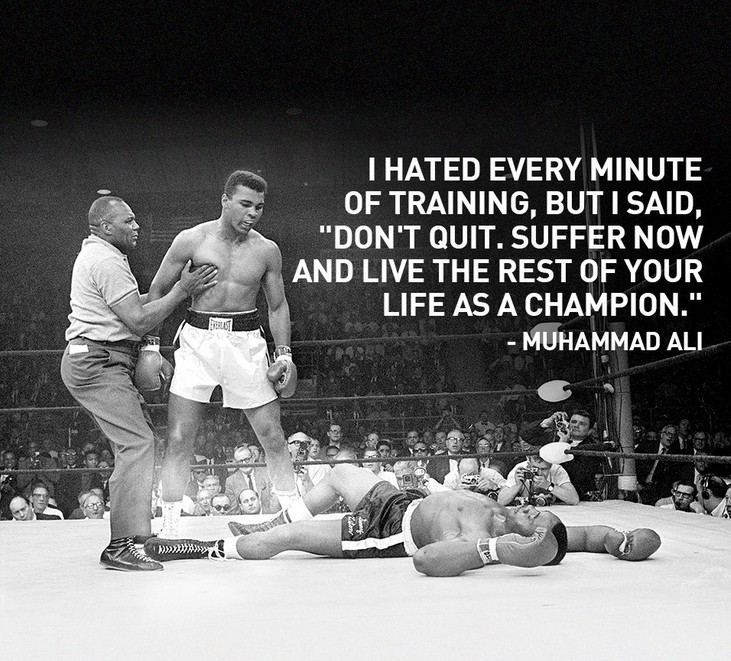 Muhammad Ali
Muhammad Ali also famously stated "Champions aren't made in gyms. Champions are made from something they have deep inside them-a desire, a dream, a vision. They have to have the skill, and the will. But the will must be stronger than the skill." Translation, you have to want that win bad enough and hold the skill to make it happen.
Two quotes that share the same common message that many great athletes have espoused as apart of their game plan for victory - you have to believe you can win. You have to believe you are the best. It will motivate you to your best.
---
Chris Brown's First Week Sales For 'X' Projected To Be 120,000 Copies Sold As Numbers Are Less Than Expected
September 17. 2014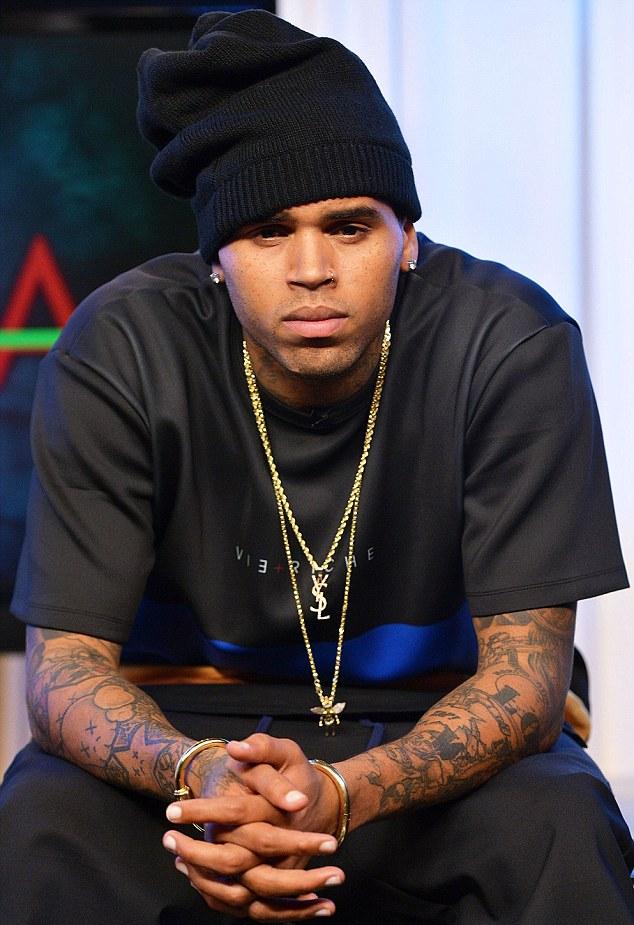 Chris Brown
Chris Brown's "X" studio CD released this week is projected to sell 120,000 copies in its first week of release. The CD is battling Barbara Streisand's latest effort. On its current sales course, "X" will be a modest success, taking more time than industry experts expected to go gold.
The single "Loyal" created a lot of attention for the CD that suffered from delays and several release dates that originally did not pan out, due to Brown's legal troubles and his former manager withholding the hard drive containing all the singer's music, after she was fired.
"Loyal" became a big hit and went platinum, selling over 1,000,000 copies, which in this day and age is a lot for a single. However, Sony waited too long to release the CD "X" after "Loyal" became a hit and sales are lower than what was expected. Another problem that may have contributed to lower sales is Brown mass unfollowing all his fans on Twitter and Instagram. Some vowed to not buy "X" upon its release.
RELATED ARTICLE
Chris Brown Unfollows All His Fans On Twitter And Instagram Sparking Anger And Offense On Social Networking
---
Boxer Jerome Wilson's Career Ends After Knock Out Results In Severe Head Injury
September 17. 2014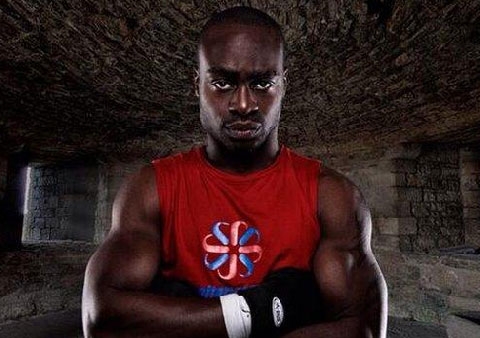 Jerome "Wipeout" Wilson
Welterweight boxer, Jerome Wilson of Sheffield, England was rushed to the hospital during his 8th fight, after a 6th round knockout by fellow boxer, Serge Ambomo, in a rematch fight that took place on September 12, 2014. The 29-year-old dad remains in critical condition with a "severe brain injury."
Last year, boxer, Magomed Abdusalamov, sustained very serious injuries in a fight against fellow pugilist, Mike Perez (World Heavyweight Champ Wladimir Klitschko Sued By The Family Of Brain Damaged Boxer). As a result of the severe brain injuries Abdusalamov sustained during the fight, he can no longer walk or talk.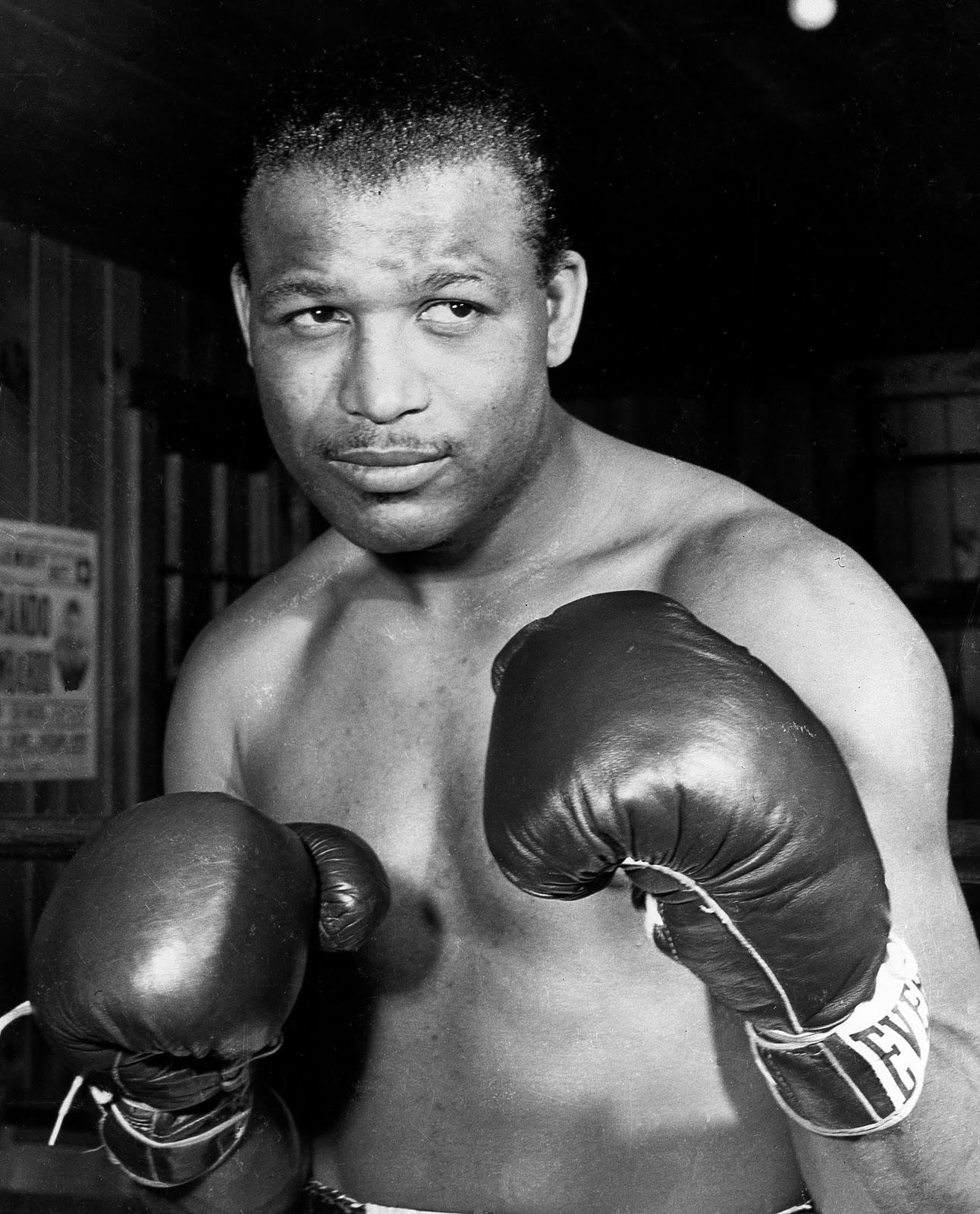 Sugar Ray Robinson
In 1947, boxing legend Sugar Ray Robinson once accidentally delivered a knockout punch that became a death blow to rival, 22-year-old Jimmy Doyle in Cleveland, Ohio. It was welterweight Robinson's worst nightmare, literally, as he'd had a dream days before the fight that he would end up accidentally killing Doyle. He succumb to a severe head injury hours after being rush from the ring to the hospital.
After Robinson woke up from the dream, he tried to back out of the fight, but it went ahead as planned and Robinson's nightmare came true. Robinson established a trust that took care of Doyle's mother for a decade after her son's tragic passing.
It's what every boxer dreads - a serious head injury that changes life and career. No one wants for it to happen or means for it to happen, but sadly sometimes it does in the ring. It doesn't matter what color you are, what country you come from or your weight division. It can happen to any boxer.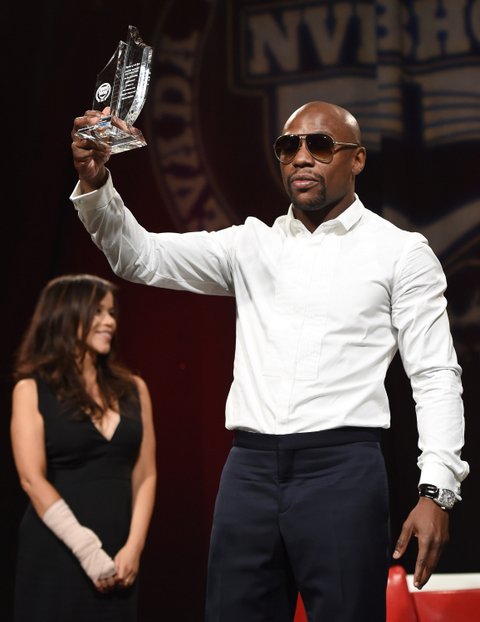 Floyd Mayweather
Boxing is not an easy sport. It's more than putting on gloves and gum shield and jumping into the ring. There's a lot more behind it than that. It takes planning and productive plotting. Great self-discipline. Years of heavy training and a restricted diet. A great trainer. A great promoter. Basically, a team behind you that knows what they are doing and are willing to invest in your possible success (as there are con artists out there, who have terribly taken advantage of boxers and don't know what they are doing in managing and promoting them).
At the end of the day boxing is a tough and dangerous sport and people should treat it as such. The grueling training and physical punishment in the ring is not easy to endure. It can turn into a very painful pummeling that takes time to heal (torn ligaments, fractured and broken bones, negative neurological changes).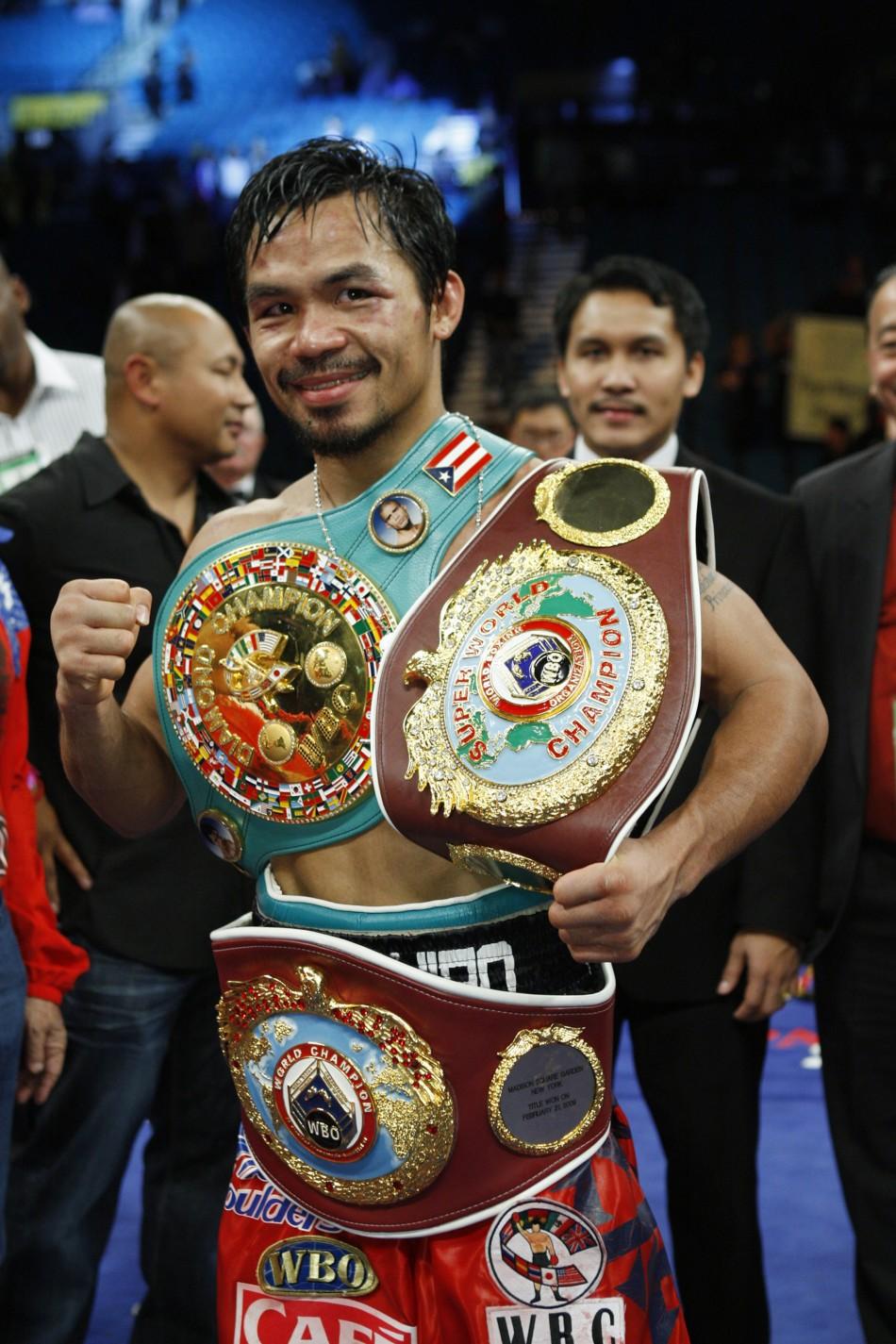 Manny Pacquiao
People should not begrudge boxers the money they earn in the event they make it, because a lot went into their success that the average person is not willing to endure. To reach the top was a hard fought climb with years of preparation, planning and punishment. I respect the age old sport and wish all boxers well. Protect and take care of yourselves.
RELATED ARTICLE
World Heavyweight Champ Wladimir Klitschko Sued By The Family Of Brain Damaged Boxer
---
The Knife Attack On Boxer Kell Brook Is More Proof You Can't Trust People You Don't Know
September 17. 2014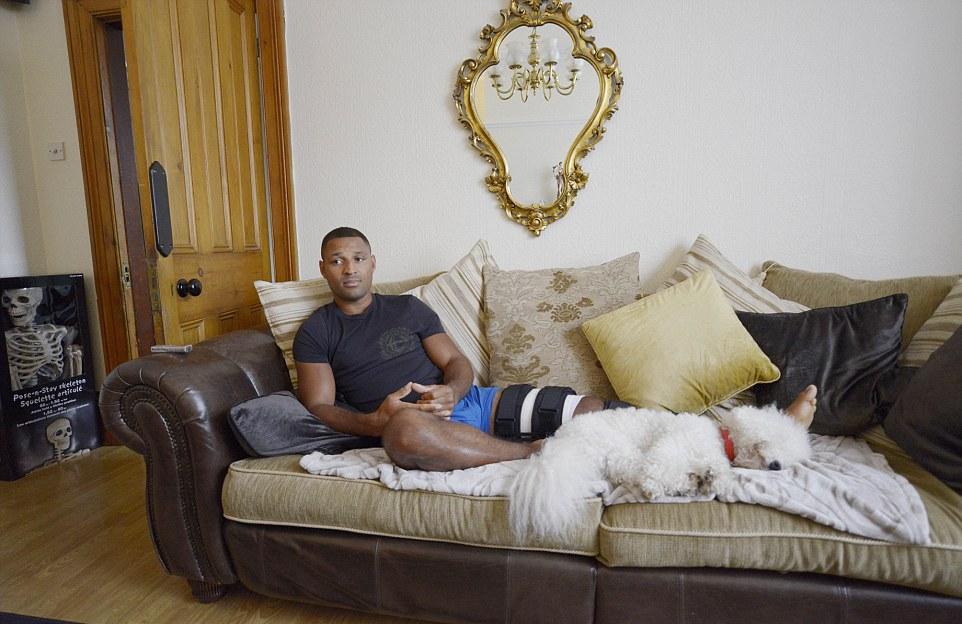 Kell Brook
While holidaying in Tenerife, an island of Spain, world IBF welterweight boxing champion, Kell Brook, of Sheffield, England, was viciously stabbed by a man he'd met hours prior at a local bar. Brook was celebrating with other Brits on the island and was befriended by many people. Many were kind to him, one was not.
After sending his pregnant wife back to their hotel after dinner via cab, Brook went to a bar with an elderly British couple. There, the champ celebrated with other Brits. When the party moved to the bar manager's flat at closing time, an inebriated Brook followed along, celebrating after months of arduous, alcohol free training and winning the IBF title.
After the party, Brook went drinking at the flat of one of the partygoers. A slightly worse for wear Brook was having a conversation with the man, while they drank. Brook stated the conversation quickly turned from boxing to claims street fighters are better and out of nowhere the man attacked the boxer with a large knife, chopping at his leg. It left a huge, gaping wound with blood pouring from it, endangering Brook's life.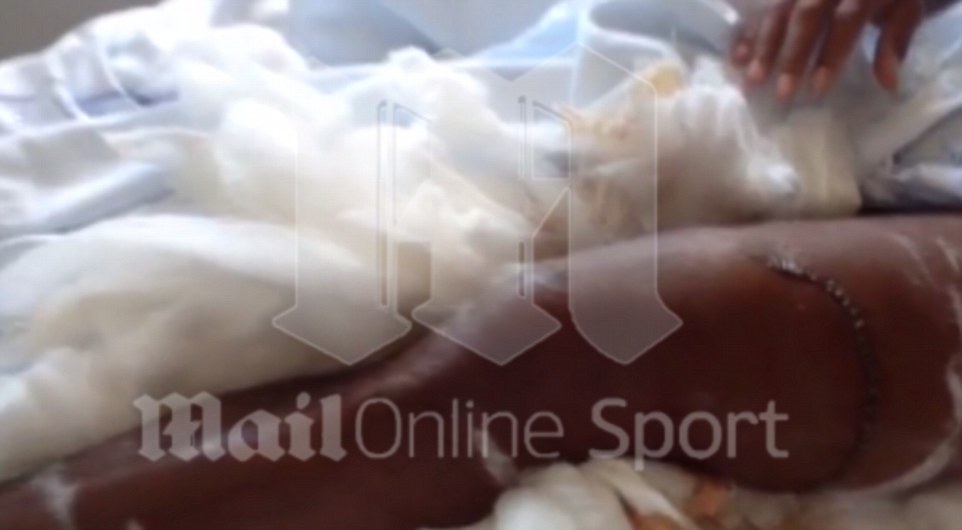 Kell Brook's knife wound
Brook fled the apartment and sought help from his assailant's neighbor, feverishly knocking on their window and door, before passing out from extreme blood loss that could have result in fatal exsanguination. Brook woke up in a hospital shortly after and police contacted the mother of his children at the hotel. The Daily Mail, who interviewed the boxing star, stated they know the identity of his assailant. However, they declined to publish his name. Police have not made an arrest at this time and are currently investigating the matter.
Brook comes across as an unassuming man, which is a good trait, but some people will take advantage of that if allowed. After hearing good and bad stories for years since I was a kid, about what can go right and wrong in the sports and entertainment industries, one thing my dad, a veteran in both fields always emphasized is, one has to be careful regarding whom one trusts.
There are some unsavory characters in this world. Not everyone is your friend. Some are decent people. However, some are wolves in sheep's clothing. Sometimes it is hard to tell the difference until they show their true colors and the damage is done. I know at times the Judiciary Report can take on a very serious and somewhat pessimistic tone, but that's because I know and have seen the good as well as the very bad things can happen to people in the entertainment and sports industries.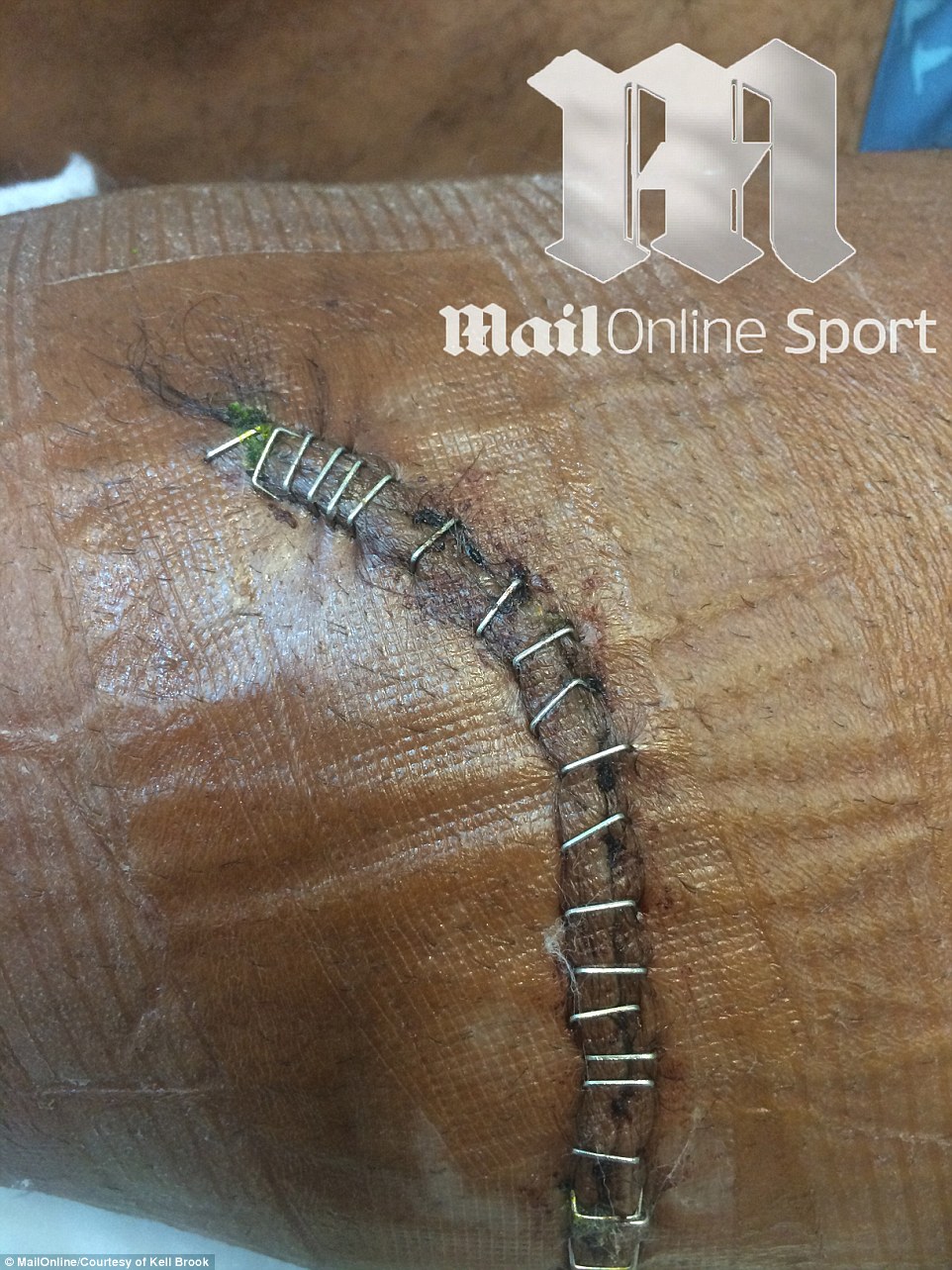 Kell Brook's knife wound
You must realize, not everyone will wish you well. Some will seek to use, exploit and harm you. Not everyone has morals. As one of my favorite teachers used to say when I would wonder why people do cruel things to others, "Not everyone was raised by your mama." A lot of you need to remember that, not everyone was raised the way you were. Just because you wouldn't do something cruel, doesn't mean others won't.

Don't be paranoid and negative, but be a realist, hoping for the best. Be smart and selective about those in your circle, because not everyone in life will mean you well. It's a cold, hard fact, but it is true. It's a sad day when you have to evaluate friendships, both existing and potential ones, but when you get to a certain place in life, you have to do so for your own protection and preservation. Trust is earned. Don't just give it away. Protect yourself, your family and your finances.
RELATED ARTICLES
A Second British Boxer Attacked On Vacation In Spain Leading To The Postponement Of Another Fight
Boxer Shot Five Times In Gangster Attack Leading To Postponement Of Show
---
The Mother Of Floyd Mayweather's Children Slams Shantel Jackson's Sexual Practices And States Her Lawsuit Won't Get Anywhere
September 17. 2014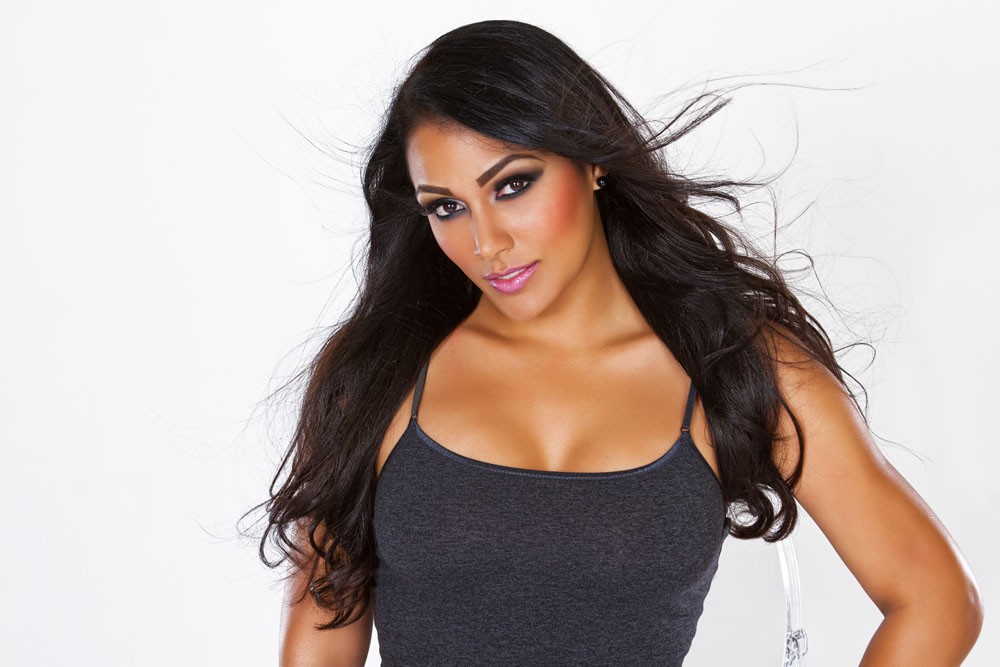 Shantel Jackson
Josie Harris, the mother of three of boxer Floyd Mayweather's four children, has slammed the aspiring model as a gold digger, for suing him. Mayweather's net worth is estimated at $400,000,000. Jackson retained attorney Gloria Allred to sue Mayweather, in a lawsuit filed two weeks ago, for domestic violence, among other things.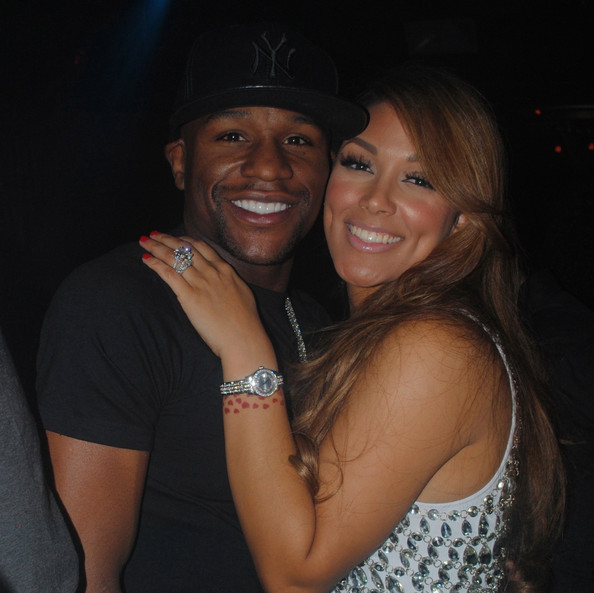 Floyd Mayweather and Shantel Jackson
Previously, Mayweather went to jail after losing a domestic violence case concerning Harris, but she did not sue him over an incident that occurred in the presence of two of their children, one of whom ran to security at guard gated community to summon help for his mother. However, the other mother of one of Mayweather's children, Melissa Brim, did sue him for domestic violence and according to Harris, the lawsuit went nowhere.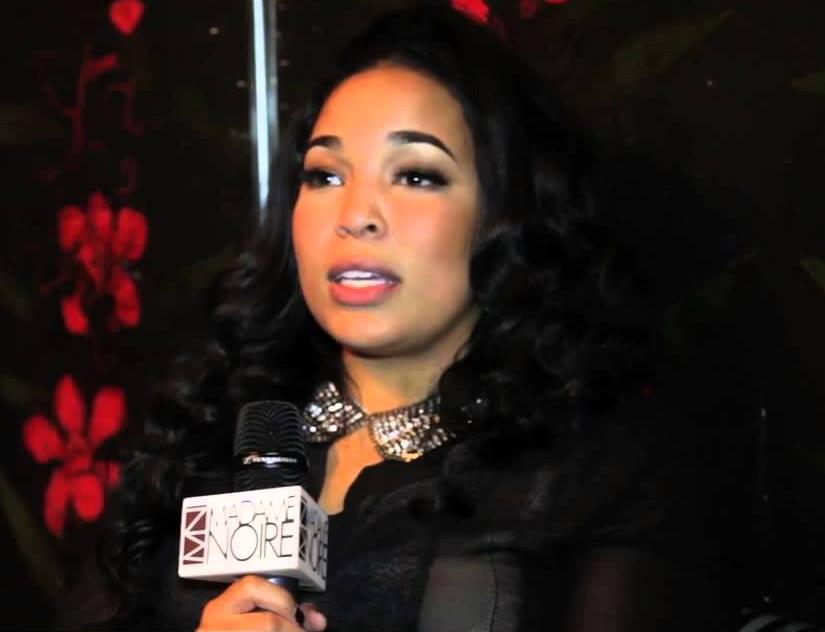 Josie Harris
Harris, who was with Mayweather the longest stated on Twitter, "Can I sue for emotional distress too? I'm just sayin….b**** just stop. you will be back working at Rio Hotel as a maid again as soon as u stop s*****g Floyd's d*** for shoes and hand bags. The same hotel he punched you in the face at when you got off work. or was that your daddy he punched in the face? oh wait it was both. Aye miss j don't take any advice on how to sue Floyd from Melissia she filled."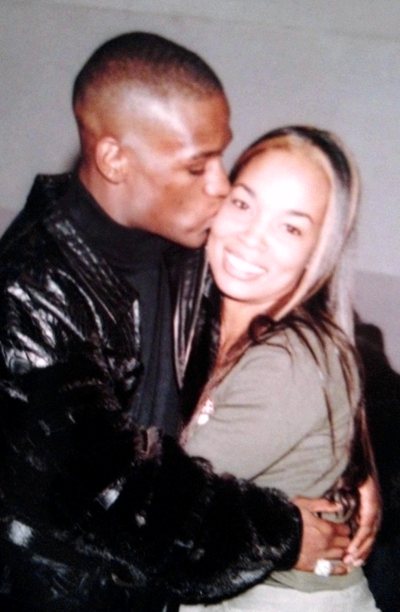 Floyd Mayweather and Josie Harris when they were dating and became engaged
Harris really loves Mayweather, whom she's mad at, but still in love with. Whereas Jackson is over Mayweather, as she never loved him, only his money that she is after again, but this time in court, with an experienced attorney, who extracted an estimated $2,000,000 from golfer Tiger Woods, for Rachel Uchitel, to keep the contents of their adulterous relationship private. Never mind, Woods did nothing illegal to Uchitel, who didn't deserve a dime for cheating with a married man.
RELATED ARTICLES
Mother Of Three Of Floyd Mayweather's Children Slams His Ex-Fiancée Stating Floyd Punched Shantel Jackson And Her Daddy In The Face
Floyd Mayweather's Ex-Fiancée Shantel Jackson Sues The Boxer For Beating Her Confirming What This Site Previously Stated She Would State
Did Shantel Jackson File A Lawsuit And Tell All On Boxer Floyd Mayweather A Week Before His Big Fight To Make Him Lose
Shantel Jackson Press Conference Has The Public Criticizing Her For Going After Floyd Mayweather's Money (Full Video)
Shantel Jackson Complained About Floyd Mayweather 'Pimping Her Out' In His Circle
---
Rihanna Curses At CBS On Twitter Over The NFL And They Permanently Pull Her Music From Their Network In A Serious Career Blow
September 16. 2014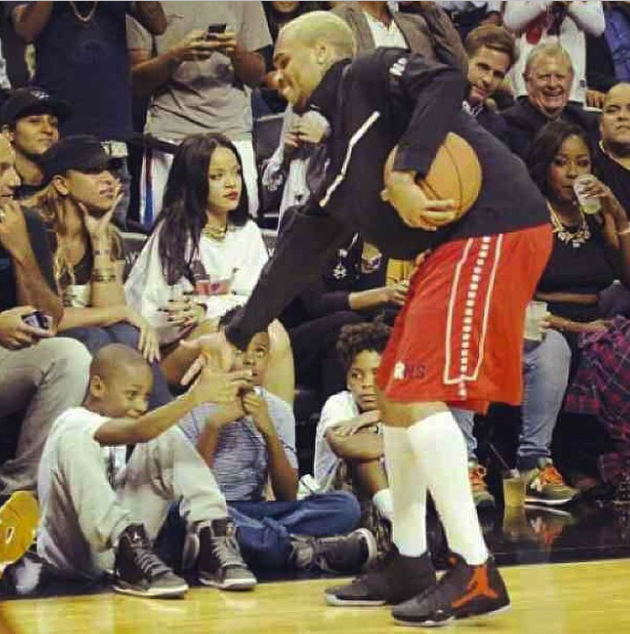 Rihanna in the audience of a charity basketball game Chris Brown played in
Ill-tempered, thieving singer Rihanna, had another profane social networking outburst, this time geared towards the CBS network, ignorantly cursing at the company for pulling her song "Run This Town" from the NFL broadcast last week, over the Ray Rice domestic violence scandal. Ray Rice is a football player fired from the Baltimore Ravens for punching out his wife in an elevator.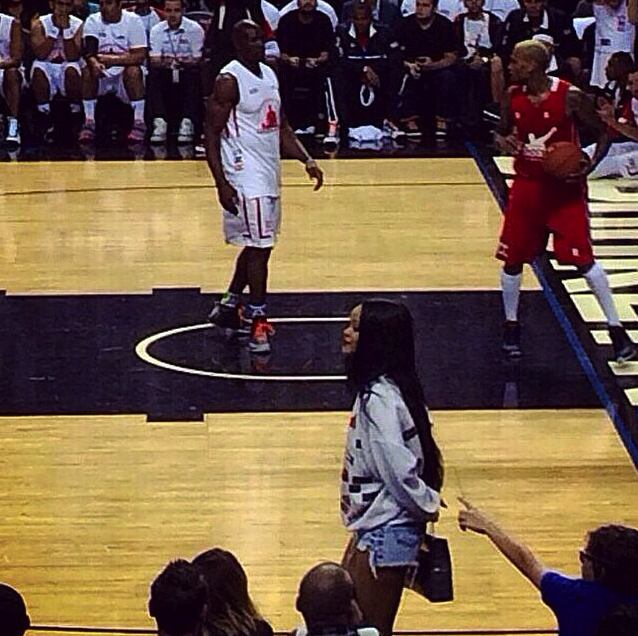 Rihanna trying to get Chris Brown's attention
CBS, the NFL and their advisors, decided to pull the song from last week's football broadcast, due to the fact Rihanna and ex-boyfriend, Chris Brown, were involved in a highly publicized domestic violence incident in 2009. The network was said to be opting for a more subdued theme. Rihanna alleges CBS tried to put the song back this week and she decided to arrogantly out them online regarding it.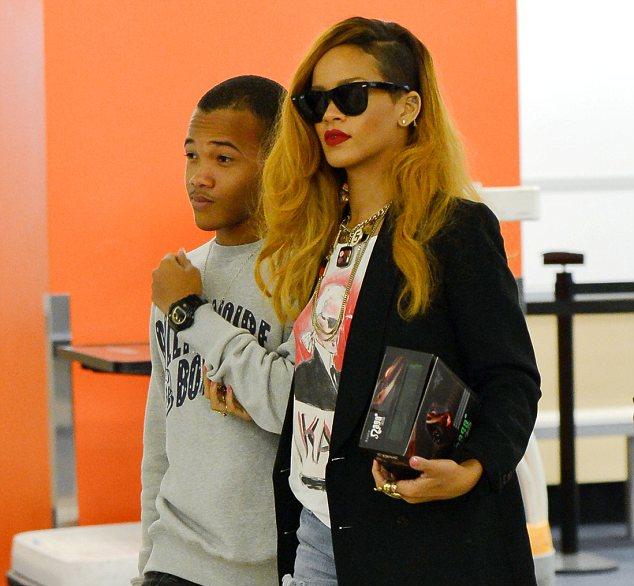 Rihanna and her perverted little brother Rajad, who is also known for making a fool of himself online
Rihanna haughtily took to Twitter to state, "CBS you pulled my song last week, now you wanna slide it back in this Thursday? NO, F**k you! Y'all are sad for penalizing me for this." CBS did not take well to the insult and pulled Rihanna's music permanently from the network, which is a big blow to her career.

Top CBS program "Entertainment Tonight" slammed Rihanna's conduct by stating in reference to her burning bridges, "Rebels get old. They come knocking for their second act." Ouch! The show further stated CBS hosts other programs such as the Grammy Awards telecast and Rihanna just did something foolish in insulting them online. The Judiciary Report has consistently maintained, fame fools people. Rihanna and her inflated, self-important ego is proof of that.
RELATED ARTICLES
Rihanna's Brother Racially Slurs Chris Brown's Girlfriend Karrueche Tran (Photo)
Rihanna Gets Drunk And High While Driving Bike Endangering Others
---
'Love And Hip Hip Hollywood' Is Full Of Fights
September 16. 2014

Love And Hip Hop Hollywood
"Love And Hip Hop Hollywood" premiered last night and as was to be expected, it is as debauched as it counterparts. The reality series stars rappers Ray J and Soulja Boy, former B2K boyband members Lil Fizz and Omarion, one time singer Teairra Mari and Floyd Mayweather's ex-concubine, stripper Princess.
The most adversarial and violent person on the show thus far, is singer, Teairra Mari, who is like wannabe rapper, Joseline Hernandez from "Love And Hip Hop Atlanta." Teairra sexed rapper Jay Z for career favors and was signed to his frequently sued, copyright infringing, Rockafella Records. Her career fizzled fast and she was left bitter over the whole experience.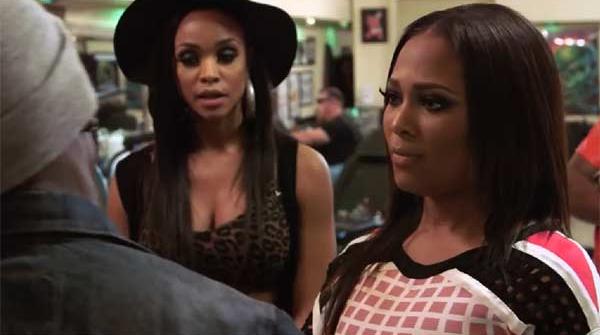 Teairra Mari before a fight
Teairra dated rapper Ray J, notorious for the sex tape with reality star, Kim Kardashian. However, Teairra and Ray J's relationship did not last and was on and off for quite sometime. Recently, Ray J began living in sin with stripper Princess, who was being kept by boxer Floyd Mayweather, until she betrayed him with the rapper and was accused of robbing the pugilist of 10 Rolex watches and thousands in cash.
Ray J was kicked off Mayweather's Money Team for messing with Princess, a woman Floyd took off the stripper pole and from escorting, only for her to stab him in the back. Princess always resented Floyd's now former fiancée, Shantel Jackson and waged an online war with the beautiful, but deceitful aspiring model, who is also releasing her own reality show with rapper Nelly.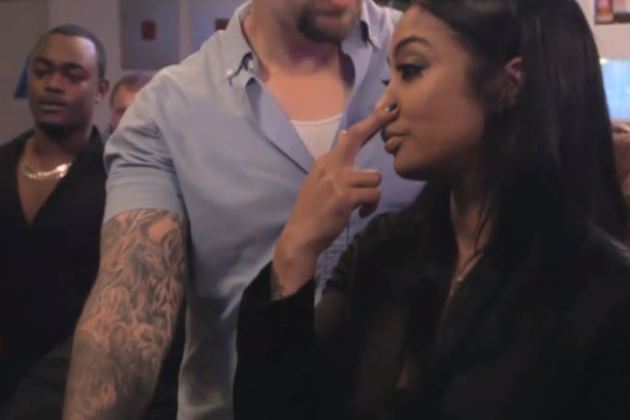 Princess mocking Teairra Mari about vaginal odor due to finding Vagisil and Monistat among her possessions left at the home of ex-boyfriend Ray J
Teairra Mari hates Ray J's new girlfriend, Princess, as the singer is still in love with the rapper. Teairri left items at Ray J's home and demanded them back. However, Princess took photos of the items, among them Monistat (a vaginal yeast infection cream) and Vagisil (a vaginal wash) and used the photos to insult Teairra.
Princess began mocking Teairra stating in a crude manner that she has vaginal odor problems, referring to her vagina as "stinky." Teairra countered it is from sleeping with a man Princess had sex with, Ray J, which would imply she passed on a bacteria that permeates his sperm. It's very low brow that a reality show has resorted to trading barbs about vaginal odor for ratings, when it indicates a gynecological issue, as the vagina is not supposed to "stink."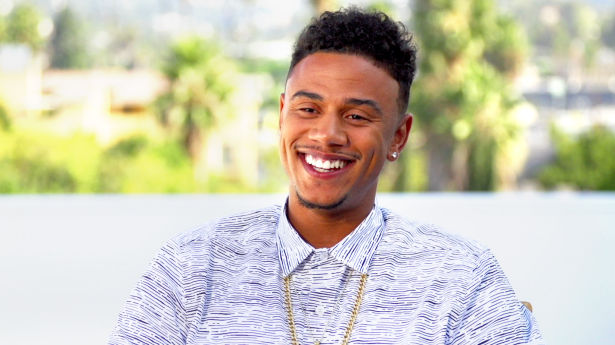 Lil Fizz
Rapper Lil Fizz, has a cute little son, by mentally unstable and bitter, Moniece Slaughter. The couple are no longer together and Moniece lost custody, only seeing their child once every two weeks. Their parental relationship is a very unhealthy one. One gets the impression she wants to physically attack Lil Fizz, who has a new girlfriend.
RELATED ARTICLE
Love And Hip Hop Atlanta's Joseline Hernandez Is Jealous Like Jay Z
---
Oscar Pistorius Found Guilty Of Manslaughter In The Death Of Girlfriend Reeva Steenkamp
September 15. 2014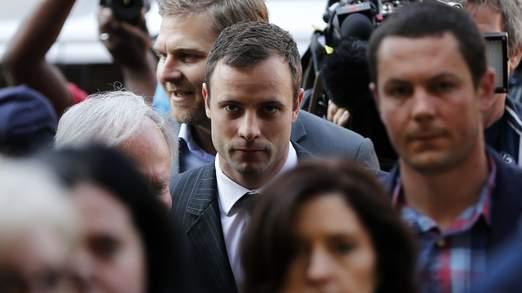 Oscar Pistorius
After being acquitted of "premeditated murder" athlete Oscar Pistorius has been found guilty of manslaughter in the shooting death of girlfriend Reeva Steenkamp. The beautiful model and reality star was shot dead by Pistorius in his home. Pistorius stated he mistook Steenkamp for an intruder. Prosecutors in his native South Africa are of the belief, the couple had a fight, Steenkamp fled to the bathroom and Pistorius in a rage shot her to death through the door.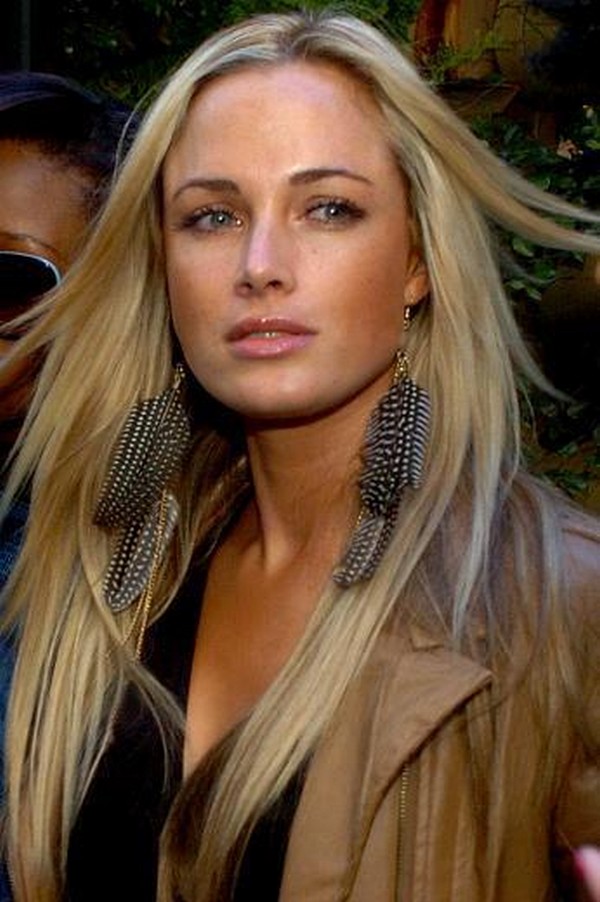 Reeva Steenkamp
South African judge, Thokozile Masipa, ruled Pistorius shooting Steenkamp four times would cause anyone to believe death could result from discharging a firearm multiple times. Other items have created pause among the public. Why would Steenkamp have locked herself in the bathroom, putting the lock on, if she was not afraid of being attacked. Secondly, why did Pistorius wait so long to call for help. The life drained out of Steenkamp while Pistorius waited for a long time to call an ambulance. It gives a certain impression.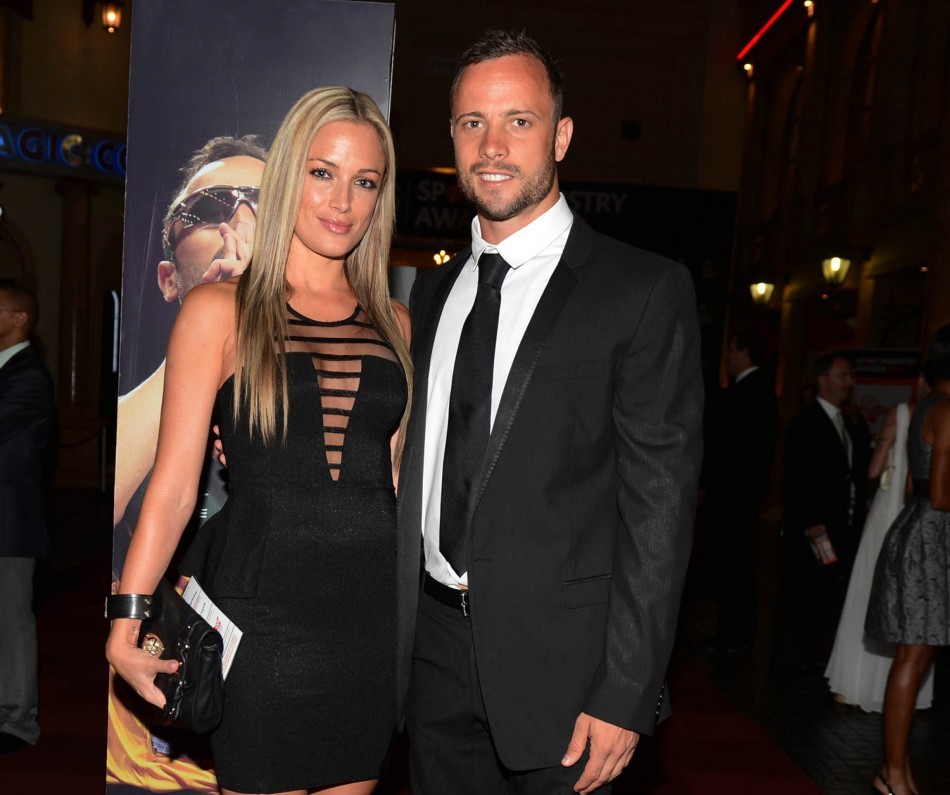 Reeva Steenkamp and Oscar Pistorius
Pistorius, who cried uncontrollably in court, is currently free on bail in South Africa and must return to the court next month to be sentenced regarding his manslaughter conviction. Pistorius faces up to 15-years in prison on the manslaughter conviction.
RELATED ARTICLE
Discrepancies Appear In The Oscar Pistorius Murder Trial
---
Madonna And The Kabbalah Center Criminally Interfering In People's Business
September 15. 2014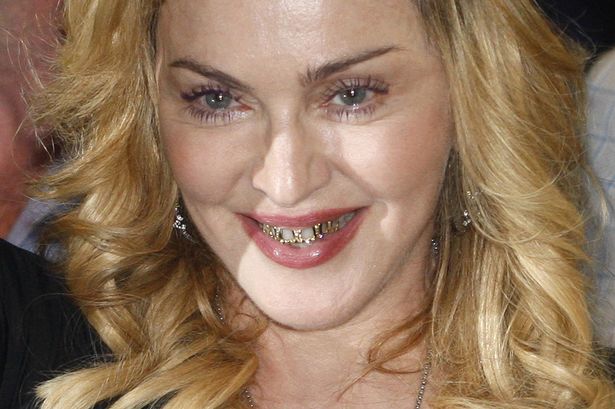 Madonna
This is a follow up regarding the phone hacking scandal that I broke first and related to the Anthony Pellicano wiretap case, regarding Madonna and Rupert Murdoch, who are members of the Kabbalah Center and their aforementioned private investigator, who is now in prison.
I was informed by someone responsible for many of my site exclusives, that Madonna and the Kabbalah Center have ramped up her insane efforts regarding meddling with my business. I was tipped off Madonna has engaged her Kabbalah Center lackeys to contact individuals and companies, demanding they prolong business related matters concerning me (that have nothing to do with her).
Madonna and Kabbalah are engaging in this misconduct in sick bids at delaying my business plans, as I have other important things I need to do in Britain and Jamaica that have been delayed because of the aforementioned misconduct. It has proven difficult for Madonna and the Kabbalah Center to stalk, harass and approach me in Britain and Jamaica, in the manner they have repeatedly done, week in and week out, here in Miami, Florida.
Madonna and the Kabbalah Center, became very agitated and annoyed when I spent six months in London, England and a few weeks in Jamaica in 2012, as they could not easily conduct the outright aggravated stalking and criminal harassment, replete with death threats and other treats of grievous bodily injury, as they did in Miami, Florida.
The phone hacking case was raging in London, England, with famous and non-famous people being arrested (another component of the case, computer hacking, is currently under investigation). In Jamaica, it also proved very difficult for Madonna and the Kabbalah Center, that experts have described as sick cult, to stalk, terrorize and threaten me, in the manner they did in Miami, Florida.
Madonna and Kabbalah became so desperate when I was in London, England from April 2012 to September 2012 that they criminally engaged a company connected to them via published business ties I have uncovered, who sent a man to terrorize and threaten my family for weeks at my Miami residence, in my absence, a few weeks after I had flown to London.
The incidents that broke the law were witnessed by several people and is well documented. When I was in London in 2012 I received a telephone call from my distraught mother about it. Madonna and the Kabbalah Center began criminally harassing and targeting my family in Miami, in my absence as a threat that I was to leave London at once. Madonna and the Kabbalah Center were trying to drag me back to Miami like a runaway slave, because they were having trouble getting at me in London, England.
Madonna and the Kabbalah Center continue to criminally have my phones wiretapped and phone hacked, as well as hacking my computers and email accounts (for which I have documented, irrefutable digital proof). Where they did so before using private investigator, Anthony Pellicano, who I gave evidence to the FBI against and he was arrested four months after, now they are using other private investigators like Gavin DeBecker, among others.
Madonna got Gavin DeBecker sued for criminally harassing and terrorizing an American man, she and the Kabbalah Center began insanely targeting. If fact, lawsuits have been filed all over America regarding Madonna and the Kabbalah Center targeting, harassing and ripping off innocent people. They're sick. They have a problem.
Now Madonna and company have resorted to criminally interfering in legal matters and separately business dealings regarding me, that have nothing to do with her, in repeatedly creating delays, cancellations and rescheduling of serious matters in Miami, trying to delay and thwart me going to London and Jamaica again.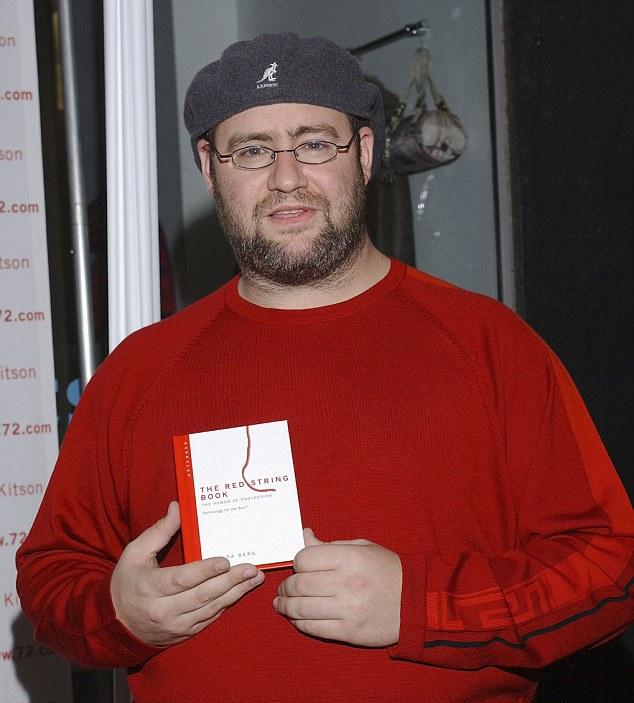 Madonna's Kabbalah Center rabbi Yehuda Berg is deranged as well: Madonna's Rabbi At The Kabbalah Center Threatened To Beat And Kill A Student He Drugged And Tried To Rape
Each time I make plans over my (illegally wiretapped) phones or via email (which I have documentation proving my email accounts have been severely hacked) regarding me going to Jamaica and London, England, like clockwork something occurs shortly after regarding one of the companies Madonna and Kabbalah have been illegally contacting about me and my business plans. They end up having to be rescheduled as a result, because they've moved the dates of prearrange appointments or meetings ect, trying to prolong things at her sick urging, in bids at keeping me in Miami, when I have very important things to do in Jamaica and London, England.
I've made plans with people in Jamaica and London, England and keep having to cancel and reschedule them over what is happening. I have missed people's birthdays, anniversaries and business events abroad, because of this madness Madonna and the Kabbalah Center keep doing regarding my business in America. Who gets that involved in other people's business that have nothing to do with them.
The illegal inducements Madonna and Kabbalah is offering them will not be enough to pay for criminal attorneys and to keep them out of prison. Just ask Anthony Pellicano and his fellow federal prison inmates he roped into that madness on behalf of Madonna and his other Hollywood clients such as Rupert Murdoch - who's criminal behavior also landed his business associates in prison in England. More on this in another column and in full detail.
Side Bar: The Kabbalah Conduct's sick conduct is flaring up again, as members of the cult have been illegally showing up in the guard gated community in Miami I live during hours the private community is undergoing renovations and knocking on my door for many minutes and refusing to leave until security is called. Kabbalah Center cult members have tampered with my front door look so much that it had to be fixed twice, the replaced over the past several months. They're insane.
They've also been tampering with and defacing my mail and stealing select packages with mailing labels that indicate it has to do with my work. Then, they follow and approach me all over Miami with harassing and menacing threats. They keep getting into my private life without my consent and in a deranged manner, telling me who I should not talk to or date and where I'm not allowed to go. They keep repeating the sickest, most insane garbage she sends them up to me to state, despite the fact I have no interest in any of it and keep walking off.
The wiretapping, phone hacking and email hacking has gotten much worse again. They're also contacting and harassing my family and friends regarding me. Psychologists all refer to individuals who engage in the aforementioned criminal misconduct as dangerous stalkers.
RELATED ARTICLES
Andy Coulson Moved From Tough British Prison Belmarsh While Former Boss Rupert Murdoch And His Cohort Madonna Continue Phone Hacking
Andy Coulson Found Guilty In The Phone Hacking Case (Confirming Previous Claims I Made About Him On The Site)
Rupert Murodch's Right Hand Man Andy Coulson Sentenced To 18-Months In Jail After Being Found Guilty In The Phone Hacking Scandal
Former BBC Television Presenter Rolf Harris Sentenced To 5-Years In Prison For Pedophilia
---
Shantel Jackson Confirms She Is Going To Do A Tell-All About Boxer Floyd Mayweather Confirming This Site's Previous Claims (Video)
September 13. 2014
This is a follow up to two Judiciary Report exclusives on August 12, 2014
Floyd Mayweather's Ex-Fiancée Shantel Jackson And Rapper Nelly Are Filming A Tell All Reality Show
and August 5, 2014
Floyd Mayweather's Ex-Fianceé Shantel Jackson Threatens To Tell All Such As...
.
A month later, on September 10, 2014, Shantel Jackson, the ex-fiancée of $400 million dollar boxer, Floyd Mayweather, did an interview with Dish Nation and confirmed items the Judiciary Report had published to the site several weeks ago, as two of many exclusives. The interview went as follows:
Dish Nation: there's stories going around that you're planning on doing a tell all about some of the people that may have been involved in your life
Shantel Jackson: you guys just have all the juice don't you. I've been approached by a few publishing companies, a few production companies. I've been talking to a few people so... signed on to do the show because it's been so much stuff in the media and blogs put out about me. I want people to really see who I am, what I'm about, what my personality is and who I am. on the show you get to see that.
Dish Nation: Do any people need to be nervous about what's gonna be on your show
Shantel Jackson: Next question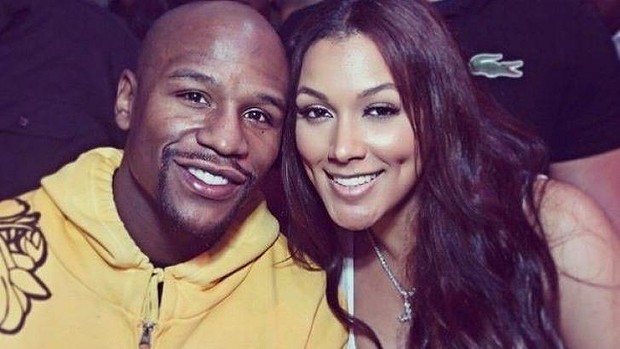 Floyd Mayweather and Shantel Jackson
During the interview, Dish Nation made reference to the Judiciary Report's exclusive that Shantel has been looking to do a tell all, a story this site broke first, as stated above. IF you read her answer properly, she does not deny the fact she is working on a tell all regarding Mayweather. Much like the Judiciary Report was the first to state Shantel would publicly allege Floyd hit her and one month later she sued him via Gloria Allred for assault and battery.
As I know the music and film industries well, I know who's who and what's going on. As such I was able to write that Shantel is barking up the wrong gold diggin tree with rapper Nelly, as he does not have a lot of money, as she wrongly thinks. A few months after, Shantel, who finally realized what I was saying, has sued Floyd trying to regain the lavish lifestyle she once had with him, but partnering up with Nelly in trying to become famous like other chicks have done through reality series like "Love And Hip Hop."
The Judiciary Report is not in favor of Shantel suing Floyd for money. The site was simply ringing the alarm that there is trouble ahead and now that trouble has arrived. The Judiciary Report also does not agree with domestic violence, as stated in several past articles.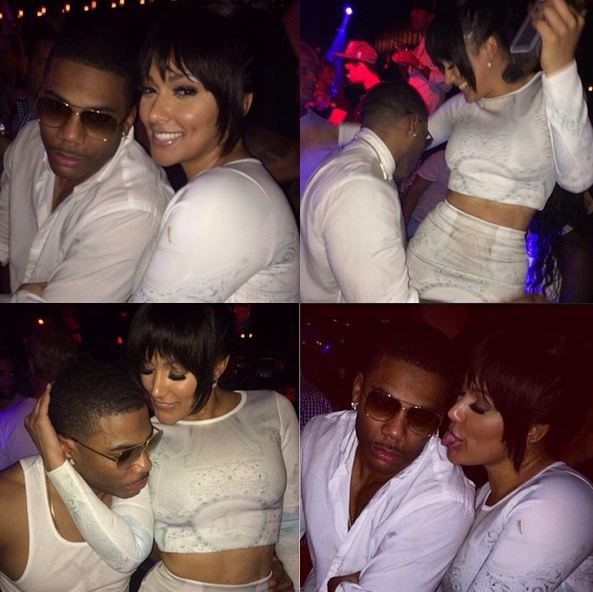 Shantel Jackson and Nelly
At the end of the day, Shantel and Floyd need to work out their differences and move on, as neither of them were right for each other - another item the Judiciary Report had written well over a year ago and now the truth has come out and they see it for themselves. It's funny how sometimes people can see things others in the midst of the situation can't.
Lust for sex, adoration and loyalty (Floyd) and lust for money and fame (Shantel) can mess with people's heads and they end up hurting each other. That's not love. At the end of the day, I hope they both find true love with whomever God intended them to be with.
RELATED ARTICLES
Floyd Mayweather's Ex-Fiancée Shantel Jackson Sues The Boxer For Beating Her Confirming What This Site Previously Stated She Would State
---
ESPN Reports Ray Rice Came Clean To The NFL In June About Beating His Wife
September 12. 2014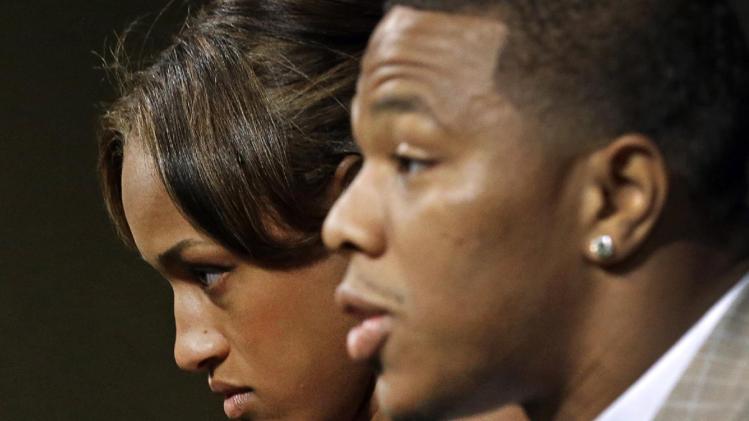 Janay and Ray Rice
The Ray Rice domestic violence scandal is going from bad to worse for the NFL as a new report by ESPN revealed the football player went to Commissioner Roger Goodell and came clean stating he had punched and knocked out his wife in a casino elevator in Atlantic City, New Jersey.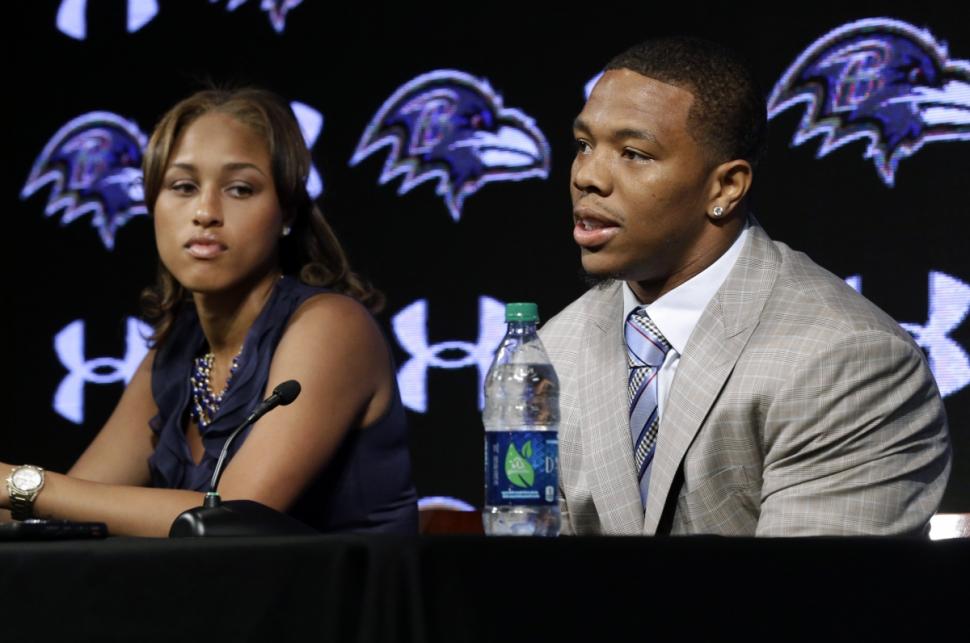 Goodell has hired former FBI Director, Robert S. Mueller, one of the most corrupt, racist men in existence, to do an investigation into what transpired at the NFL regarding the scandal. Mueller has done worse than Rice in deeds that led to people's deaths.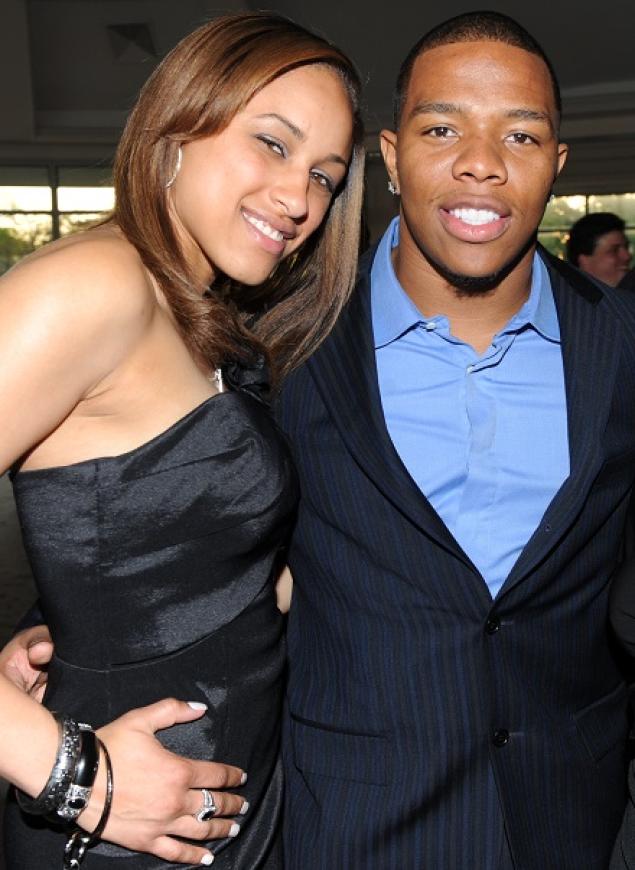 What is said investigation going to prove? The NFL does not tell players to beat their significant others. That's not NFL policy. However, I do agree, the punishment of a two game suspension was light, but it is not for me to decide that Rice should never play again. At the end of the day, people need to be careful that they do not let a regrettable scandal involving one man and his girlfriend, destroy an entire league.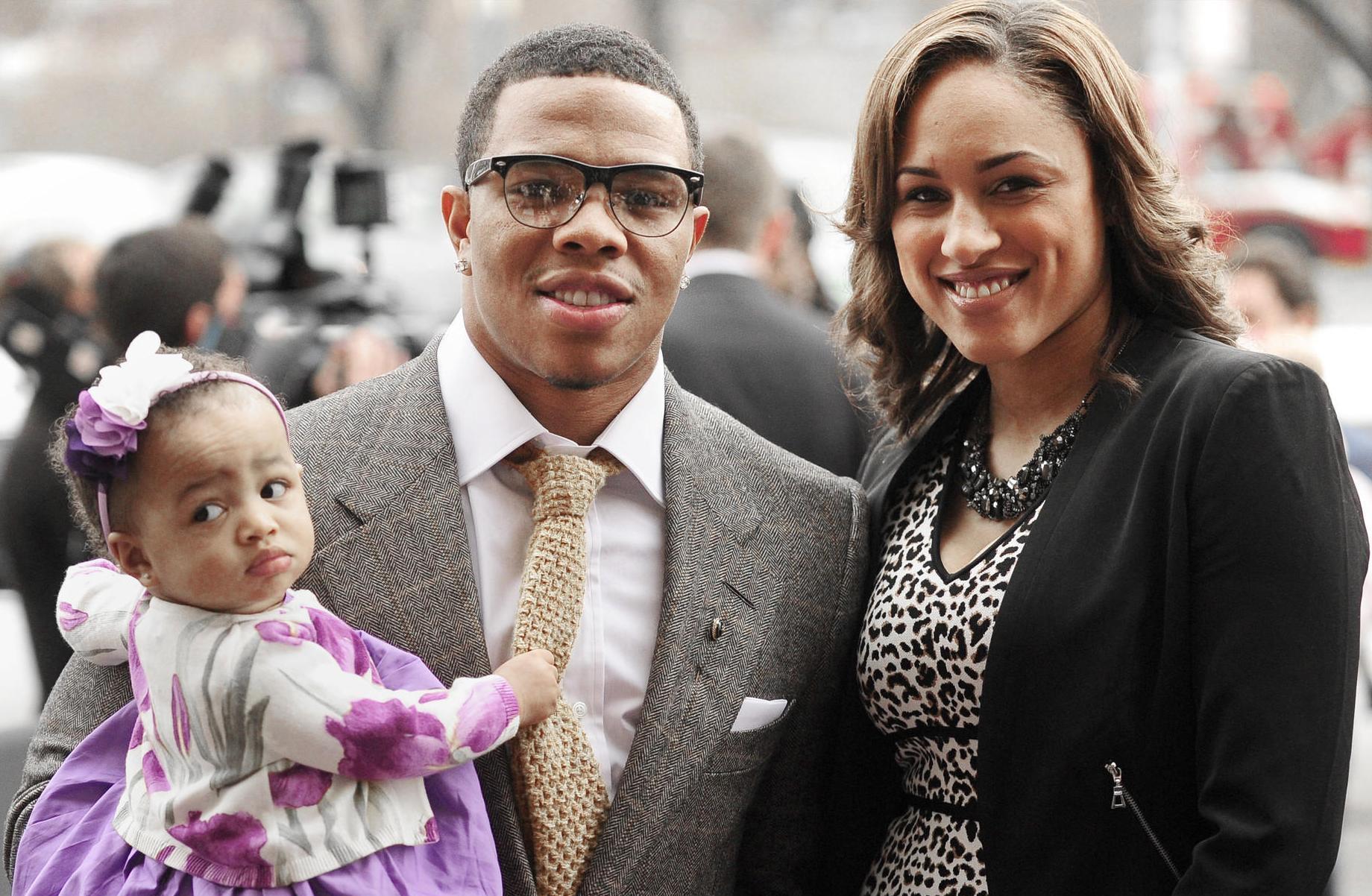 Ray Rice, Janay Rice and their daughter
The NFL is a private organization. Who knew what, when and in what fashion is not going to solve anything in terms of law enforcement, as Mueller has no authority in that realm anymore (thank God). Frankly speaking, Rice's brutal beating of his wife is a law enforcement matter. However, the case was already adjudicated. As it appears to be his first offense, the court ordered Rice to undergo counseling, which was a light punishment for the crime. Frankly, I'm concerned for his wife and child and hope nothing like this ever happens again.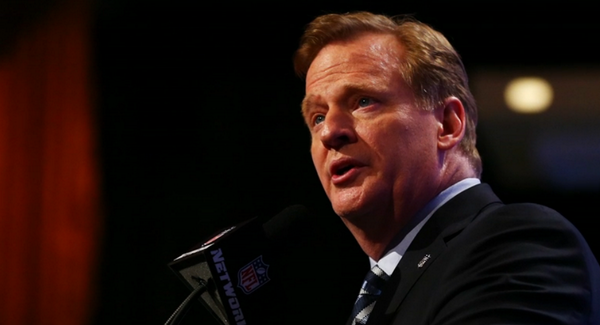 Roger Goodell
The NFL has implemented new rules for misbehavior in the league. Rice has been dropped from the Baltimore Ravens and suspended indefinitely. He may have lost his career in football. Choices have consequences. Many on social networking believe there should be a code of conduct in the NFL. That should go for all sports. At the end of the day, it is a privilege to play in any organized sporting league, anywhere in the world, not a right. Cherish it and act accordingly.
STORY SOURCE
Sources: Rice told NFL he hit fiancee
Updated: September 12, 2014, 1:13 AM ET - Ray Rice told NFL commissioner Roger Goodell on June 16 that he punched his then-fiancee in a casino elevator, four sources have told "Outside the Lines," an assertion that contradicts Goodell's statement this week that "when we met with Ray Rice and his representatives, it was ambiguous about what actually happened."
Goodell made the statement Tuesday during an interview with CBS News, saying the latest video released by TMZ Sports about the incident was "inconsistent" with what the former Baltimore Ravens running back had told him. But four sources close to Rice say that during the disciplinary meeting in the commissioner's office on June 16, Rice told Goodell he had hit Janay Rice, then his fiancee, in the face inside a Revel Casino Hotel elevator in Atlantic City, New Jersey, and had knocked her unconscious.
"Ray didn't lie to the commissioner," a source with knowledge of the meeting told "Outside the Lines." "He told the full truth to Goodell -- he made it clear he had hit her, and he told Goodell he was sorry and that it wouldn't happen again."
"He told the truth," a second source said. "This is a public lynching of Ray." A third source with knowledge of Rice's discussion with the commissioner said: "There was no ambiguity about what happened [in the elevator]." A fourth source also confirmed how the information was relayed at the meeting; however, a fifth source with knowledge of the meeting said Rice told Goodell he had "slapped" his fiancee.
The accounts given by the sources, who spoke on condition of anonymity, contradict Goodell's statement that he did not know precisely what had happened inside the elevator until he watched the TMZ Sports-released videotape on Monday morning. After The Associated Press reported Wednesday that a copy of the in-elevator video was sent by a law enforcement official to an unnamed NFL executive last April, the league announced former FBI chief Robert Mueller would lead an independent inquiry of the Rice matter, overseen by New York Giants owner John Mara and Pittsburgh Steelers owner Art Rooney.
The discrepancy raises additional questions about Goodell's decision to give the former Ravens running back a two-game suspension on July 24 for hitting his now-wife.
In his letter explaining the reasons for the two-game suspension and financial penalties of $500,000, Goodell wrote to Rice, "As you acknowledged during our meeting, your conduct was unquestionably inconsistent with league policies and the standard of behavior required of everyone who is part of the NFL. The league is an entity that depends on integrity and in the confidence of the public, and we simply cannot tolerate conduct that endangers others or reflects negatively on our game. This is particularly true with respect to domestic violence and other forms of violence against women."...
---
Oscar Pistorius Found Not Guilty Of Premeditated Murder In Girlfriend's Death Prompting Outrage Online
September 12. 2014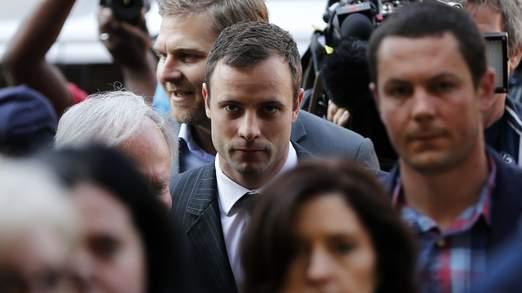 Oscar Pistorius
The internet reacted in shock yesterday when athlete Oscar Pistorius was acquitted of premeditated murder charges in the shooting death of girlfriend, Reeva Steenkamp. As the verdict was read from the South African court and filtered out around the world, people voiced their opinions on social networking calling it an injustice.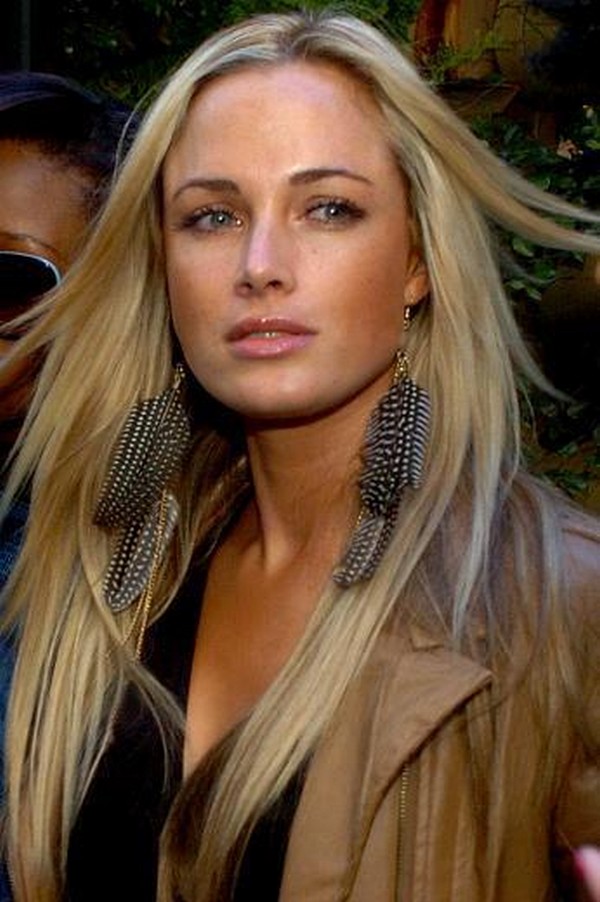 Reeva Steenkamp
Judge Thokozile Masipa stated prosecutors had not proven their case. She further stated "manslaughter" was a "competent" charge, as he did in fact kill Steenkamp. However, the prosecutors went for the highest charges they could muster, due to Pistorius' history of domestic violence with other women, the gruesome nature of the crime scene and the fact he did not call for help after shooting Steenkamp.
The case should not be about Pistorius being famous, an Olympian and a Paralympian. At the end of the day, a woman was shot dead under bizarre circumstances. Her family is devastated and demanding justice. Those are the only factors that should be of relevance.
RELATED ARTICLE
Discrepancies Appear In The Oscar Pistorius Murder Trial
---
Lawyer Gloria Allred Goes For Floyd Mayweather's Neck In Trying To Get His Boxing License Revoked And His Fight Cancelled
September 12. 2014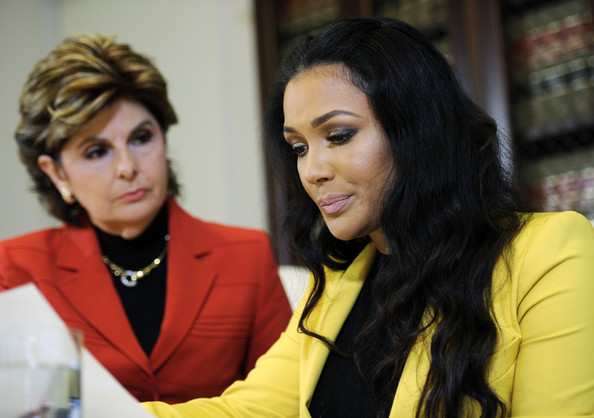 Gloria Allred and Shantel Jackson
Famous attorney Gloria Allred did an interview with the CNN network last night and went for boxer Floyd Mayweather's throat. During the interview, Allred discussed the lawsuit she filed a week ago on behalf of Mayweather's former fiancée, Shantel Jackson, who alleges assault, battery and invasion of privacy by the star athlete. Mayweather stated this week there is no proof he ever assaulted any woman he's dated.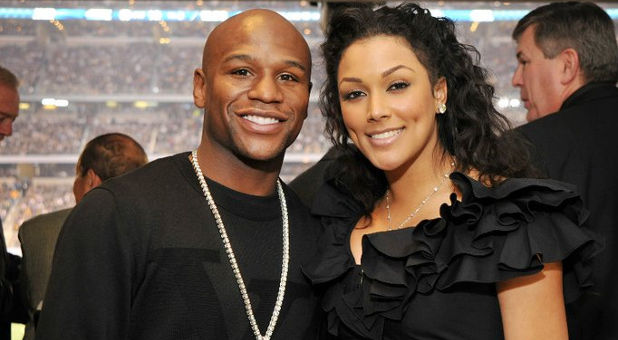 Floyd Mayweather and Shantel Jackson
Allred is going after Mayweather in every way she can. She has announced she is seeking the revocation of Mayweather's boxing license with the Nevada Boxing Commission. Allred is also demanding the cancellation of Mayweather's fight this coming weekend, the rematch against fellow pugilist Marcos Maidana.
RELATED ARTICLE
Floyd Mayweather's Ex-Fiancée Shantel Jackson Sues The Boxer For Beating Her Confirming What This Site Previously Stated She Would State
---
NOTE: Sorry for the delay in publishing last night. The site was hacked by Madonna's Kabbalah Center and it took hours for the computer to repair itself to publish last night's articles this morning (at 6:00AM). Sorry for the inconvenience.
---
PERMALINKS
Madonna's Pedophilic Kabbalah Center
Madonna's Rabbi At The Kabbalah Center Threatened To Beat And Kill A Student He Drugged And Tried To Rape
NSA Workers Admit To Reading The Emails And Listening To The Calls Of Americans In Violation Of The Law
Judge Rules The NSA Illegally Spied On Americans Confirming The Site's Previous Claims (Video)
NSA Admits Employees Illegally Spied On Love Interests And Significant Others Confirming Site's Previous Claims
New Scandal Erupts Regarding The FBI And Justice Department Monitoring Calls Of AP Reporters Confirming Previous Site Claims
IRS Says Sorry For Targeting Conservatives As Obama Denies All Knowledge Of Misconduct
President Obama Fires The Head Of The IRS For Targeting Conservatives (Video)
News Report: The IRS Targeted Christians
FBI Agent Arrested For Accepting A $200,000 Bribe To Derail A Criminal Case The FBI Was Supposed To Be Investigating
Another FBI Agent Caught Taking Bribes To Derail Serious Cases (Video)
Boycott Aventura Mall For Racial Profiling And Negligence