.
Angelina Jolie Slept With Motherís Boyfriend
October 27. 2009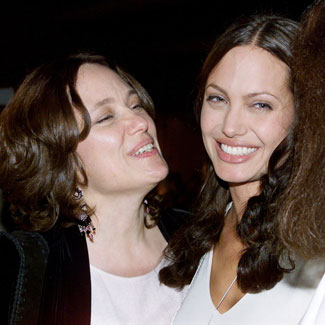 Marcheline Bertrand (left) and daughter Angelina Jolie (right)
According to celebrity biographer, Andrew Morton, actress Angelina Jolie, slept with her motherís boyfriend, when she was a minor of 16-years old. Morton is researching Jolie for a book he is writing on her life. His past exposes have been quite revealing. The actress, who is currently, 34, has yet to respond to the salacious story.
Jolie has a troubled past, replete with lesbianism, cutting, heavy drug abuse, alcoholism, the occult, mental illness and a bad relationship with her dad, due to his adulterous on-set affair that resulted in divorce. However, if these allegations are true, Jolie, would be in no position to past judgment on her dad.
Book Bombshell: Angelina Jolie Slept With Mom's Lover At

Posted on Oct 27, 2009 @ 08:45AM - Actress Angelina Jolie bedded her mother's boyfriend when she was just 16, according to a bombshell new biography penned by controversial writer Andrew Morton. According to Now magazine, Jolie and her mother, Marcheline Bertrand, could not come to terms with each other after the Oscar winning star confessed to the act, and they struggled to repair their damaged relationship.

"Marcheline had a live-in boyfriend whom she was very much in love with, but Ange slept with him when she was 16 and barely out of school," a source told the magazine. "Her mother found out and ended her relationship with the man."...

http://www.radaronline.com