AT&T Exploiting Usain Bolt's Image

March 23. 2009

Recently, someone told me about an AT&T commercial for a cell phone that exploits the image, likeness and trademarks of

Jamaican Sprinter Usain Bolt. At first I thought, how could they just do that.

Then I saw the AT&T commercial and it is clear where the inspiration came from. Usain Bolt is considered the fastest man alive after the 2008 Beijing Olympics. Since then, AT&T has been advertising a new cell phone called the "Blackberry Bold" and in said advert to myself and many others it sounds like they are saying "Blackberry Bolt" (until you see the writing later in the commercial that says "Bold" one letter away from "Bolt").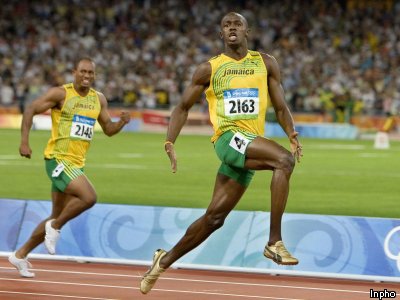 The ad uses a freakishly fast black sprinter at the Olympics, so far ahead of everyone, he has time to turn to the camera for a few words before crossing the finish line way ahead of everyone else. Which is basically what Usain did (LOL)!
Considering athletes have a relatively limited amount of time to earn their fortunes from competition and endorsements, why did AT&T use Bolt's image and life without permission or payment. Not cool..
First you laid off 16,000 people nationwide that you could have afforded to keep on and now this. Boo AT&T, boo! Stop being so cheap.