Butt Shaking Beyonce Strikes Again
April 20. 2007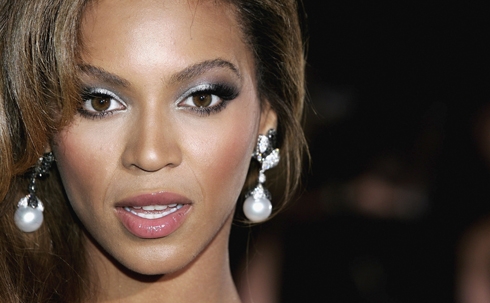 For Beyonce's theft of my copyrights click here

On April 8, 2007, I wrote of how Beyonce and Jay-Z, whose label Sony has been a defendant in my legal case against Madonna, since 2005, had recently infringed items from my Copyrighted Catalog, that was registered with the Library of Congress years ago.

These items that were infringed, with the exception of the lyrics and a music clip of my song Contemporary Girl (copyright 2001), WERE NEVER MADE PUBLIC and are only stored on my business computers, which according to two separate computer companies

have been thoroughly hacked. This is how my Copyright Catalog, valued at billions, was illegally copied and used by Madonna and her co-defendants, in criminal violation of the law.

Yesterday, I read an article stating Beyonce has been sued by famous British singer/writer Des'ree for copyright infringement. Ironically, a week before I accused Beyonce of stealing unreleased video treatments and songs, one of the videos from my Copyrighted Catalog that was illegally used for the very song is the same one Des'ree has now sued for, "Kissing You."
So Beyonce and her crooked father stole my music video and stole Des'ree's song, slapped them together, and are now claiming how innovative and ground breaking she is as a artist

criminal thief

. The public is bashing Beyonce across the board, all over the internet, for her constant thievery (her lawsuits for numerous thefts are listed below). You are a fraud.

"Kissing You" is a song by Des'ree that was released years ago. Negotiations broke down between Beyonce's representatives and Des'ree's to use the song. It was called off. But Beyonce, broke Copyright law, again, and used it anyway without permission. That kind of nastiness and arrogance, from someone who is illiterate, yet is stealing and taking credit for other people's written and video works/property, is a domestic and international crime.

But being the full fledge felon that she is, she just steals things, as though she is above the law, which is uncivil and ugly. I recently found out, Beyonce who couldn't direct traffic, took credit as the director for the music video treatments she stole from my Copyrighted Catalog. She is not a director. She's never directed anything.

More proof that she knows exactly what's going on and participated in the misconduct. She's even been tied to my web site as a visitor. Accessing unreleased copyrights on a private, protected computer, then using it to enrich yourself to the tune of millions, constitutes:

Felony hacking (you commission or participate in a crime, you did it)
Copyright infringement
Criminal copyright infringement
Fraud
Grand theft larceny
Violation of the Computer Abuse Act
Violation of the Digital Millennium Act
Violations of the RICO Act
Money Laundering
Conspiracy

Another dead giveaway is, late last year I bought a download for an old song I like, the 1989 song "Darlin' I" by Vanessa Williams, and had the video, which is time stamped, on my computer, that's always getting hacked by the commissioned hacker in this lawsuit (I have the receipts as proof).

One of the opening scenes of Beyonce's recent "Get Me Bodied" on that infringing DVD of hers is a dead stamp rip off of the opening scene of the same 1989 video that was on my computer, "Darlin' I" by Vanessa Williams.

The computer has been recording the commissioned hacks, where the defendants in the case keep illegally accessing my computers on a daily basis and spreading the contents among themselves.

It's not the first time I have bought an old song or uploaded an obscure old song or video (from VHS) to my computer and seen one of the defendants or their affiliates use or mention it in some way shortly after. This is like the 9th time in very specific incidents. More on that later.

The nerve of them.

You're a criminal. A felon. This went beyond copyright infringement and I am going to see to it that you are legally held accountable for every bit of it, within the scope of the law.

You are no songwriter or director. You are a thief and a fraud. True talent doesn't need to go around ripping people

off

. History is going to remember you in a bad way for all these thefts of yours.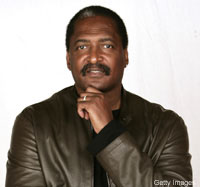 Beyonce's father, the crooked, treacherous Matthew Knowles
The Knowles clan claim to be Christians but they are not. They have set a terrible example from robbing the children of a dead co-manager, destroying the careers of other singers to preserve their own, to several instances of copyright infringement then judicial corruption to get out of paying for what they willfully stole. They are among the worst people who call themselves Christians, which means you are not. Real Christians don't do things like this. Wicked people do.
They would do well to remember that old Bible phrase "Pride comes before a fall." And I am willing to go out on a limb on God's word that this is going to precipitate the downfall of your career and those associated with you. You really think God is going to bless you stealing from Christian works. I pity you, as people who do that are met with His disfavor and disgrace.
The Knowles family are crooks and criminals. They believe in stealing money and assets from people to enrich themselves. They are terrible people with no sense of decency as their legal history clearly illustrates.
They utilize corruption to get out of lawsuits for theft, financial impropriety, grand theft larceny, copyright infringement and paying people what is owed for the work they did for them. Don't be fooled. They are vile people:
OVERVIEW: BEYONCE AND CO'S HISTORY OF THEFT AND LEGAL MISCONDUCT
Sued for stealing the song "Survivor"
Sued for stealing the song "Baby Boy"
Sued for stealing the song "Independent Women"
Sued for stealing the song "Kissing You"
Took credit for writing "Crazy In Love" when she didn't
Took credit for writing "Irreplaceable" when she didn't
Sued for not paying Wilhelmina
Sued for not paying Greg Walker/Icon Entertainment
Sued for stealing $32,000,000 from the family of her former dead co-manager who got them their record deal
Will be sued shortly for stealing the songs "Worldwide Woman," "Amor Gitmo" and "Welcome To Hollywood" and the videos "Beautiful Liar," "Suga Mama," "Greenlight," "Flaws and All" and "Still In Love."
Other notable Beyonce thefts
---
Sued for stealing the song "Baby Boy"
Beyonce's "Baby" Suit
07/14/2005 1:35 PM, E! Online - Beyonce Knowles' destiny these days looks to be in the courtroom. A Minneapolis musician has filed a copyright-infringement lawsuit, accusing the "Naughty Girl" diva of swiping a song, MTV reports. The suit, filed in Houston Tuesday by singer-songwriter Jennifer Armour, claims the Destiny's Child frontbabe ripped off lyrics and hooks from Armour's "Got a Little Bit of Love For You," for "Baby Boy," which featured dancehall reggae star Sean Paul and topped Billboard Hot 100 singles chart in the summer of 2003.
Armour says her track was written months before the release of Knowles' solo album debut, Dangerously In Love, which contained "Baby Boy." The complaint alleges Knowles, 23, stumbled upon the tune after Armour shopped it around the music biz. A hearing in the case is scheduled for Oct. 28. Neither Armour nor her lawyer were immediately available for comment; there was no immediate response from the Knowles camp, either. This isn't the first time the bootylicious Grammy winner has been accused of song stealing.
In October 2003, Beyonce, hermanager-father, Matthew Knowles, and Destiny's members Kelly Rowland and Michelle Williams were slapped with a $200 million copyright-infringement suit by a Miami-based producer, who claimed they had pilfered one of his pieces for their 2001 mega-hit "Survivor." Terrence "T-Robb" Robinson said he sent in his song "Glorious" to the elder Knowles in June 2000; he said he didn't realize it had been taken until he heard it on a commercial.
Legal woes aside, Beyoncé and her bandmates are keeping plenty busy on the road promoting what will likely be their final album together, Destiny Fulfilled. The trio, who announced in January that they planned to split and embark on solo careers, appeared at the Philly installment of Live 8 on July 2 and then kicked off the North American leg of their McDonald's-sponsored Destiny Fullfilled tour in St. Louis on July 9. The 34-city trek is scheduled to wrap up in Vancouver Sept. 10--just in time to get ready for that court date. – Yahoo
---
Sued for stealing the song "Survivor"
Producer sues Beyonce, father over song
$200 million lawsuit filed - Tuesday, October 21, 2003 Posted: 1:33 PM EDT (1733 GMT) - HOUSTON, Texas (AP) -- A 32-year-old producer has filed a $200 million lawsuit against Beyonce Knowles, her father and fellow members of Destiny's Child, alleging they stole his music for the hit song "Survivor."
Terrence "T-Robb" Robinson, a Miami-based producer, claims he produced a song called "Glorious" in June 2000 and provided it to Matthew Knowles, Beyonce's father and manager, later that year in October. Robinson's attorney claims the producer later heard the song used in a commercial, without his permission. Robinson said the song would have been his big break in the music industry.
"I know right now I would be one of the biggest, most sought-after producers," he said at a news conference Tuesday. "Survivor" was the title of Destiny's Child's 2001 album, which sold millions of copies. The title song was a No. 2 hit that year and earned the group a Grammy in 2002 for best R&B performance.
Clarke admitted that when Robinson provided Matthew Knowles with his song, it was not copyrighted but a copyright was later secured. "Ultimately at the end of the day, what is going to decide this lawsuit is the music," said Robinson's attorney, Peter J. Clarke. Knowles' attorney, Thomas Sulkerson, said Tuesday he had not yet seen the lawsuit, which was filed in federal court in Houston on October 14.
In addition to Houston-based Destiny's Child, whose members include Kelly Rowland and Michelle Williams, the lawsuit also names Sony Music Entertainment, Columbia Records, Music World Entertainment and State of Mind Muzic, Inc.
This is the second lawsuit sparked by the "Survivor" song. Last year, two former members of the group sued Destiny's Child, claiming the song included derisive comments about them. The lawsuit was later settled. - The Associated Press
---
Sued for stealing "Kissing You"
Beyonce's Legal Woes - 19-Apr-2007 - Former pop star accuses Beyonce of copyright infringement, sues.
Beyonce is in hot water with a former pop star who accused the singer of ripping off her song. A singer named Des'ree is calling Beyonce out for covering a song co-written by the former star, entitled "I'm Kissing You." The original version appeared in Baz Luhrmann's Romeo and Juliet, in 1996. B-Day, Beyonce's re-released album, features the singer's cover of the number.
Music administrators filed a lawsuit in Manhattan Federal Court on Wednesday. It says that Beyonce originally attempted to broker a deal for the use of the tune. But apparently they didn't like the terms, some of which included keeping the song's original name and not making a music video.
At this point, it is alleged that Beyonce disregarded copyright laws altogether, and proceeded to do exactly as she pleased. She went ahead and recorded the song, and then she topped that by making a music video, too. And then the Dreamgirls actress went ahead and changed the name, to "Still in Love (Kissing You)." Des'ree is suing for $150,000 in damages and intends to halt the distribution of the song, video, and album. – the Celebrity Café
---
Took credit for writing "Crazy In Love" and "Irreplaceable" when she didn't
From the January 2007 Sound Off Column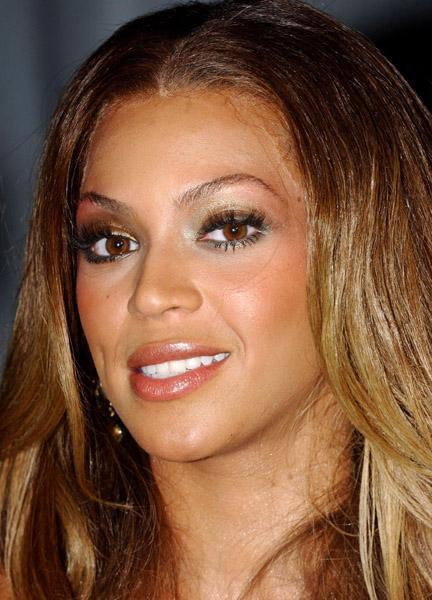 A few months ago I wrote about Beyonce taking credit for songs she didn't write. It has now come out that she has done it again, but this time to R&B singer/writer Ne-yo. This month Beyonce was slammed for lying on stage to 20,000 people that she wrote the song "Irreplaceable" when it was really written by Ne-yo. She told the crowd she had "written the song" for women, when a dude, Ne-yo, actually wrote it. She was then slammed on Power 106 for this fraud and dishonesty. She was also slammed all over the net for doing this as well.
It's not the first time Beyonce has done this. Not only has she been sued for stealing the songs Baby Boy, Independent Women and Survivor, she was also slammed for taking credit for writing her hit Crazy In Love and coming up with the sample, when she only wrote the bridge, which at best, is two lines repeated. What a fraud. Producer Rich Harrison came up with the beat, wrote the choruses and verse and used a sample he was sitting on for years as the horn basis for the track.
I also wrote months ago in the Column how she also went around saying she wrote the track "Resentment" that was a remake of a song done by Victoria Beckham and written by Jasmine Sullivan. You will never sell Beyonce as a songwriter. She has stolen from so many people. Furthermore, when I heard the claim she wrote "Irreplaceable" I said to someone when the topic came up, "No she didn't. That song is coherent."
Beyonce can barely string a sentence together and frequently and noticeably uses the wrong words in sentences. She has been called out for this on numerous blogs. People don't speak badly then all of a sudden write properly. It just doesn't work that way. Never has. And this has nothing to do with her being southern or country, also known as the Britney Spears defense, as there are many southerners and country people who speak well. It's not about accents. It's about diction.
You could have a southern accent, a Spanish accent, a French accent or a Muslim accent, but if the diction is correct, the sentence, and thus your speech and writing of the English language will be as well. Apparently the Academy Awards Committee didn't buy her as a songwriter either. She was dropped from the songwriter ballot for the song "Listen" making her ineligible to win an Oscar.
---
Sued for not paying Wilhelmina
"Beyonce Hit With A Lawsuit By Wilhelmina Artist Management"
(4/16/03, 4 p.m. ET) Beyonce Knowles is being sued by the Wilhelmina management company in Manhattan Supreme Court for $88,250. That represents the 10 percent commission the company claims Knowles owes from her lucrative L'Oreal contract.
According to court papers, Knowles signed a contract with Wilhelmina in March of 2001 which allowed the company to exclusively represent her. In April of 2001 Knowles signed the L'Oreal contract. Knowles has stated that she does not intend to pay the commission. In turn, Wilhelmina is suing so that a judge will force Knowles to pay. Knowles' debut solo album, Dangerously In Love, is slated for release in May. - Yahoo! Launch Music
---
Sued for not paying Greg Walker/Icon Entertainment
Greg Walker of Icon Entertainment was suing the "Irreplaceable" star for reportedly cutting him out of a $15 million fashion deal he had arranged with Knowles and her mother, Tina, in 2003.
Walker claimed Knowles failed to pay him the $25,000 for his services, which led to the creation of the singer's clothing line, House of Dereon, in 2004, reports the New York Daily News.
But Manhattan Supreme Court Justice Herman Kahn ruled that Walker never had a signed contract with Knowles and House Of Dereon, and therefore lacked a valid argument.
---
Sued for stealing $32,000,000 from the family of her former dead co-manager, who got them their record deal
"Beyonce's Dad Blows Millions On Drugs And Hookers"
POP sensation Beyonce Knowles and the rest of Destiny's Child are reeling from a lawsuit charging that their manager, Beyonce's dad Mathew, squandered $32 million on cocaine and sex parties with prostitutes. And while Mathew Knowles denies misappropriating millions, the married man admits to Star in a startling exclusive interview that he was a sex and drug addict who has cheated on his wife repeatedly!
"Beyonce is shocked and embarrassed," says a source close to Destiny's Child. "She wonders how her father could betray the family like this. "She is especially heartbroken for her mother, Tina, who has been humiliated by the charges in the lawsuit."
But incredibly, Beyonce's shameless dad tells Star he doesn't feel bad about any of the drugging or carousing with women that he's done. "I'm not proud of nor am I ashamed of this stuff," says Knowles, 50.
"My wife Tina and I had some real problems with our marriage and I was having some affairs at the time. I went to a treatment facility in 1992 and they didn't have a real definition for my marital infidelities. But if you did a little alcohol or drugs it was all lumped together as substance abuse related. "In 1998, when I was treated a second time, they had a more defined definition of sex addiction, but sex addiction has such a broad range. My treatment was regarding my continued extramarital affairs."
The sordid scandal has erupted just as beautiful Beyonce was poised to launch a solo career. After leading singing partners Kelly Rowland and Michelle Williams to the top of the charts with hits like Survivor and Bootylicious and making Destiny's Child the world's best-selling girl group, Beyonce is breaking into movies. She makes her big-screen debut opposite Mike Myers in Goldmember, the hotly anticipated new Austin Powers movie. "The last thing she needs right now is for these horrible revelations to come out in public," says the close source.
According to the shocking lawsuit filed by Armon Tillman, 21, and his brother Chris, 18, the two sons of the group's late co-manager, Andretta Tillman, Beyonce's dad took money that should have gone to them and spent it on drugs and wild parties with hookers. "Mathew Knowles failed to inform Ms. Tillman that he had uncontrollable addictions to at least cocaine and extramarital sexual activities, which he could not control" and these "impeded his ability" to properly manage the group, the lawsuit reads.
The lawsuit claims Tillman was key to Destiny's Child signing a multimillion-dollar deal with Sony Music Entertainment, but Knowles and the group failed to live up to its contract with Tillman's heirs, after she died of lupus in 1997. Instead of "investing prudently" Knowles "squandered" an estimated $32 million of the group's profits on drugs and prostitutes "by engaging in ... unproductive, unreasonable and/or improper acts," the sons claim.
According to the court documents, in addition to buying and snorting cocaine, Beyonce's dad is also accused of a shopping list of shocking sex-related acts including "solicitation and/or marketing of prostitutes" and arranging "sex parties." Although Knowles admits past affairs, his wife Tina defiantly dismissed the sordid charges that he spent millions on hookers and cocaine as "all lies."
She told Star: "He'd be dead if he spent $32 million on drugs and sex." Tina, who works as the group's stylist and recently authored the book Destiny's Style, added: "My husband works 16 hours a day. I don't know when he'd have the time for all this nonsense they're claiming. "And Beyonce knows in her heart her father hasn't done the terrible things he's accused of doing." But a source confides that heartbroken Beyonce doesn't know what to think.
"She loves him and she doesn't want to believe that he could have betrayed her, the family and the other girls in the group," the source says. "Beyonce should be on top of the world right now. Instead, her dad has dragged her into an embarrassing and humiliating scandal."
---
Will be sued shortly for stealing the songs "Worldwide Woman," "Amor Gitmo" and "Welcome To Hollywood" and the videos "Beautiful Liar," "Suga Mama," "Greenlight," "Flaws and All" and "Still In Love."
From my web site www.AishaMusic.com on April 8, 2007:
4-8-07 BEYONCE, JAY-Z AND RIHANNA
Just last week, I lost 4 more music videos and 3 songs from my Copyrighted Catalog to a 2005 defendant in the Madonna lawsuit, SONY, who illegally used it for Beyonce's re-release of her latest album B-Day. PLEASE BOYCOTT BEYONCE'S CD AND DVD.
When I complained in the Sound Off Column about Madonna and co's conduct being racist/racism in exploiting blacks, shortly after they started to illegally spread and sell my copyrights to black artists who are on labels in the lawsuit I filed in 2005.
You are still exploiting blacks and immigrants on top of it to boot, who did you no harm. Criminally spreading my copyrights to blacks on white labels doesn't change that and all the evidence points to Madonna and this case.
On January 31, 2007, I announced the release of my album and a few DVDs with several music videos and interviews to go with it.
Two months after, Beyonce and her Destinys Child robbing father announced the very same, the re-release of her album accompanied by many music videos, which she's never done before. Only the videos she filmed weren't hers. They were stolen from my Copyrighted Catalog and her label SONY HAS BEEN A DEFENDANT IN THE LAWSUIT SINCE 2005.
They figured since the Florida judges in the case are so corrupt (for further reference see the Anna Nicole Smith case with Judge Korda and Seidlin), throwing out a case without reading it, that they can continue to steal as much as they like, because the court system is in their backpocket, a terrible pattern evident in their copyright cases. So much for truth and justice.
They are continuing to criminally use items from my Copyrights that they gained illegal access to via hacking, with computer specialists confirming my computers have been thoroughly hacked (CLICK HERE FOR REPORTS) and my home also sustained 5 burglaries where copyrighted computer discs were stolen, which was reported to the Miami Shores Police, who are waiting on the FBI (POLICE REPORTS POSTED SOON).
SITE RECORDS ALSO TIE BEYONCE TO THIS WEB SITE AS A SITE READER
Beyonce's "Greenlight" video – is a direct rip off of the Contemporary Girl music video copyrighted in April 2001. To see my certificate, click here. My copyrighted 2001 music video treatment contained scenes, among others, of me playing a white guitar, resting my foot on the amp, playing a guitar keyboard, singing into a silver mic and sitting on the drums, against a white backdrop – all scenes present in Beyonce now 2007 "Greenlight" video 6 YEARS LATER.
Beyonce doesn't play the guitar or drums, I do, that's why I wrote it into the video. She looked stupid, awkward and uncomfortable feigning playing the guitar and sitting on the drums.
Fans keep complaining that Beyonce's new videos are cheap and not what she usually does. It is for a reason, I am an indie artist, I can't afford expensive videos right now. So some of what I have written for my Copyrighted Catalog contains low budget indie videos. That's my genre: indie music. I'm not on a major label. Therefore, there are no Beyonce/P-Diddy fireworks and explosion videos present right now.
"Still in Love" "Flaws and All" and the "Beautiful Liar" videos are direct rip-offs of videos I copyrighted 3 YEARS AGO with the Library of Congress. (COPYRIGHT CERTIFICATES POSTED SHORTLY).
2007's "Amor Gitmo" by Beonyce is a rip off of my 3 year old copyrighted song from 2004 titled "Amor Perdido" that was on the site for years as some of you will recall (LIBRARY OF CONGRESS COPYRIGHT CERTIFICATE #PAu2-938-924, December 23, 2004 - CERTIFICATE POSTED SHORTLY).
Worldwide Woman is a rip off of my 2001 song Contemporary Girl (CLICK HERE FOR COPYRIGHT CERTIFICATE).
Welcome to Hollywood is also a rip off of an unreleased old Copyrighted song from my Copyrighted Catalog. It predates their copyrights as well by years (COPYRIGHT CERTIFICATE POSTED SHORTLY).
Beyonce's boyfriend Jay-Z's is also featured on the infringing "B-Day" re-release. One of my songs, Umbrella COPYRIGHTED YEARS AGO has been altered from being an inspirational song about God to being an inspirational song about a man and mysteriously surfaced on his now 2007 track, years later, with Rihanna, also titled Umbrella, with further rip offs from two other songs in my Copyrighted Catalog. My songs were all registered years before they have now been illegally accessed and used, which is a federal and international crime. Jay-Z has co-writer's credit for something that has been criminally stolen. PLEASE BOYCOTT RIHANNA'S SONG AND ALBUM.
Both Jay-Z and Beyonce have also been sued numerous times separately for stealing people's songs and willfully robbing people in not paying them for work and services rendered. They have a long history of this misconduct as well, as evidenced by PACER's U.S. court system records.
...I found an additional infringement stolen from my Copyrighted Catalog and illegally used to the tee, to make the movie "My Super Ex-Girlfriend." Please boycott this DVD. The copyright certificates and side by side comparisons of all the thefts in the case will be posted to the site shortly.
---
Other Notable Beyonce Rip Offs
From the September 2006 Sound Off Column:
Beyonce Steals Her Butt Off For New Unoriginal, Formulaic CD
The internet is loaded with blogs slamming Beyonce for stealing for her new CD. This is bad. And she loves to claim she is doing something "different" and "original." You know you're desperate when you're stealing from Britney. And some of them, Beyonce, Britney and others, stole from Janet. "Crazy" and "Anticipating" by Britney are blatant Janet rip offs. That dance routine Beyonce did at the VMA's was another Janet rip off as well. Just uncreative.
Beyonce stole so much from contemporary artists who released the following items a few years before she ripped them off this summer, that she is being slammed on many web sites for said stealing. Here are a few of the comparative pics from different web sites slamming her: "Beyonce = A Real Swagger Jacker. Are y'all beginning to believe that she is a little overrated?" - Honorable Media: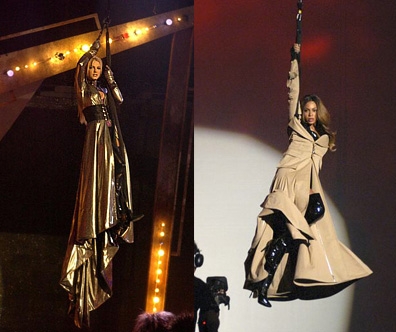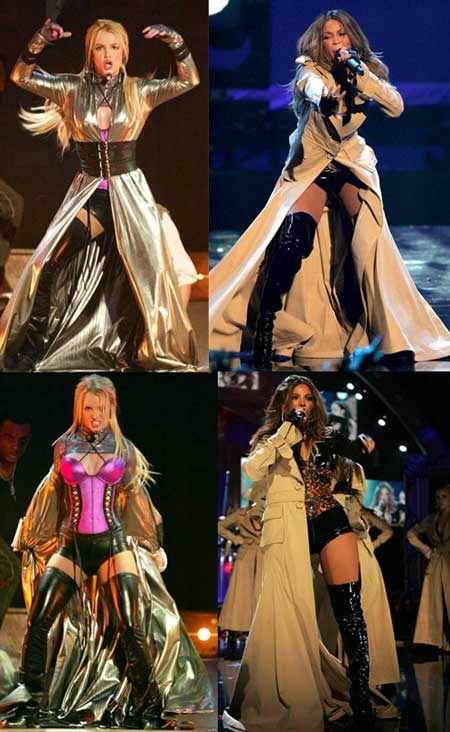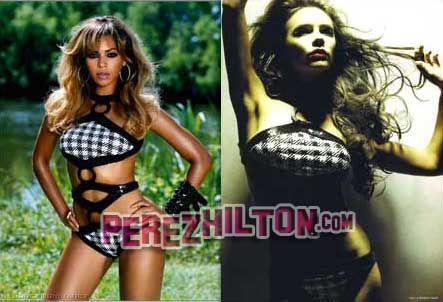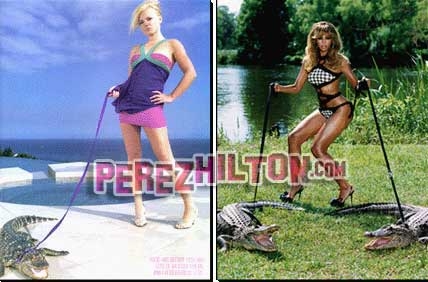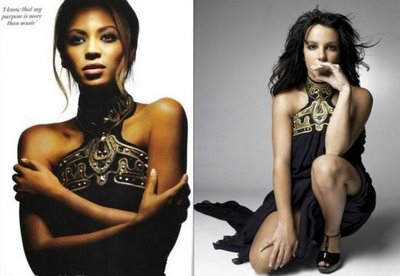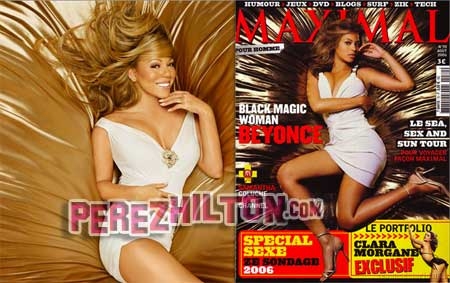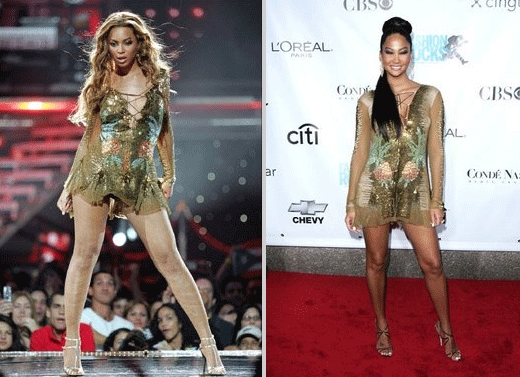 Is Beyonce trying to morph into Cassie
It's creepy that she keeps stealing other singer's trademark looks (Jennifer Lopez, Kelis). Has she no shame. Is her mind that blank that she can't think for and or be herself. Or does she feel she is entitled to not only her stuff but everyone else's.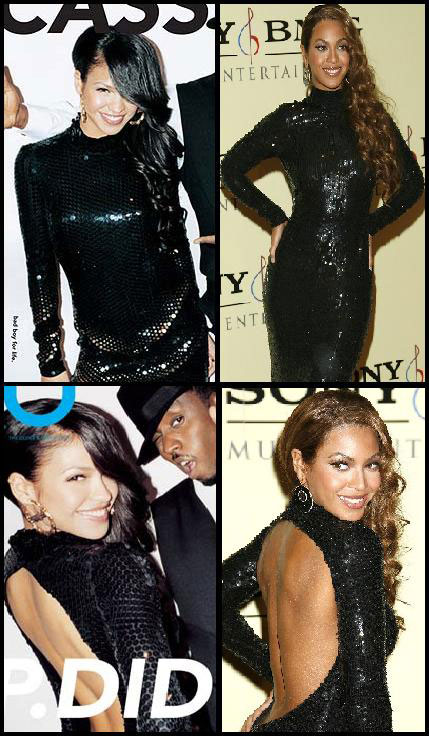 - Sandra Rose web site
| | |
| --- | --- |
| Cassie before @ Knick game 2006 | Beyonce after @ Knicks game 2007 |
| | |