Chris Brown And Lil Wayne's Drug Dealer Sentenced To 30-Years In Prison
August 28. 2017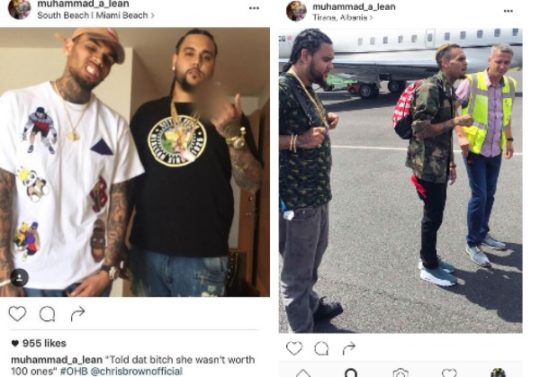 Chris Brown and Harrison Garcia on his Instagram social networking page
This is a follow up to the April 8, 2017 article "Chris Brown And Lil Wayne Under Criminal Investigation By The Federal Government Over Ties To Drug Dealer." The drug dealer to singer Chris Brown and rapper Lil Wayne, among other stars, has been sentenced to 30-years in prison on narcotics offenses.
27-year-old Harrison Garcia of Miami, Florida was convicted by a jury of "armed drug trafficking" offenses. Garcia supplied Brown, Lil Wayne and other stars with high grade sizzurp, which is the potent pharmaceuticals promethazine and codeine mixed with soda, in what is also referred to as "lean." He also sold marijuana.
Garcia made the mistake so many modern criminals do of maintaining a social networking presence in which they brag about the material things they acquire for illegal activities. It helped to lead police straight to him and gave them information they used to put together the criminal indictment against him via local prosecutors. The government caught Brown and Wanye sending Garcia money in exchange for drugs, who unwisely posed for incriminating photos with Garcia, featuring money and or drugs. However, no charges have been filed against the entertainers at this time.
STORY SOURCE
'CEO of Purple Drank' tied to Lil' Wayne, Chris Brown gets 30 years in prison
August 18, 2017 11:51 AM - The Miami man believed to have supplied music stars Lil' Wayne and Chris Brown with painkiller-spiked soda drinks is headed to prison for 30 years. A federal judge sentenced Harrison Garcia, also known as Cuban Harry, four months after jurors convicted him of armed drug trafficking.
U.S. Judge Patricia Seitz said Garcia's crimes were serious against the backdrop of a national drug epidemic that "dehumanizes and enslaves" addicts. "It is the kind of conduct that is very much a scourge on our community," Seitz said. Garcia, 27, remained calmed during Friday's brief sentencing in federal court. "I want to briefly apologize to my parents and your honor," Garcia said. "Hopefully, I learn from this."...