Christina Aguilera Remixed The National Anthem
February 7. 2011
Sony Music singer and drug addict, Christina Aguilera, flubbed the U.S. National Anthem at the Super Bowl this past weekend. Girlfriend remixed it without permission, by leaving out lines and adding many flourishes. It was a career low point. If she spent more time learning her lines instead of snorting them, things like this would not happen.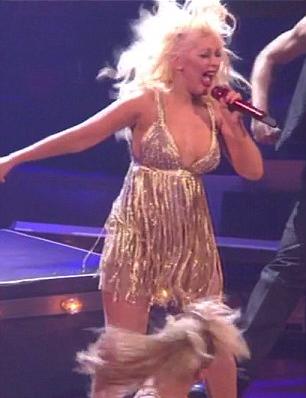 Aguilera has not been looking her old self recently
If Aguilera hoped no one noticed, she can guess again, as it seems everyone did. Even immigrants are saying she sang it wrong (LOL). The funniest quote came courtesy of the Houston Chronicle, regarding the National Anthem line "that our flag was still there" which has the newspaper convinced Aguilera sang, "That our plane was still there?"
STORY SOURCE
Aguilera, Peas make musical fumbles
Christina Aguilera -- bless her heart -- can't catch a break. Comeback album Bionic was a bust. Burlesque underwhelmed at the box office. And now, she screws up the National Anthem at the Super Bowl. Ouch. Within seconds of her flub, the quips, one-liners and insults came at breakneck pace. ("O'er the ramparts we watched" became "What so proudly we watched" and so on.) And did she say, "That our plane was still there?" Sacrilege! I was just as concerned about those Britney-bad extensions. No excuse.