Draya Being Slammed For Her Poor Parenting Skills Should Serve As A Warning To Men And Women
December 7. 2017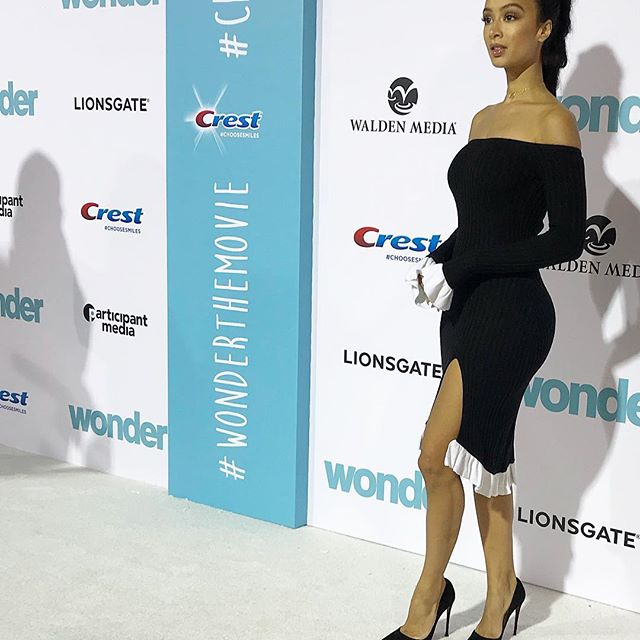 Draya
Former "Basketball Wives LA" Reality star Draya is being mercilessly mocked on social networking for complaining about having to sign her young son's homework. Draya, who once left her son at home by himself and hungry, to go dance on the pole at a strip club, has routinely been slammed for her questionable parenting skills. Sadly, Draya did neglect her child and in a manner that could have landed him in foster care.
Based on Draya's latest post, she continues to neglect her son, showing exasperation at simple things such as helping him with his homework (she also has a second son by athlete Orlando Scandrick, from a relationship that has been marred by anger, violence, heartbreak and resentment, as he refuses to marry her).
Draya posted a complaint about her son repeatedly reading his homework to her and his teacher requiring her signature. Draya referred to it harassment (LOL). The post backfired on her, when people on the social networking sites Twitter and Instagram labeled her a bad parent. Draya has to do better for her kids.
Due to Draya's conduct, men have even begun warning other males online to be careful regarding having sex with a woman solely based on how she looks, not taking into account she could trap you with a baby, then not raise your child well. This has happened to a number of men, bringing them a world of pain. Some men are unwise in this manner. They have no self-control, are promiscuous, take sex lightly, knock someone up, then all heck breaks loose.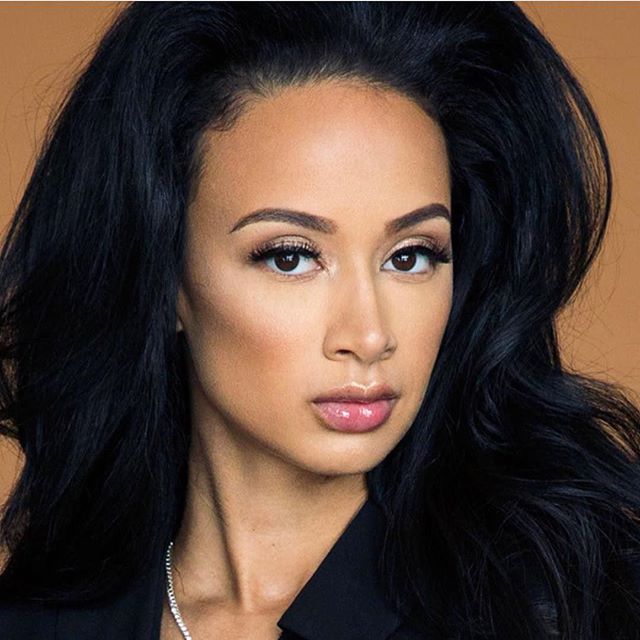 Draya
I have written about this subject before. Some men are careless with their sperm, a woman traps them with a baby in trying to get a commitment and scare off other women in his life, then resentment creeps in from him and her, as he was just messing around, has no intention of committing and did not intend to bring a child into the world by the female in question. Then, some women take out their resentment and hatred on the child as well. At the end of the day, you can't force a man to love you by trying to trap him with a baby. Anger and hatred can take root and turn very ugly.
Great kids don't just raise themselves. Parents must raise their children. It takes time, work, discipline, integrity, structure, good examples and intelligence to raise a winner. One does not have to be rich to raise a winner. Often poor people raise overachievers, due to the fact they have it so hard because of difficult financial circumstances, they push their kids to do exceptionally well.
There are some rich people whose kids have it too easy and as a result of that, they do not learn to do anything for themselves in life and get into mischief. Kids need discipline and structure. They also need to learn the value of hard work. There are also very intelligent rich people who teach their children so well, they come out winners. At the end of the day, it's up to the parents in taking the initiative and correctly raising their children. The mother does play a central role, but fathers make a difference as well.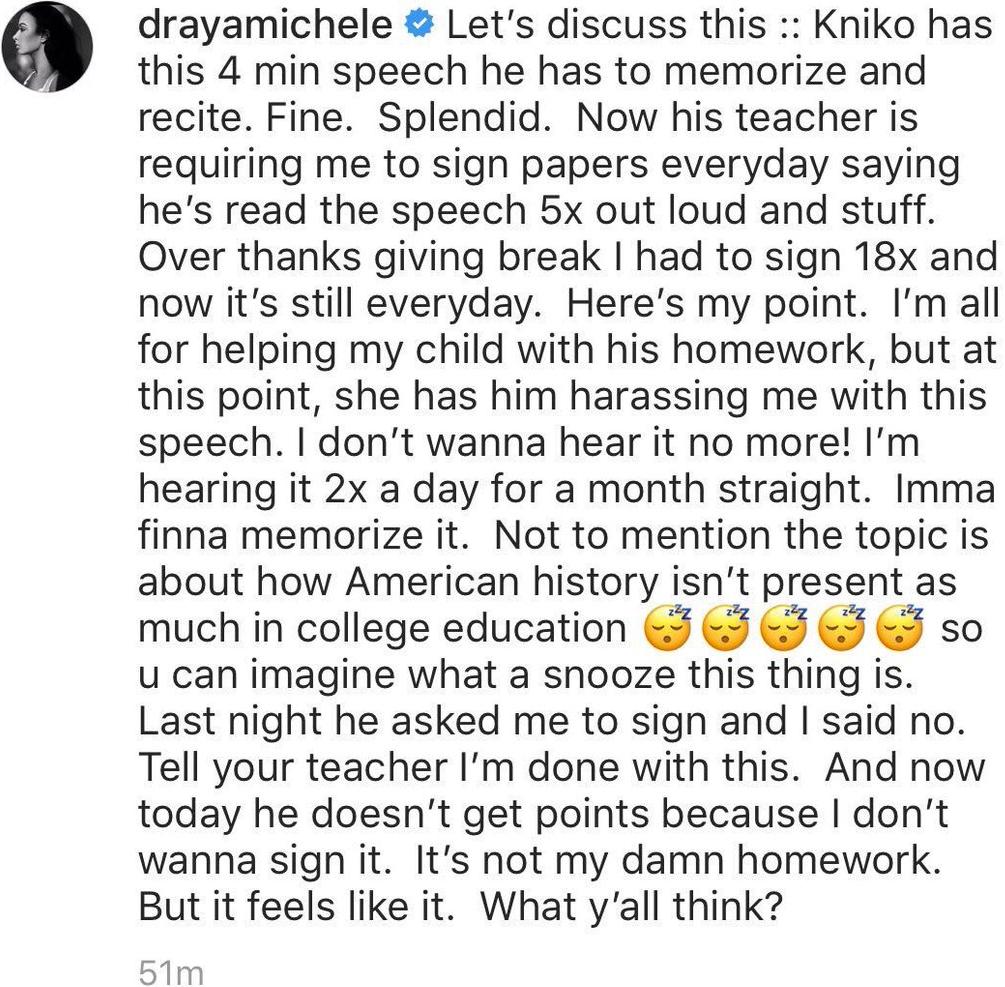 Draya's post complaining about her son's homework
Genetics also plays a role, as people usually take after the parent they most resemble. Years ago, I read an article regarding a man in prison for multiple shooting deaths, who had knocked up a girlfriend and did not know it. The child ended up in the foster care system and by his mid-teens, the boy had committed multiple killings with guns as well. The father and son had never met. He did not know who his father was, but committed the same crimes his dad did and ended up behind bars as well.
While we cannot deny the effects of genetics, one can teach a child to do the right thing and make something of their life. You can teach a child to stay out of trouble. You can reinforce good habits and examples to prevent them from going astray. Being selective regarding the company they keep is important as well. Your child should also have good role models. Your child should not be looking up to gangsters, drug dealers or violent, lawless entertainers.
Your child should have a good role model via you and historical figures who made a difference in world history. It is important to remember you lead by example. If your child observes you doing the wrong thing, they likely will do the same as well. Therefore, set a good example.
RELATED ARTICLES
Draya's Discord With Ex-Boyfriend Orlando Scandrick Placing Their Unborn Baby At Risk Of Fetal Distress After He Dumps Her And Deletes Her Pics From His Instagram Account
Reality Star Draya Michele Hit With Restraining Order For Attacking Orlando Scandrick But She Is Now Pregnant With His Baby
Orlando Scandrick Makes Peace With Pregnant Reality Star Girlfriend Draya For Her Birthday