.
Erin Andrews Sues Hotels Over Peeping Tom Videos
July 17. 2010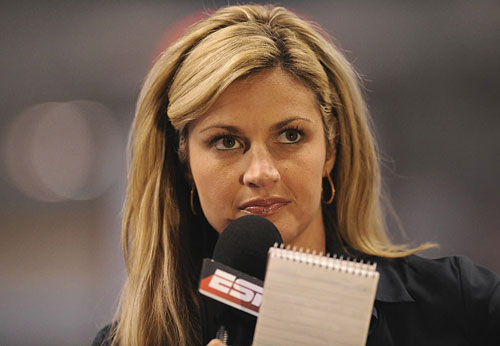 Erin Andrews
ESPN sports anchor and "Dancing With The Stars" alum, Erin Andrews, has sued the hotels that negligently allowed a stalker, Michael Barrett, to obtain her room numbers, hack off the peepholes to her doors and illegally film her in different states of undress, uploading it to the internet. Andrews deserves to win this lawsuit, as hotel security and proper protocols were sorely lacking on two levels and caused her massive emotional and mental distress. The jury should award her serious damages, if the Defendants unwisely refuse to settle.
One, her room numbers should not have been given out by reception, allowing the perverted voyeur to book rooms next to her in more than one state. Two, why didn't security cameras notice Harris hacking off the peepholes to her rooms in different cities. Hotels need to change their policies, as it could result in a stalking victim's death. In Hollywood, people routinely bribe others to find out where others are staying and under what room number, then engage private eyes to follow them around. This practice needs to stop as well, because stalking is illegal.
STORY SOURCE