First Lady Grace Mugabe Given Diplomatic Immunity By President Robert Mugabe After Breaking The Law In Beating Up A Model In South Africa
September 8. 2017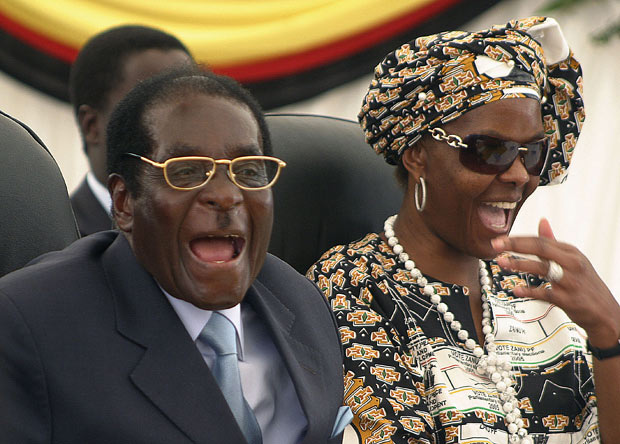 Zimbabwe President Robert Mugabe and First Lady Grace Mugabe
Zimbabwe's First Lady Grace Mugabe is a spendthrift and a violent woman. Previously, Mugabe viciously and inexcusably beat a paparazzo from Britain, who took pictures of her from a distance, while she spent significant sums of Zimbabwean taxpayer money on herself, during a lavish trip she took abroad.
In August, Mugabe viciously beat 20-year-old model Gabrielle Engels, during a trip to South Africa. Mugabe hit her in the face with an electric cord, which left a deep and painful gash on the model's face. The prominent wound will leave a scar, which is a very negative development for a model.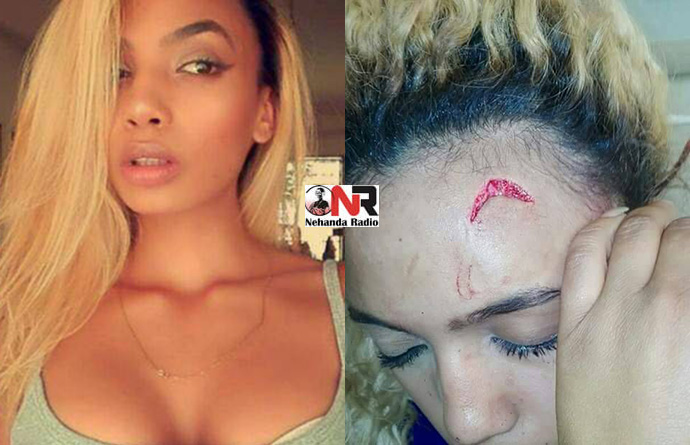 Gabrielle Engels has deep wound on her forehead from Grace Mugabe striking her with an electric cord
Mugabe has now returned to Zimbabwe, after questionably being granted diplomatic immunity by her husband, President Robert Mugabe, to escape criminal charges and imprisonment for the menacing assault she perpetrated in South Africa. Mugabe abused his authority in this matter.
This is not the purpose of global diplomatic immunity. It is to prevent innocent diplomats from being set up or summarily arrested for being from a foreign nation, who has differences with the host country's government. There are some governments in the world, who would misuse their legal authority to arrest diplomats for political reasons, rather than valid criminal offenses. However, Mugabe went into South Africa and outright broke the law by assaulting Engels, as she has done in other nations.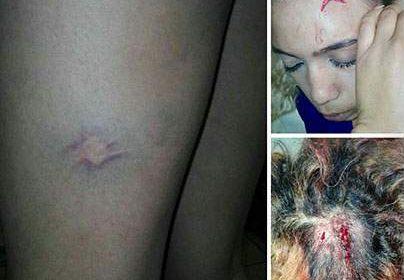 Gabrielle Engels injuries after Grace Mugabe beat her with an electric cord
Grace Mugabe has a problem and she needs to seek counseling. In the article "Grace is a disgrace to Zimbabweans" MSN.com reported, "Zimbabwean nationals living in South Africa say their first lady Grace Mugabe is a bad example of who Zimbabweans are. They are calling on police to arrest Mugabe following allegations that she assaulted a 20-year-old model in Sandton last week."
Zimbabwe, it is time for a change. It's time to vote out the Mugabes. It's been over 30-years of stagnation and oppressive rule. Robert Mugabe even tried to kill a political opponent, Morgan Tsvangirai, in an attempted murder bid the press opnely linked to him. The Mugabes are holding up your progress to live in absolute luxury by using taxpayer money and assets that should go to developing the country, not their personal bank accounts. I hate to see things like this happen anywhere in the world. People should not live lavishly off state funds.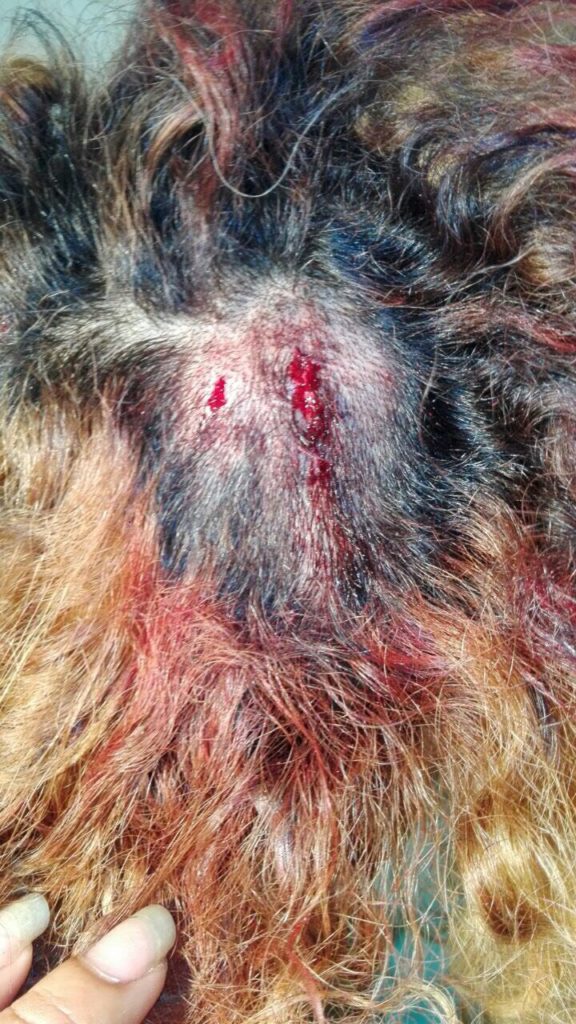 Gabrielle Engels injury to head/scalp inflicted by Grace Mugabe
In this day and age, for any nation to progress, they must sensibly invest in the technology sector, expand trade and focus on improving the education of their people. You could build schools, universities, upgrade national infrastructure and open new tech businesses with the $300,000,000 and counting the Mugabes have misappropriated, embezzled and squandered on themselves and close aides. There should be a focus on expanding agriculture, diamond mining and mineral extraction, for the enrichment of the general public in Zimbabwe. It would improve the lives of many in the nation.
STORY SOURCE
Zimbabwean first lady returns home after alleged assault on model
Updated 9:07 AM ET, Mon August 21, 2017 - Johannesburg (CNN)Zimbabwean first lady Grace Mugabe returned home Sunday from South Africa, where she was accused of assaulting a model with an electric cord, public broadcaster ZBC reported. ZBC said on its website that President Robert Mugabe, "who was accompanied by the first lady, Grace Mugabe, Finance and Economic Development Minister, Patrick Chinamasa and Foreign Affairs Minister, Simbarashe Mumbengegwi arrived aboard an Air Zimbabwe plane in the early hours of today."
Mugabe was able to leave South Africa after its government approved her request for diplomatic immunity. The alleged attack on Gabrielle Engels, 20, took place at a hotel in Johannesburg's posh Sandton district on August 13. In making the decision, South Africa took into account the need to maintain good relations in the region and with Zimbabwe in particular, said International Relations and Cooperation Minister Maite Nkoana-Mashabane in a statement.
"The Minister has made the determination that the conferring of diplomatic immunity is warranted in this particular instance," the statement said. "The Department wishes to convey the message that the Minister has agonized over this matter and the decision was not an easy one to make."...
RELATED ARTICLES
After Years Of Reckless, Lavish Spending By Robert Mugabe And Wife Grace Mugabe Zimbabwe Is Running Out Of Money While The Poor Go Hungry
Tunisia To Extradite Former First Lady That Stole $50,000,000 In Gold
Zimbabwe's First Lady Spending Money Like It's Water
When Elections Threaten To Turn Murderous
Mugabe Bending To International Pressure
Robert Mugabe Uninvited From Olympics
Robert Mugabe Buys $5.6 Million House