Floyd Mayweather Alarms And Angers His Fans By Posting Photo Of His Parents And Children Adding Devil Faces To The Image
Mayweather Is having A Breakdown
May 28. 2014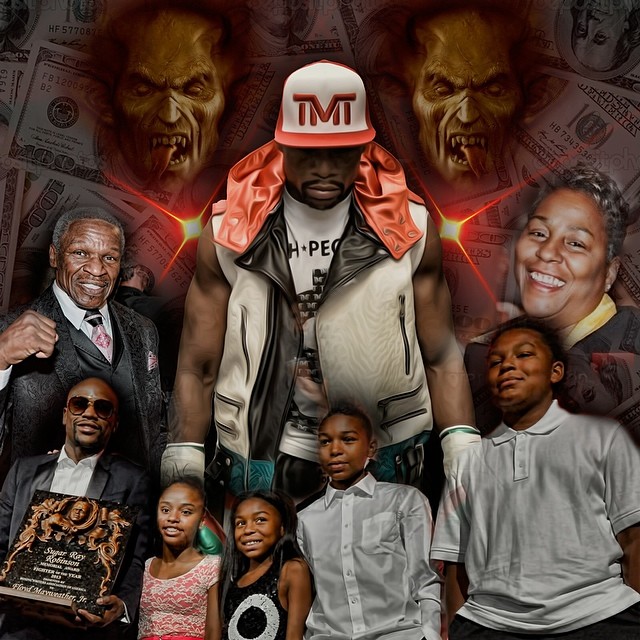 Floyd Mayweather
Boxer Floyd Mayweather alarmed many of his fans on social networking this morning. Mayweather posted a photo of his parents and children, with two devilish looking demon faces photoshopped into the pic. The Instagram photo had the caption, "Life isn't worth living if there isn't anything to die for." It caused an uproar. Many of his supporters began complaining and stating they will unfollow him, because the imagery has the appearance of "the devil" "demons" and the "illuminati." People are offended he merged images of his young children into a photo with devils, referring to it as disturbing an unsettling.
Mayweather recently broke up with his deceitful fiancée, Shantel Jackson, who was only with him for his money and fame, then aborted his unborn twins, lying to him it was a miscarriage from stress. Before it happened, the Judiciary Report wrote Jackson was not good for him (Mayweather's Money - A Break Down Of His Massive Spending That Could Make Him Broke). He is still reeling from her aborting his babies. He's been looking sad for months.
Public disputes with Nelly, who Jackson hooked up with did not help his frame of mind, as he thought the rapper was his friend (Shantel Jackson And Nelly Throwing Their Relationship In Floyd Mayweather's Face). The Judiciary Report also stated Mayweather's then girlfriend, Princess Love, was only after his money and she later stabbed him in the back with rapper Ray J (Floyd Mayweather Slams One Of His Girlfriends As 'Garbage'). According to one of her friends, Princess Love had a hand in the boxer's house being robbed of over $100,000 in Rolexes and cash (Blogs Accuse Floyd Mayweather's Girlfriend Of Stealing 8 Rolex Watches And $10,000 From One Of His Mansions).
Last week the boxer had a fight with another man he thought was a friend, rapper T.I., who has been cheating on his wife, Tiny, but became angry when she spent time with Mayweather and his family during birthday celebrations for the boxer's 14-year-old daughter. The incident turned into a fist fight in a Las Vegas fast food restaurant. Mayweather later denied having an affair with long time friend Tiny.
Mayweather has learned money can't buy happiness, true love or real friends, as he's been betrayed badly by fake people he let into his life, who secretly wanted his money and to feed off his fame. Sometimes money brings out the worst in people, who will betray, lie, cheat, steal and kill for it, even if it means hurting a significant other or friend. It's wise to keep money in perspective. It can pay bills, but can't buy happiness, love or loyalty.
RELATED ARTICLES
Floyd Mayweather's Ex-Fiancee Shantel Jackson So Desperate For Money She Sells The Birkin Bag He Gave Her After The Boxer Repossessed Her Bentley And Millions In Jewelry
Shantel Jackson Claims She Left Floyd Mayweather A Year Ago But Items Online Reveal Otherwise
Floyd Mayweather's Fiancée Shantel Jackson Being Called A Former Call Girl In Atlanta (Prostitute)
Floyd Mayweather's Ex-Girlfriend Princess Love Dropped From Reality Show That Ray J Bails On
Report Floyd Mayweather Repossessed Millions In Jewels From Ex-Fiancée Shantel Jackson