Floyd Mayweather Retires With $1B In Earnings And Manny Pacquiao With $500 Million Proving Boxing Is A Lucrative Sport
April 13. 2016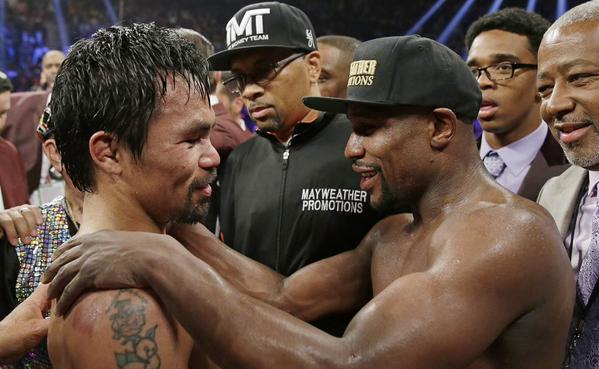 Manny Pacquiao and Floyd Mayweather after May 2, 2015 fight
The career earnings of recently retired 39-year-old boxer, Floyd Mayweather, is approximately $1 billion dollars. The career earnings of Mayweather's top rival, 37-year-old Manny Pacquiao, who announced his retirement as well, is approximately $500,000,0000, according to an article published on the Forbes website. Those are staggering figures for any athlete in any sport. There are a number of other boxers who have become multi-millionaires from boxing as well.
Some may scoff at earning a living from boxing, but many athletes have used the sport to support themselves and their families quite well. They've proven boxing can be a great source of income. It takes hard work, dedication, discipline and practice, but it can be done. It also takes good business management. When some people hear and read about the big financial figures being tossed about, it sometimes brings out the greed and envy in them and they try to rip boxers off. So, you have to be careful. Know what you are signing and how your money is being collected and spent.
There are things you can do to help and protect yourself. My dad, a former professional athlete and coach, is of the belief it is a good idea that young boxers seek out the knowledge and assistance of older, veteran boxers. His advice regarding the subject is, "Find a good, old boxer." They can give you tips on life inside and outside the ring, in sharing their experiences. Many of them enjoy being in boxing gyms and soaking up the atmosphere, long after they've retired. Talk to them and see what you can learn.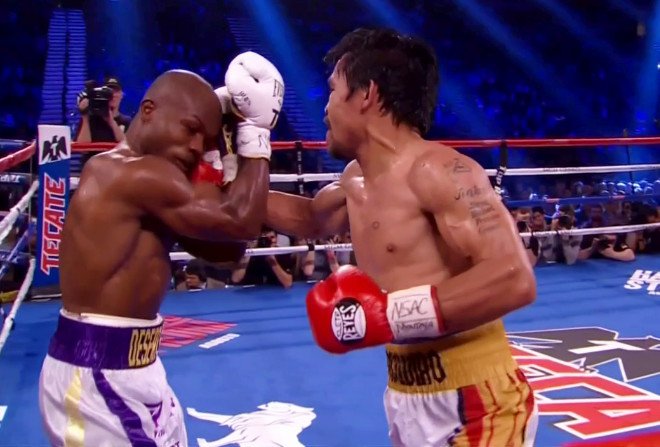 Timothy Bradley and Manny Pacquiao during April 9, 2016 fight
Mayweather, for instance, had the benefit of his father and uncles, former professional boxers, training and guiding him. It made a big difference. He benefited from their experiences in the ring. Mike Tyson was trained by boxing veteran, Cus D'Amato, who was a boxer and had decades of experience as a trainer when he took Tyson under his wing. Current world champ, Tyson Fury, was trained by his dad, a former boxer (as well as his uncle Peter Fury) and he gained from their experiences. There are tricks of the trade and when you have someone who has been through it helping you with your career, it will benefit you.
Be careful listening to friends who are not knowledgeable on the sport. They may mean well (while some are just hanging around hoping you'll make money and acquire other material things they can get) but if they don't know the sport and they are trying to assist in training you, they could be telling you things that will lead to you forming bad boxing habits that could cause you trouble in the ring. Keep your practices and form textbook correct, punch perfect.
Even though you are just starting your career, you have to think ahead. Don't do things now that you will regret later. I've often written in this column that entertainers and athletes need to keep their image as family friendly as possible, because it sets a good example and will lead to endorsements that can support you and your family. People make millions of dollars from endorsements alone (this is on top of purse money). So, stay out of trouble and be careful of what you post on social networking.
RELATED ARTICLES