Hollywood Out Of 80s Movies And Shows To Reboot And Is Facing Massive Losses On A Number Of Films
May 29. 2017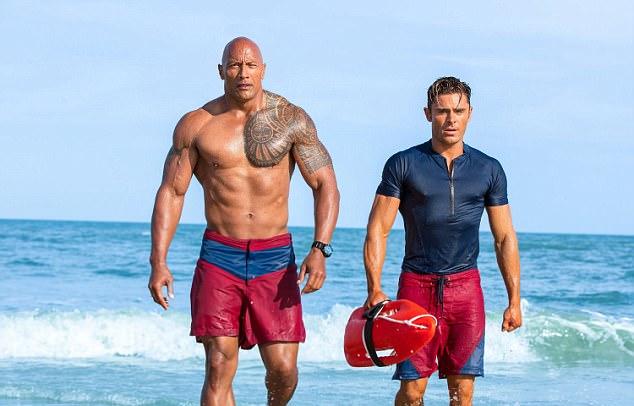 "Baywatch" reboot starring The Rock and Zac Efron
Hollywood is in the middle of an ongoing sales crisis. Movie and music sales are way down and the industry trade papers are actively writing about it. To compensate for the steep sales declines, Hollywood has been raising movie ticket prices over the past decade. This past year has been one of Hollywood's worst sales years on record, due to a number of film flops.
This month, Kabbalah cultist and frequently sued copyright infringer, Guy Ritchie, saw the massive flop of his "King Arthur" film, which cost Warner Bros $200,000,000 in losses (production and marketing costs. Ritchie's previous film, 2015's "Man From U.N.C.L.E" reboot was a massive flop as well, costing Warner Bros $30,000,000 after production and marketing costs were deducted from ticket sales. Ritchie has been sued by so many people for stealing their copyrights for his films that it unequivocally proves he is not a director, but a thieving fraud, just like his crazy ex-wife Madonna.
Last week, non-acting action star and Kabbalah cultist, The Rock (Dwayne Johnson) suffered a massive flop, via his ill-advised "Baywatch" reboot that was taken from the 1989 television series and brought to the big screen. Judging by the film's trailer and subsequent critic reviews, the big budget "Baywatch" was nonsensical, unentertaining and crazy. This is what happens when you let crazy people make movies. No one gets it but them. However, the original "Baywatch" television show was entertaining and not insane.
Hollywood is swimming in flops. Hollywood has been fresh out of ideas for the past decade and have resorted to copyright infringement and separately reboots in trying to gain revenues. The problem is now more than ever Hollywood is controlled by two crazy cults (Kabbalah and Scientology), who don't know what they are doing. They lack talent and are determined they are to control Hollywood...even if they destroy it...which is what they are headed for with this behavior.
The people who ran Hollywood prior to the two aforementioned cults taking over, had talent and knew how to make good entertainment. From the mid-1980s and back, there were real filmmakers and musicians creating excellent projects audiences were drawn to in so many ways. Now Hollywood is mass producing mentally ill music, films and television shows, which has driven up the mental illness rate in America, as shown by CDC and psychiatric association figures.
STORY SOURCE
Baywatch is a massive flop for The Rock after bringing in nearly $20million LESS than expected over Memorial Day weekend
Published: 16:44 EDT, 28 May 2017 | Updated: 10:18 EDT, 29 May 2017 - The Rock... sunk. Baywatch belly flopped into theaters over Memorial Day weekend, representing a rare miss for the movie's star Dwayne 'The Rock' Johnson. For the weekend, the comedy is only expected to bring $22million into the box office, which, compared with Pirates of the Caribbean: Dead Man Tells No Tales' $76.6million, is a huge miss...
Hollywood is running out of hit '80s movies to reboot
Published: May 26, 2017 5:21 p.m. ET - 1986 release 'Top Gun' earned $176.8 million at the domestic box office and cemented the stardom of Tom Cruise. Hollywood is running out of blockbuster films from the 1980s to remake or reboot, after a string of movies celebrating the era of big hair, shoulder pads and Ronald Reagan. Of the top 15 highest-grossing films of that decade, just three to date have not been given a sequel or prequel or turned into a franchise: "E.T. the Extra-Terrestrial," "Tootsie" and "Rain Man."...
Even TV has been bitten by the nostalgia bug. ABC recently announced it's rebooting "Roseanne," and the network aired a musical remake of 1987's "Dirty Dancing," to which Lions Gate Entertainment Corp. LGF.A, +8.65% gave a sequel in 2004. That film, "Dirty Dancing: Havana Nights," brought in $27.7 million on a $25 million production budget...
Box-Office Bomb: 'King Arthur' Limps Toward $14M Debut Behind 'Snatched'
7:23 AM PDT 5/13/2017 - 'King Arthur' is a flop of epic proportions after costing $175 million to make; 'Snatched' cost far less ($42 million) but will open well behind Amy Schumer's 'Trainwreck.' 'Guardians of the Galaxy Vol. 2' will easily trounce both new offerings. The second weekend of summer at the North American box office is taking no prisoners.

Warner Bros. and Village Roadshow's King Arthur: Legend of the Sword is a flop of epic proportions. The movie opened to an estimated $5.3 million Friday from 3,702 locations for a projected $14.5 million weekend after costing $175 million to make before a major marketing spend. It also appears to be falling on its sword overseas, where it only grossed $6.8 million on Friday from 51 markets for an early three-day foreign total of $11.6 million. In China, it opened to a mere $1.8 million to place No. 3.

Piling on more bad news, King Arthur looks to be beat in the U.S. by Amy Schumer and Goldie Hawn's Snatched in a surprise upset. The Mother's Day action-comedy earned an estimated $5 million Friday from 3,501 theaters for a $16 million-plus opening. Fox spent a relatively modest $42 million to make the R-rated movie, but was certainly hoping for more, considering Schumer's Trainwreck debuted to $30 million in summer 2015...