Interviews On School Spying On Kids With Webcams
February 20. 2010
The Robbins family of the U.S. city, Philadelphia, were interviewed by a number of national network channels, regarding the egregious and criminal violation of their privacy, when faculty of their son Blake's school, secretly watched him in their home via a school issued laptop. The webcam was triggered by stealthily placed school software (see: spyware). It snapped photos that a vice principal confronted the 15-year-old boy with, accusing him of taking illegal drugs, via popping pills. It turns out the boy was popping Mike And Ike candies, which is perfectly legal, as it is confectionary, not crack.
Even if the little boy had been in his bedroom hitting the crackpipe like Ike Turner, it does not give the school the right to engage in warantless surveillance, by illegally turning on a webcam, via having it act as a hidden camera and unlawfully photographing and videotaping people in their homes without their knowledge or consent. It is a sick, deplorable, criminal violation of the Constitution. Even the average judge would not sign a warrant to allow law enforcement to engage in such conduct against a minor. Rarely would they even sign such a warrant regarding an adult, as it is unconstitutional. Yet, the school bypassed the law and terribly violated the Robbins family.
Their daughter, who was also given a school issued laptop stated, she and her friends take the laptops into their respective bathrooms (toilet) when they shower, to listen to music while they bathe. A number of other students are outraged as well and have come forward to state that on numerous occasions, the on light for the laptops webcams would turn on by itself, leading them to wonder if it was watching and recording them.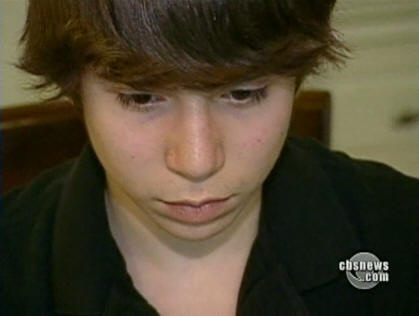 15-year-old Blake Robbins
However, the school clearly lied, previously labeling it a glitch. It was disclosed yesterday the school had triggered the webcams to turn on 42 times that they are willing to admit to, but something tells me it was more, as the complaints far outnumber that figure. The school's insufficient and illegal excuse is the webcams turn on when a laptop is reported lost or stolen, BUT THE ROBBINS FAMILY NEVER REPORTED THEIR LAPTOP MISSING OR PILFERED. There is no question the school did this.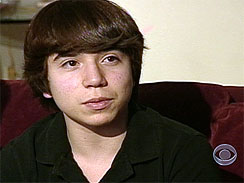 Therefore, which criminal on Harriton High's faculty turned on the webcam and spied on the minor in his home and by all accounts, numerous other kids attending the school. Why did a school vice principal have photos of a 15-year-old in his home, taken by the secretly activated webcam.
Why did the school think they had a right to spy on families in their homes, when the Fourth Amendment expressly forbids such criminal misconduct?
Why did the school's staff think it was permissible to do something so sick to children attending the school, that they secretly okayed a pedophilic program, not disclosed to parents or students, which granted them the illegal ability to turn on webcams without consent and watch teens and their families in their homes?
What are the names of the individuals that had access to the illegal images and videos of kids and their families, who were secretly watched in their homes, in various states of undress, when the webcams triggered and began filming?
Why is it being claimed the webcams had no sound, when it is a standard feature on such units?
Once again, it is very alarming that America has become a police state, with such serious privacy intrusions. The Constitution, a strong document that was put in place with good reason, as ALL nations need good privacy laws and human rights, is being terribly trampled. Hopefully, the massive public outcry accompanying this scandal, will draw attention to the terrible issue of people being spied on in their homes via hidden cameras and audio bugs and new legislation will be enacted, with tougher penalties for such invasive crimes.
STORY SOURCE
School Accused of Using Webcam to Photograph Student at Home
February 19, 2010, 11:13 am - While high school rumor mills are famously productive, the tech blog Gizmodo reported on Thursday that another student in the district claimed that some students had noticed the camera lights on their school-issued Apple laptops apparently turning on at random before the lawsuit was filed. According to the unnamed student:

Frequently, the green lights next to our iSight webcams will turn on. The school district claims that this is just a glitch. We are all doubting this now.
http://thelede.blogs.nytimes.com
School Officials Likened to "Peeping Toms"
Feb. 20, 2010 - Mom of Teen Viewed Remotely via Webcam Decries It; His Sister Says She and Her Friends Are "Petrified" by it. (CBS/AP) The family that sued to get a suburban Pennsylvania school district to stop secretly viewing students at home via webcams on school-issued laptops is blasting the practice, though it's been halted...

Blake Robbins, the teen at the center of the controversy, told Hill it all began when Harriton High School administrators falsely accused him of selling drugs and taking pills; then said they had webcam images to prove it. Blake says the pictures are of him eating candies.

Blake's mother, Holly Robbins, says she "was panicked" when she learned what was going on. "I thought this was just horrifying, that somebody could, especially the school, come into my home and spy on my son, and my daughter - she's 18 years old. And it was scary. It was like having a Peeping Tom."

Blake's sister, Paige Robbins, told Hill she "can say that on behalf of all of my girlfriends at Harriton, we were very scared, because we don't check to see if the lid is closed when we're changing. We take them in the bathroom when we're in the shower to listen to music. So, we're all petrified. We don't know who's on the other end watching us do whatever."...
RELATED ARTICLE