ISIS Claims Responsibility For The London Terrorist Attack By Khalid Masood That Occurred Outside Houses Of Parliament In Westminster
March 23. 2017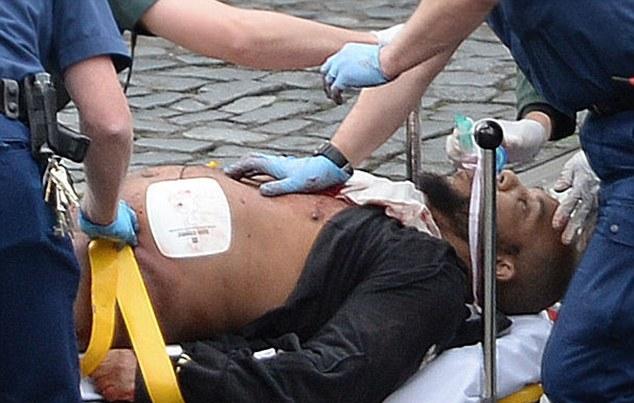 Khalid Masood
Today, terrorist group ISIS claimed responsibility for the terrorist attack that occurred in London's Westminster, outside the Houses of Parliament, which left 5 people dead and 40 injured (Terrorist Attack At The British Parliament In London's Palace Of Westminster Leaves 5 Dead And 40 Injured). ISIS referred to the terrorist, 52-year-old British born Muslim, Khalid Masood as, "A soldier of the Islamic State." Police have raided the apartment building Masood lived in, arresting three people.
British Prime Minister, Theresa May, stated of the terrorist, "The man was British-born and some years ago was once investigated by MI5 in relation to concerns of violent extremist. He was a peripheral figure. His case was historic, He was not part of the current intelligence picture."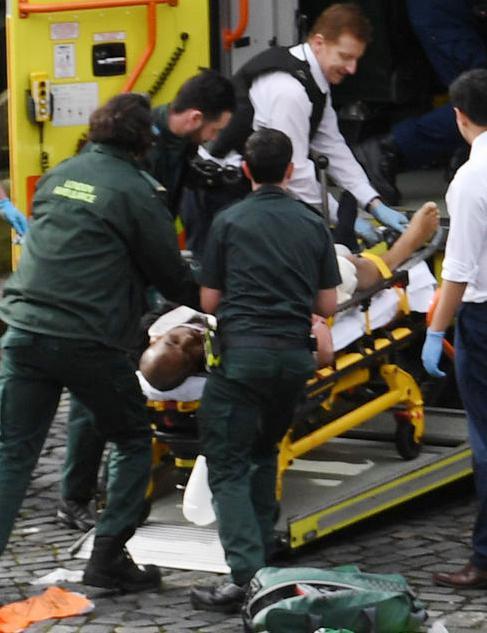 Khalid Masood
The official death count regarding the victims had been revised to three people, who are British police officer and married father of three Keith Palmer, 54-year-old husband, father and owner of a music recording business, Kurt Cochran (American) and school teacher and married mother of two, Aysha Frade (British). However, another victim died today, after being taken off life support. The terrorist, who was killed on the scene to stop his murderous behavior is, Khalid Masood. 40 people from 11 countries were injured in the attack.
There really is not much authorities can do regarding preventing a deranged person from deciding to mow down innocent pedestrians in acts of vehicular assault and manslaughter. However, I will state this again, security needs to be tightened at Westminster. The terrorist did not get into the building, which is a positive. However, he was able to kill an officer guarding it.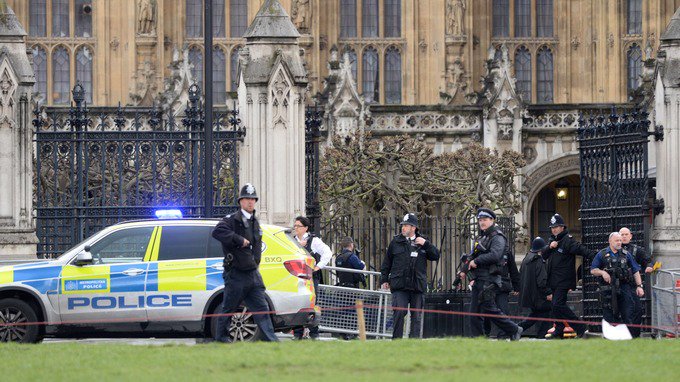 Police outside Parliament
Unauthorized people should not be able to walk near personnel without going through a metal detector. Once again, there should be snipers on the roof. Previously, there was a security breach regarding a member of the public gaining access to the roof of Westminster. Police/military snipers should be there instead, as elevated positions give a great and stealth vantage point of activities occurring below.
I have passed the Houses of Parliament many times during walks for exercise and couldn't begin to tell you how to get in the building, as I do not know. The building was clearly scoped out by Masood and those directing him, who developed a sick plan to run over innocent pedestrians on Westminster Bridge, then kill people in Parliament. The latter part of the plan failed, as police stopped him from entering the building with two knives.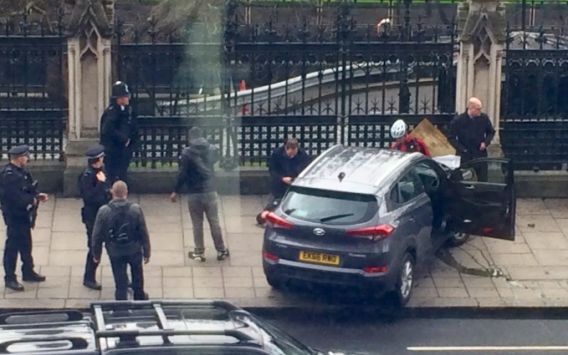 Masood's crashed rented car he used to kill innocent pedestrians on Westminster Bridge
Masood's attempt to breach the building's security was disrupted by unarmed police officer, Keith Palmer, who was stabbed to death, as the terrorist tried to force his way into the Houses of Parliament on foot, using brute force, with the intent to kill as many people as he could (much like the method used by terrorists in the Charlie Hebdo killings in France: 12 People Killed In Paris During Terror Attack At Magazine Over Drawings Of The Islamic Figure Muhammad Which The Site Warned Against A Week Ago).
As stated in the column last night, the method of terror used in the attack on the Houses of Parliament, is similar to what occurred in Nice, France. In that instance of cold-blooded vehicular manslaughter, the murderous terrorist who perpetrated the attack, Mohamed Lahouaiej Bouhlel, mysteriously wired £84,000 to his family, right before he committed the cruel act. His brother stated he worked as a chauffer in France for 8-years and saved the sum, which does not sound correct, as he would have to pay living expenses out of his wages. Most people who work as drivers cannot save £84,000 in 8-years and pay their living expenses (rent, utilities, travel costs and food).
STORY SOURCE
Khalid Masood: What we know about the Westminster attacker
23 March 2017 at 10:47am - The man responsible for Wednesday's attack in Westminster has been named as Khalid Masood by Scotland Yard. Police said the 52-year-old was not the subject of any current investigations and there was "no prior intelligence about his intent to mount a terrorist attack".
Scotland Yard also said Masood:
Was born in Kent but recently lived in the West Midlands
Had no prior convictions for terrorism offences
Had prior convictions for offences including GBH, possession of offensive weapons, and public order offences
Was first convicted in 1983 for criminal damage
Was last convicted in 2003 for possession of a knife
Used a number of aliases
ISIS claim responsibility for London terror attack after British-born terrorist kills three and injures 29
12:20, 23 MAR 2017 Updated12:52, 23 MAR 2017 - Four people - including PC Keith Palmer - were killed after a terrorist mowed down pedestrians on Westminster Bridge before attempting to enter the Houses of Parliament. ISIS have claimed responsibility for the terror attack in London which left four people dead and injured 29 .
The Amaq News Agency, which is seen as the terror group's official press service, report the attacker was "a soldier of Islamic State". The terror group does not provide the name of the attacker who killed three people before he was shot dead by police. The Amaq statement said: "The perpetrator of the attacks yesterday in front of the British parliament in London is an Islamic State soldier and he carried out the operation in response to calls to target citizens of the coalition." It comes after Theresa May said the terrorist was previously investigated by Britain's security services for extremism...
London terror attack victim named as Aysha Frade as it emerges British-born Wesminster attacker was 'known to MI5'
23rd March 2017, 11:45 am Updated: 23rd March 2017, 1:47 pm - THIS is the mum-of-two teacher mowed down and killed by a British-born lone wolf extremist who ploughed into crowds on Westminster Bridge – as it is revealed he was previously investigated for violent extremism. Aysha Frade, 43, is believed to have been picking up her children from school when she was killed in the deadly terror attack, which saw a maniac mow down pedestrians in a 4×4 before stabbing a policeman to death.
38
Aysha Frade, a victim of yesterday's atrocity in Westminster, pictured with husband John Frade. Aysha, who worked as a teacher at a school close to Westminster Bridge, is believed to have been thrown under a bus in the attack. The mum-of-two is understood to have taught at nearby DLD College.
Spanish papers said Aysha was born in Britain and had a Portuguese husband called John Frade. Tributes have been paid to the teacher, who worked at nearby sixth form DLD College, just a few hundred metres from Westminster Bridge. It is believed she was hit by the attacker's car and thrown under a bus in yesterday's atrocity.
Principal Rachel said: "We are all deeply shocked and saddened at the news that one of the victims yesterday was a member of our staff, Aysha Frade. "All our thoughts and our deepest sympathies are with her family. "We will be offering every support we can to them as they try to come to terms with their devastating loss. "Aysha worked as a member of our administration team at the college. "She was highly regarded and loved by our students and by her colleagues. "She will be deeply missed by all of us."...
Trump tweets tribute to US citizen killed
March 23, 2017 3:41pm GMT - US President Donald Trump has tweeted his condolences to the family and friends of Kurt Cochran, an American who lost his life in the London terror attack. Cochran and his wife Melissa -- who suffered serious injuries -- had been due to fly home to Utah on Thursday, according to a statement released by the LDS Church. A great American, Kurt Cochran, was killed in the London terror attack. My prayers and condolences are with his family and friends.
Birmingham arrests: Owner of raided building speaks
March 23, 2017 3:27pm GMT - CNN's Nic Robertson in Birmingham says the owner of a building in the city that was raided by police overnight has just spoken to journalists. The man said police had been into the apartment on Wednesday night and taken away the three people who were renting the property from him.
The owner added that he didn't know who the people were, as all of his contact with them was handled by the letting agency. Asked if he knew the man suspected of carrying out the Westminster attack, the property owner said: "No, I didn't know the attacker."
Nice terror attack: Killer Mohamed Lahouaiej Bouhlel sent '£84,000 to family in Tunisia days before massacre'
Sunday 17 July 2016 09:00 BST - Mohamed Lahouaiej Bouhlel, a 31-year-old Tunisian delivery driver and chauffeur drove his vehicle more than one mile along the coastal French city's Promenade de Anglais French Government. The man who killed at least 84 people after driving a lorry into crowds celebrating Bastille Day reportedly sent £84,000 to his family in Tunisia just days before the attack.
Mohamed Lahouaiej Bouhlel, a 31-year-old Tunisian delivery driver and chauffeur, drove his vehicle more than one mile along the coastal French city's Promenade de Anglais, injuring more than 200 people and sending hundreds fleeing in horror. He was later shot dead by police...
RELATED ARTICLES
12 People Killed In Paris During Terror Attack At Magazine Over Drawings Of The Islamic Figure Muhammad Which The Site Warned Against A Week Ago
Terrorist Attack At The British Parliament In London's Palace Of Westminster Leaves 5 Dead And 40 Injured (Videos)
British Government Votes To Renew Nuclear Deterrent Trident