Jay Z And Madonna's Failing Tidal Music Service Is Hemorrhaging Money While Inadvertently Increasing Rival Spotify's Revenues
April 23. 2015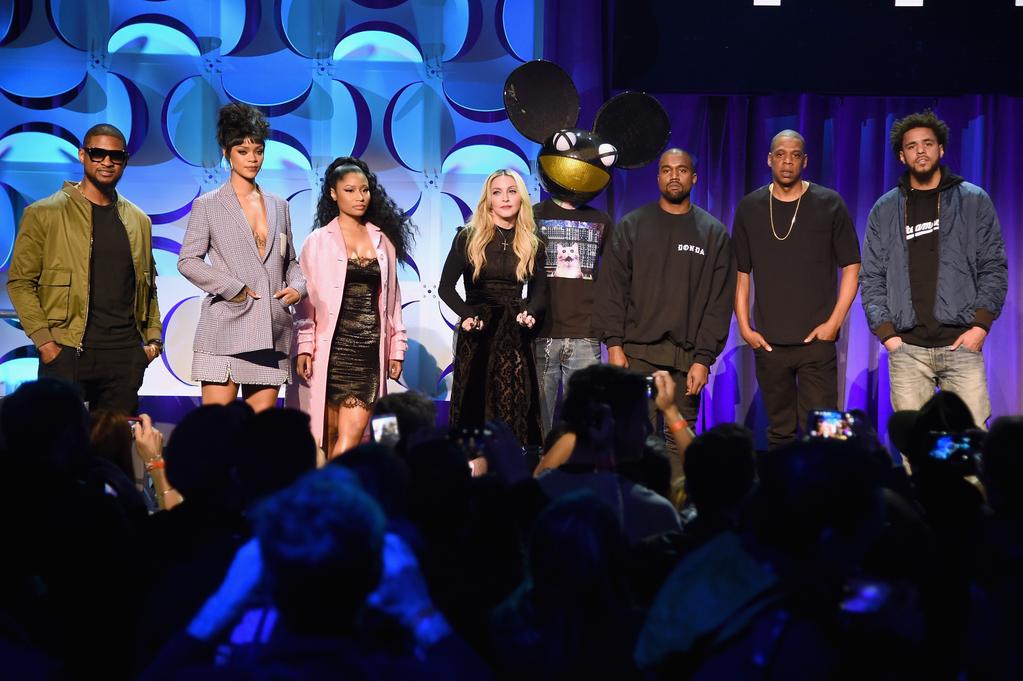 Usher, Rihanna, Nicki Minaj, Madonna, Dead5Amu, Kanye West, Jay Z and J Cole (also known as Hollywood's self-professed "Illuminati")
Many have labeled the new fee based music streaming service Tidal a rip off of Spotify. So imagine the irony that Spotify's sales have increased as Tidal launched and promptly crashed and burned. Tidal sent Spotify up the Apple app charts. Jay Z, Beyonce, Madonna, Rihanna and other recording artists in the so-called, self-labeled Hollywood "Illuminati" thought Tidal would make them billionaires. In actuality, they are in the hole as the service tanks.
The aforementioned artists bought Tidal for $54,000,000 and roped in investors, who are watching as their money goes up in smoke. Service costs and staff salaries are in the millions. The CEO has already been fired after the barely launched venture descended into a financial fiasco.
STORY SOURCE
Tidal crashes out of top 700 apps in US download chart, boosts Spotify sales
Wednesday 22 April 2015 - Tidal does not seem to have instigated the music streaming revolution itís A-lister panel had hoped, with early numbers for Jay Z's app suggesting it's flopping or flopped. The service was designed to give musicians a fairer deal and bigger share of streaming profits, but put across a bit of a mixed message at its launch by placing the world's biggest artists at its fore, implying that users should be worrying over whether Madonna or Nicki Minaj's pockets are sufficiently lined.
Tidal climbed into the US iPhone top 20 download chart briefly following the event, but has since crashed out of the top 700. It doesn't seem to have taken down its rivals with it either. On 20 April, Pandora and Spotify occupied the number three and four positions - marking the first time two music streaming apps have placed in the top 4 simultaneously and knocking down the world-conquering Candy Crush in the process...
RELATED ARTICLE
Snoop Dogg's Son Slams Jay Z, Beyonce, Rihanna And Madonna For Being Greedy And Not Caring About The Public