Judge Informs Karrueche Tran Telephonic Appearance Is Insufficient And She Must Appear In Court To Extend Restraining Order Against Chris Brown
May 24. 2017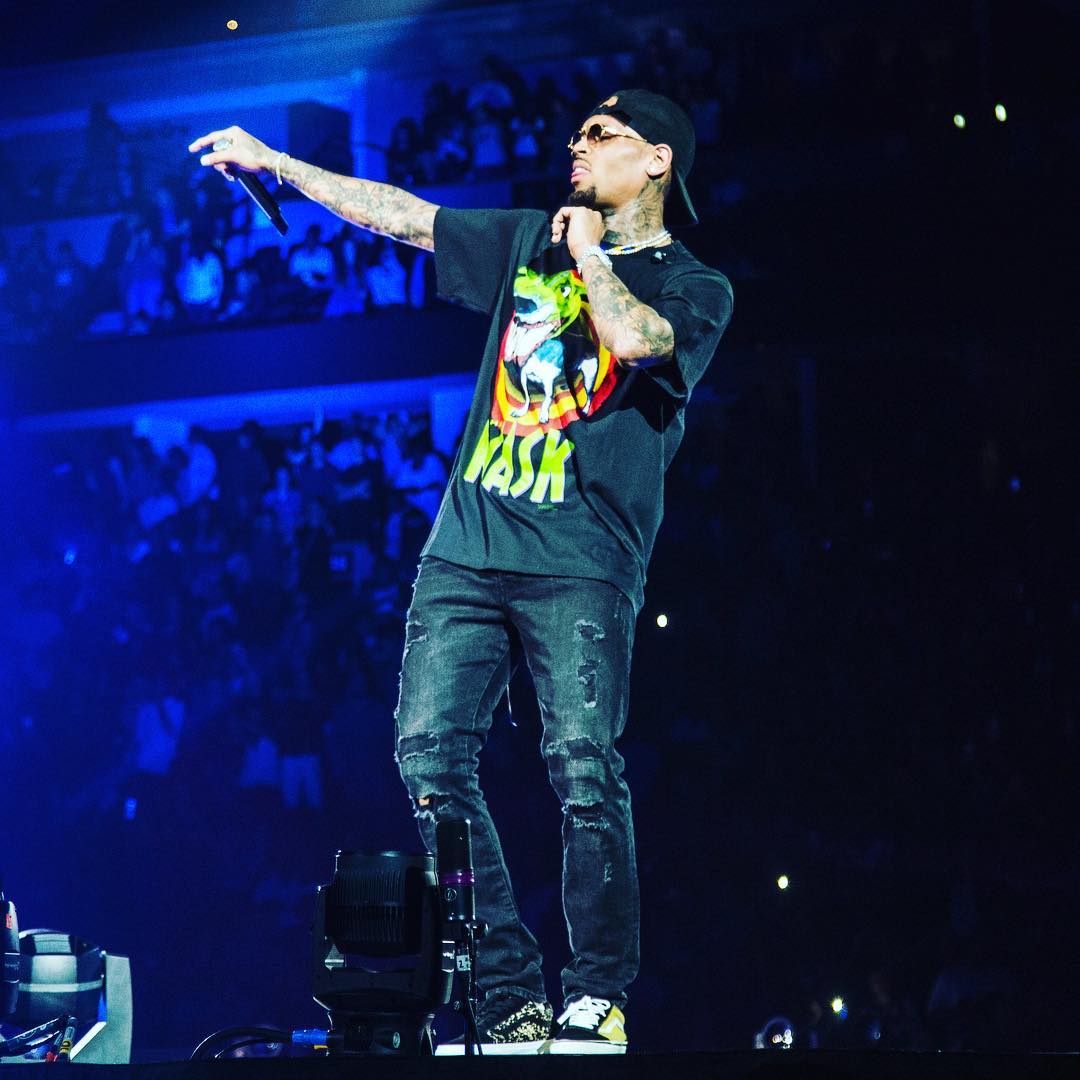 Chris Brown
Karrueche Tran, the ex-girlfriend of singer, Chris Brown, has experienced a setback in extending the temporary restraining order she has obtained against the star for domestic violence and threatening to kill her. Brown is also accused of making death threats against Tran's family and her best friend, J Ryan LaCour.
Tran, who is in New Orleans shooting the cable television show "Claws" which is set in Miami, Florida (external shots) telephonically appeared at Tuesday's court hearing held in Los Angeles, where Brown was a no show, but represented by his lawyer, Mark Geragos.
The judge presiding over the case informed Tran she must physically appear in court and tell her story to have the restraining order extended. However, the judge did accept service in the case. Brown was served on his birthday, May 5, 2017, as he exited a night club in Houston, Texas. Brown was served the lawsuit by a process server, who had the service filmed for additional proof. The video appeared online as confirmation to the public.
People have expressed an interest in reading the text messages Tran states she has retained, featuring Brown threatening her, members of her family and her LaCour. It would garner public interest among fans, blogs, tabloids and news outlets. However, Brown does not want the text messages made public, as they are damaging to him.
LaCour accused Brown of sending his fellow Bloods gang members to threaten and harass him. Previously, Brown and fellow Bloods gang members threatened male supermodel Tyson Beckford on social networking, for simply taking a picture with Tran. Tran blew a kiss at Beckford in the photo who was smiling at the camera (hey, many women do) and it enraged Brown, whose mind began to run wild with thoughts of the two having sex.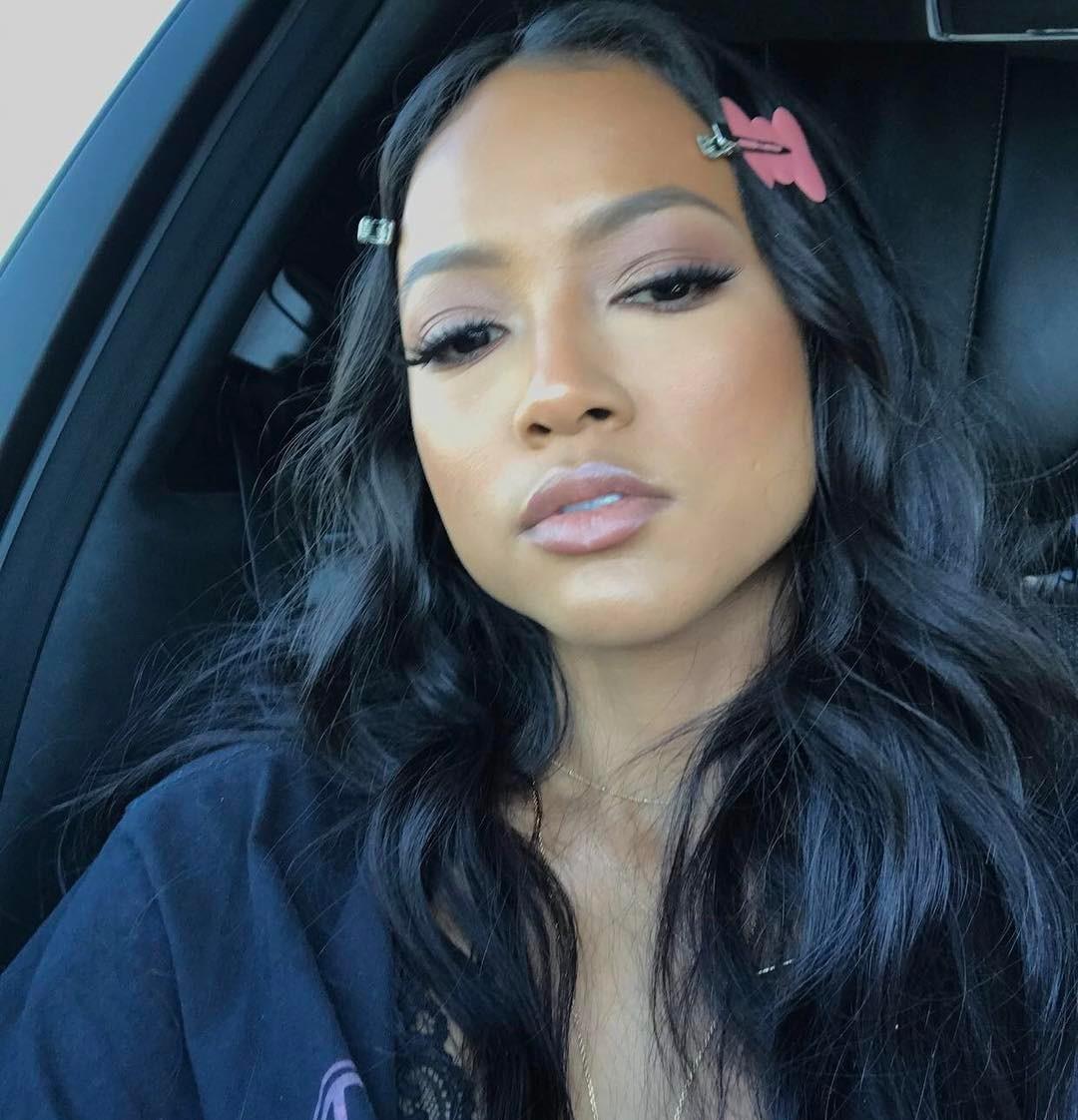 Karrueche Tran
Brown began to accuse Beckford of all sorts of things on social networking, then openly threatened to shoot him and break the model's legs. Brown even sent members of the Bloods street gang to a venue Beckford and Tran were slated to appear for a paid public event. It alarmed many who feared for their safety. Police were called to provide extra protection at the venue.
Brown also threatened actor Marquis Houston and rapper Soulja Boy on social networking, over their attempts at dating Tran, who was single. Tran is pretty and men always try to go out with nice looking women. There's nothing wrong with that. Tran was not in a relationship with Brown anymore and he should have accepted that, rather than embarrassing himself online threatening all these men, who did nothing wrong.
Brown's social networking activities are full of the aforementioned threats, which were screen saved for posterity in many online articles and published in newspapers. These social networking threats Brown issued are admissible in court, as proof of his possessiveness and threats regarding his ex-girlfriend, who is trying to move on with her life.
There are also police records of Brown showing up at Tran's West Hollywood house making a racket by banging on the door and yelling, demanding to be let inside the home, after he stalked her from a night club in clear sight of the paparazzi, who published photos and videos of the incident. Brown was heard on one video threatening one of Tran's friends to move out of the way in the vehicle or he would violently move her. There is even a video of Brown threatening to stalk and jump the fence of the woman he loves, not to mention, threaten and harass anyone who pursues her.
My point, there is an abundance of evidence to support the fact Brown has been stalking and harassing Tran, her family members, friends and men who show an interest in her and or vice versa. Brown needs to accept the restraining order before any more damaging information comes out and let Tran move on with her life without any further interference. Brown does not want to hear the truth, but he needs to accept it for his own good and that of everyone else who is involved in this matter.
STORY SOURCE
Judge Rules on Karrueche Tran's Restraining Order Case Against Chris Brown
Published 8 hours ago - The model/host is trying to take legal action against her ex. Did Karrueche Tran blow her chance to score a legal victory in court against Chris Brown? After months of trying to get a permanent restraining order against her ex, whom she claimed physically abused her during their three-year relationship in a court affidavit, a judge made a crucial ruling on Karrueche's request, and it was not exactly in her favor.
According to TMZ, the judge ruled against Tran, temporarily shutting down her request for a restraining order, because she didn't appear in person to plead her case. Karrueche was hoping to lay out the details of abuse and death threats levied against her on the phone, since she is in New Orleans for a shoot, but the judge presiding over the case wasn't having it. Tran's manager Jacob York took to Twitter shortly after TMZ broke the news to give his, and his client's, side of the story.
Tmz needs to stop with their bs, the lawyers are still in court as we speak... no lose silly media
— JACOB YORK (@JACOBYORK) May 23, 2017
So we won, the judge agreed the Chris was served and now he has to meet her in court!! No ore running.
— JACOB YORK (@JACOBYORK) May 23, 2017
It's not a total wrap for Karrueche: the judge has granted her extra time to get her affairs in order and show up in person — or give at least 12 days notice that she will be "phoning it in." As for Chris, he still hasn't accepted the summons to appear in court and doesn't seem like he will any time soon...