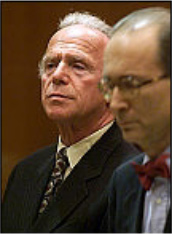 Former Judge Victor Barron
"Arrest of NYC Judge Is Expected"
By Tom Perrotta, New York Lawyer
April 24, 2003 - A Brooklyn Supreme Court justice is expected to be arrested and arraigned as early as today on charges that he accepted money and gifts in exchange for favorable rulings in matrimonial disputes, court sources said yesterday.
The imminent indictment of Justice Gerald P. Garson, 70, is tied to an eight-month investigation by the office of Brooklyn District Attorney Charles J. Hynes, one source said.
Justice Garson, a Democrat who was elected to the bench in 1997, would become the second sitting Brooklyn judge in a year to be accused of criminal acts. Last summer, Justice Victor I. Barron pleaded guilty to demanding a bribe in excess of $100,000 and was sentenced to 3 to 9 years in prison, the longest prison sentence ever for an active New York judge.
The investigation into Justice Garson, inspired by a tip from an unidentified citizen in a matrimonial case, uncovered a scheme to steer cases to the judge for payoffs, the source said.
"If you had the right lawyer, you could get [Justice Garson]," the source said. "They stunk up the courthouse."
The extent of the alleged scheme and the amount of money it entailed was unclear yesterday, though the source said "it seems that was the way business was done in that courtroom."
Sources said as many as seven others, including an unidentified attorney and several court clerks, would likely be arrested in connection with scheme.
Justice Garson will not be charged with bribery, but with "receiving an award for official misconduct," a Class E felony punishable by up to 4 years in prison, sources said...
In the last three years, the Brooklyn judiciary has been beset by various scandals and has drawn stinging criticism from numerous newspaper editorials.
In late 2000, OCA appointed a special inspector general to investigate favoritism by judges who appointed fiduciaries for incompetent or incapacitated persons, leading to recently enacted training requirements for appointees and limits on appointments for former judges and high-level court officials.
A month before Justice Barron pleaded guilty to bribery charges last summer, Brooklyn Supreme Court Justice Reynold N. Mason was removed from the bench by the Commission on Judicial Conduct for ethical breaches.
In January 2002, one judge was admonished and another, Justice Richard D. Huttner, was censured for using the prestige and influence of his office in litigation involving the co-op board of his apartment building...
The last time a matrimonial court in New York became tainted by scandal was in 1999, when Steven Singer, then chief clerk for uncontested matrimonial cases in Manhattan Supreme Court, was indicted for taking bribes.
Singer eventually pleaded guilty to accepting bribes over seven years in exchange for speeding cases along and other favors. Two attorneys were also indicted in the scheme but they were not punished, despite Singer's role as a witness against them.
.................................................................................................................................................................................
On Second Thought, Former NY Judge Granted Parole
By John Caher, New York Law Journal, New York Lawyer
May 8, 2006 - The state parole board has reversed itself and agreed to parole former Brooklyn Supreme Court Justice Victor I. Barron.
Mr. Barron, who pleaded guilty in 2002 to taking a bribe, was denied parole on the ground he is likely to re-offend, even though he has no prior record.
Mr. Barron's attorney, Stephen Dratch of Franzblau Dratch in Livingston, N.J., filed for a writ of mandamus under Article 78 of the New York Practice Law and Rules claiming that the denial of parole in this case met the "irrational bordering on impropriety" standard the Court of Appeals has adopted for overturning a parole board determination (NYLJ, March 23, 2006).
After the filing, the board advised the attorney general that it would grant Mr. Barron a de novo hearing and would not oppose his Article 78. Mr. Barron's hearing was held May 3 and he was granted parole.
"Mr. Barron was interviewed by a new panel and they determined that his discretionary release was appropriate at this time," said parole board spokesman Scott E. Steinhardt.
Mr. Barron, who is 64 and has leukemia, is on a work-release program that requires him to spend two nights a week in custody. He is expected to be paroled later this month.
.................................................................................................................................................................................
Judge Hits Parole Board
By David Hafetz, New York Post
March 26, 2006 - A disgraced, bribe-taking ex-judge is crying out about a different form of injustice - a state panel's decision to deny his parole.
Under a work-release program, the state lets Victor Barron work full time doing title searches and sleep at his Brooklyn home five nights a week, but the ex-jurist is still not satisfied with his sentence...
Barron argues that he's old and ill - he has cancer and has undergone chemotherapy - and that he's been a model prisoner.
After serving 14 years on the bench, Barron pleaded guilty in 2002 to felony bribe receiving for taking $18,000 - a down payment on a $100,000 bribe from a lawyer appearing in a personal-injury case.
He was sentenced to three to nine years in prison. After serving 23 months, he was granted work release for good behavior. With 17 months in the work program, he has been incarcerated for a total of 40 months.
- www.judicialaccountability.org