Lil Wayne Loses Private Jet Lawsuit And Is Ordered To Pay $1,800,000
September 15. 2015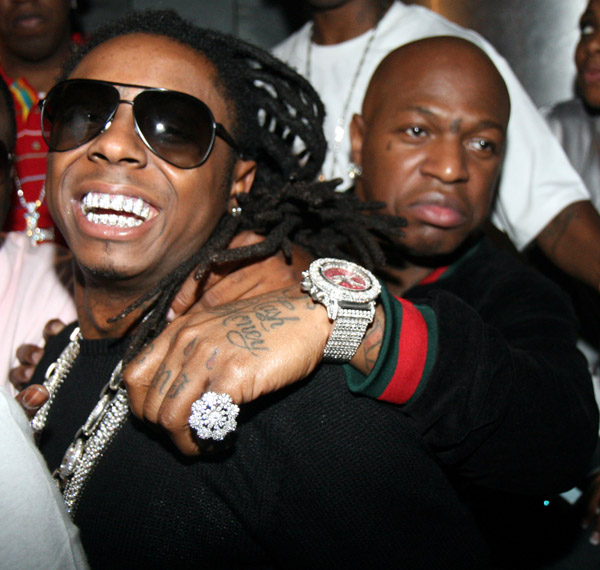 Lil Wayne and Birdman
Young Money rapper, Lil Wayne, real name Dwayne Carter, was sued this year by an aviation company in Miami, for ordering the $1,000,000 customization of a Gulfstream private jet, accepting it under leasing terms and failing to pay the bill. The private jet, which costs $55,000 per month to run, was used by Lil Wayne, but the company did not receive payment in accordance with the terms of the leasing deal. A verdict has been reached in the case and Lil Wayne was hit with a $1,800,000 court judgment.
Lil Wayne's money troubles are piling up. He is attempting to sell his $10,000,000 Miami mansion that he should not have bought, as he could not afford it (he has been delinquent in not paying the $220,000 property tax bill for 2014). Lil Wayne is also facing many lawsuits for copyright infringement, defrauding songwriters and producers out of royalties he is contractually obligated to pay and non-payment of other bills. This behavior is typical of Hollywood, where they all want to live the high life that many of them are not entitled to, so they rob others to fund their lifestyles and run up bills, then don't want to pay them.
STORY SOURCE
Lil Wayne Crash & Burn in Private Jet Case ... Has to Cough Up Millions
9/15/2015 12:30 AM PDT BY TMZ STAFF - Lil Wayne failed to pay one of his utility bills -- problem is, that utility is a PRIVATE JET -- and now he has to fork over $2 million! Wayne lost a lawsuit from Signature Group, a company that leases private jets to the rich and famous. We broke the story ... Signature went after Weezy for missing payments during the first 2 years of a 3 year deal with the company...
http://www.tmz.com/#ixzz3loYZlkvJ
RELATED ARTICLES
Lil Wayne Puts Miami Mansion On The Market As He Is No Longer Able To Afford It Due To Music Company Young Money Going Bankrupt
Entertainers Like Birdman, Lil Wayne, Young Thug And Keyshia Cole Are Putting Their Sexual Health At Risk Via Promiscuity
Money Team Member Lil Wayne Tried To Fight Boxer Marcos Maidana And His Crew After Floyd Mayweather Fight (Video)
Birdman Wants Lil Wayne Dead To Avoid Accounting Of Millions In Royalties Owed And For Posthumous Sales Boom
Lil Wayne And Young Money Sued By Rapper David Banner For Theft Of $150,000 In Royalties
Man Arrested By Police States Birdman Is Behind The Attempted Murder Of Rapper Lil Wayne
Lil Wayne Orders Security To Brutally Punch A Concertgoer In Florida Night Club (Video)
Young Money Becoming Broke Money As Creditors Sue Lil Wayne And Company