Lindsay Lohan Investigated For Theft Of $35,000 Rolex
April 23. 2010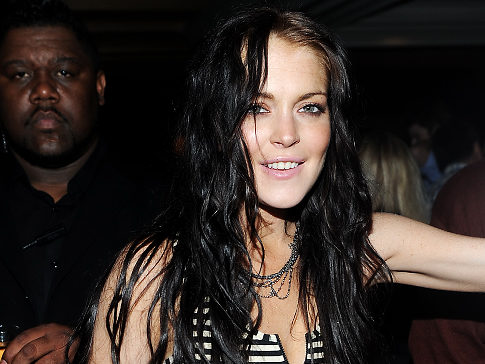 Lindsay Lohan
One time actress, Lindsay Lohan, continues to hit rock bottom in Hollywood, as she has been named as the prime suspect in the theft of a friend's $35,000 Rolex watch. Police are investigating the case and have photos of Lindsay wearing the stolen watch in public.
This is not new territory for Lindsay, who has stolen $500,000 in jewelry from a photo shoot, thousands of dollars in clothes and shoes from a friend, who was away on a modeling assignment, a $10,000 fur coat from a clubgoer and a tanning lotion patent from a chemist, which the former child star incredulously tried to pass off as her own.
Thievery is strongly encouraged in the Kabbalah cult, which Lindsay is a member of, hence her rampant schizophrenia and sticky fingers with other people's property she pilfers.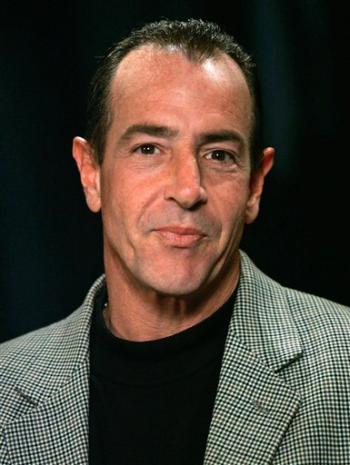 Michael Lohan
Her dad, Michael Lohan, did an interview with website TMZ, regarding yesterday's incident that saw him and Los Angeles sheriffs go to Lindsay's apartment. He was very candid about her current situation. Lindsay, who once commanded millions for acting in films, has been rendered broke and unemployed, due to her drug and alcohol addiction and psychotic behavior, ingrained in her by Kabbalah.
Her dad stated she is living in an apartment with no furniture and sleeping on a mattress on the floor in the bedroom. Lindsay was recently handed an eviction notice for failure to pay two months rent totaling $23,000. Why an unemployed, bankrupt actress was renting such an expensive property is anyone's guess.
She continues to steal and pawn people's jewelry, couture clothes and designer shoes, among other things, to fuel her drug and alcohol habit and lavish lifestyle, that sees her going to nightclubs in rented, chauffeur driven Mercedes, while wearing flashy designer clothes and borrowed jewels, on loan from Los Angeles stores.
She embarrassed herself yesterday, lashing out at her dad on the website, Twitter, making a terrible spectacle, when he only sought to check on her welfare and that of her 16-year-old sister, Ali, who is a minor under U.S. law.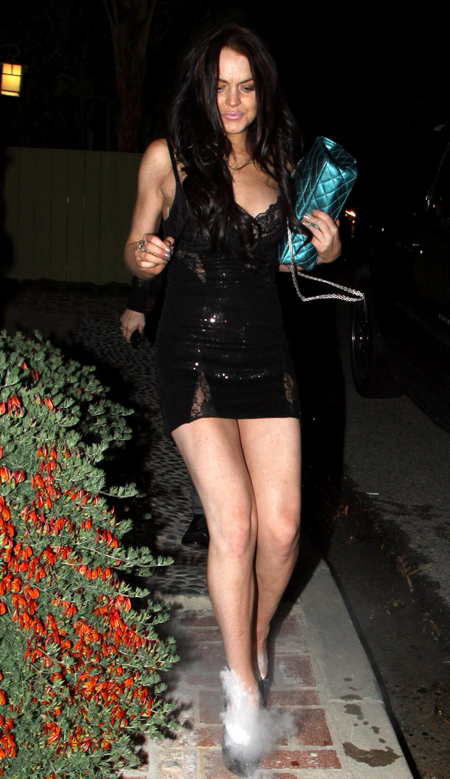 Mother, Dina Lohan, had the bad parental reaction over the phone, screaming at the sheriffs and her ex-husband, to get out of Lindsay's apartment. Both Lohan and the sheriffs were well within their right, as Dina left an impressionable minor to live with a drug addict and alcoholic, who can't even take care of herself.
Dina continues to insist that Lindsay is fine and is a good person. I beg to differ. I leave you with this - your daughter is in a psychotic, pseudo-religious cult, whose members have serious mental problems, believing that creating schizophrenia in patrons and sexually abusing people is a good thing, when it is not.
They spend their free time trying to become other people, developing serious personality disorders. They steal and deal in drugs to fund their cult and lavish lifestyles, which has resulted in criminal cases. That's when they are not surreptitiously watching people in their homes via the internet, without permission or consent, for gratification, in conduct similar to what transpired in the Blake Robbins vs. Lower Merion School District case. When one does said things, one ceases to be a good person.
RELATED ARTICLES
Lindsay Lohan Caught Stealing Again
Lindsay Lohan Steals Product From Florida Chemist
Lindsay Lohan Punched Her Mother
Cops Concerned About Lindsay Lohan Seek A 5150
Dina Lohan: Lindsay Is Not a Bad Influence on Her Sister
Friday April 23, 2010 04:00 PM EDT - Dina Lohan is furious that her ex-husband Michael brought the Los Angeles Country Sheriff's Department to daughter Lindsay's apartment Thursday Ė and disputes his claim that the starlet is a bad influence on her younger sister, Ali.
"They scared the h*** out of my girls," Dina tells PEOPLE. "Ali called me hysterically crying. They were hysterical and petrified of him. I spoke to the [police officer] and said, 'You donít have a warrant, get out!'
Michael says he called the cops to perform a "welfare check" on daughter Ali, 16, because he was concerned about her safety. "Ali is being exposed to nightlife and the people Lindsay is surrounding herself with," he told Hollyscoop at the time. She's 16 and she doesn't belong there. She's a minor." ...
Lohan Named a 'Suspect' in Rolex Theft
Originally posted Apr 22nd 2010 9:25 AM PDT - Lindsay Lohan has been named a suspect in the theft of a $35,000 Rolex watch, law enforcement sources tell TMZ...