Madonna Commissions Another Criminal Attack
July 17. 2017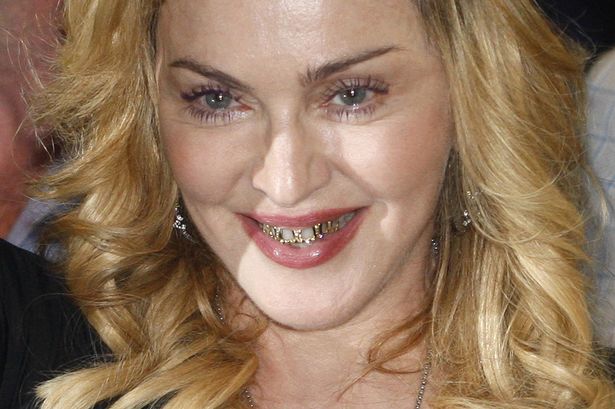 Madonna looks like a demonic Gremlin
This is a follow up to the April 26, 2017 article "Hollywood, FBI And CIA Holding Up Life Saving Pharmacseutical Drug Patents Out Of Financial Greed" where I stated I'd received another death threat from Madonna's Kabbalah cult, which she had someone issue on her behalf, as she is a vile looking old coward and bully. By the way I have his name, chauffeur's license number and a photo off him.
In my lawsuit I wrote of incidents of attempted vehicular homicide by Madonna's private investigator, Anthony Pellicano, whom I went to the FBI about years ago. As the FBI is corrupt (see: Hillary Clinton) the law enforcement agency arrested Madonna's privacy investigator, but not her, due to bribery and corruption. Pellicano was sent to prison for 15-years, where he currently sits.
Attempting to run people over with vehicles is a practice her private investigator is known for, in a habit Madonna's cult continues to this day. In some incidents, Pellicano sent thugs who actually ran over innocent people on behalf of pathetic, cowardly Hollywood stars who hired him, such as Madonna.
On Thursday July 13, 2017, someone tried to run over me again with a vehicle again (this is the fourth time it has happened in the past few years at this sick cult's hands, as commissioned by trashbag Madonna). I was leaving the supermarket after buying groceries for my family and a man sent by Madonna's Kabbalah cult was waiting for me to walk into the parking lot. I first saw his face in his vehicle's side mirror, then he looked right at me and deliberately tried to back over me with his pick up truck. I had to quickly get out of the way to avoid being run over and potentially killed.
An odd thing occurred before the attempted vehicular manslaughter. A federal agent in uniform, wearing clothes similar to the black gear worn by SWAT teams, with a bulletproof vest on and a gun in holster, entered the supermarket while I was in the checkout line and began staring at me. I thought it strange that he was lingering around and at staring at me. Looking at how he was dressed, I assumed he is an FBI agent, as that's the type of tactical gear they wear (as seen on the news). It's on the supermarket's CCTV.
On Friday July 14, 2017, a member of Madonna's Kabbalah cult stalked me all day then threatened to attack me with dangerous dogs in two incidents, hours apart (a large grayish brown pitbull and a black rottweiler). The first incident with the pitbull was a threat, but the person could not properly execute it as I was in a very public place having lunch (by the way the sign outside said place said no pets allowed).
In the second incident that occurred hours later, I was nearly attacked, but a man alerted me to it right before it happened and that's what prevented me from being attacked by the rottweiler a member of Madonna's cult had released and sent after me. I will write more about the two incidents in an upcoming item online and include it in my documentary about the cult.
The whole thing reminded me of what black people went through in America during the civil rights era, being threatened and or attacked by dogs at the hands of racist savages or burned out of their homes. Decades later and the same things are still happening.
I've stated it before and I shall state it again, Madonna and the members of her cult are a disgrace and embarrassment to America, as the U.S. government knows they are criminals but continue to allow deranged lawbreaking stars in Hollywood run loose commissioning all sorts of evil human rights abuses.
To go around commissioning violent criminal attacks against innocent people is disgusting, disgraceful, deplorable and cowardly. It spits in the face of civility, democracy and the rule of law that states people have a right to peace, privacy and life. Madonna is complete and utter trash to be doing these things and so are the people aiding her in this criminal activity. She and they are kidding themselves that God is not going to bring justice regarding her evil behavior. You reap what you sow.
RELATED ARTICLES
Wikileaks Releases Hacked U.S. Federal Government Documents Showing The CIA And FBI Are Spying On People In Their Homes Via Hacking Smart TVs And Backdoors In Computer And Phone Operating System Confirming Previous Judiciary Report Site Claims
Obama Administration Wastes Huge Sums Of American Taxpayer Money Breaking The Law In America, Britain And Jamaica On Behalf Of Madonna's Kabbalah Center In Committing Egregious Human Rights Abuses
Madonna, Jay Z, Beyonce, Rihanna, Rita Ora And Jessie J Sued Over Copyright Infringement, Invasion Of Privacy, Commissioned Criminal Harassment And Assault Via The Kabbalah Center
Madonna's Kabbalah Center Opening Shop In Britain Resulted In Innocent People Dying And Being Swindled Out Of Their Money
Florida Power And Light (FPL) Sending Unsafe Electricity Into People's Homes Due To Inadequate Security And Breaches By Hackers
Madonna Illegally Borrowing Money From Banks To Fund Kabbalah Center Cult's Criminal Invasion Of Privacy
Hollywood, FBI And CIA Holding Up Life Saving Pharmaceutical Drug Patents Out Of Financial Greed