Madonna Friends Arrested On Her Birthday
Famous Friends Also Didn't Show Up To Her Party Leaving Her "Disappointed"
Madonna In Denial About Turning 50
PLEASE BOYCOTT THE GUY RITCHIE RIP OFF FILM "ROCKNROLLA"
August 19. 2008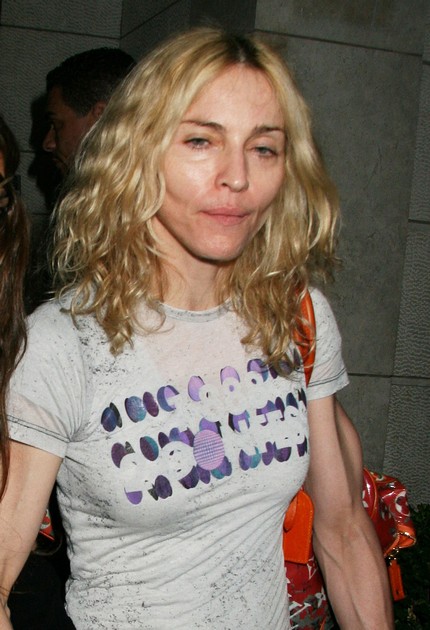 50? She looks 500
Madonna's famous friends Gwyneth Paltrow, Chris Martin, Stella McCartney, Paul McCartney, Geri Halliwell, Natalie Imbruglia, Sting, Trudy Styler, Ricky Gervais, Sacha Baron Cohen, Sadie Frost, Billie Piper, Claudia Schiffer, Matthew Vaughan and several others all snubbed her birthday party in London last week though they live there. Something weird is going on.
She said at the party that she was very "disappointed." It's just like when all the Yankees boycotted A-Rod's party a few weeks ago. There's definitely more to this story than meets the eye.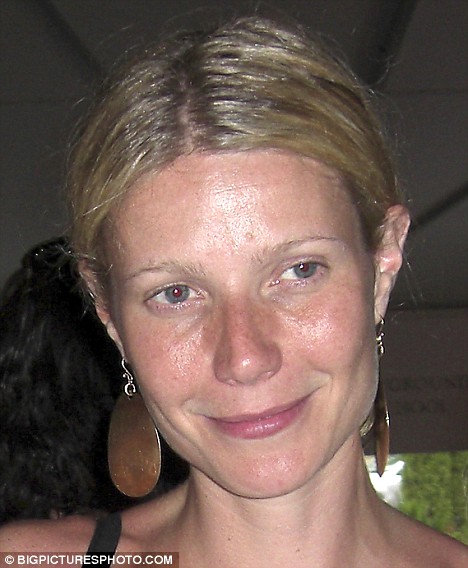 Kabbalah devotee Gwen Paltrow (according to Contact Music and Madonna)
Drug Sting
Two of Madonna and Guy Ritchie's friends they've been working with, one on a project that was criminally ripped off from my Copyrighted Catalog, in ongoing criminal misconduct by the couple and their showbiz cronies they illegally passed it to for money, have been arrested in separate incidents on serious unrelated charges.
The first is
Michael De'Hara, Guy Ritchie's so-called "script advisor" for the copyright infringing film "RockNRolla." He
was arrested after being investigated and placed under surveillance by the Metropolitan Police and Scotland Yard, who raided his house and confiscated huge amounts of cocaine and marijuana.
I have mentioned Guy Ritchie's rip off film RockNRolla before in a press release (my way of embarrassing them to the world for the thefts that shall not go legally unchallenged in the international community).
RockNRolla is a dead rip off of one of my copyrights that
is a trilogy about mafia factions fighting, a singer and real estate issues. It was first copyrighted by me in 2001, then an updated version in 2003, and I also bought the internet name for it.
Now, several years later, Guy Ritchie, has ripped it off to the tee, renamed the script "RockNRolla," but the plot/content is 100% mine, the same as my old copyright from 2001 - as "RockNRolla" is
a
trilogy about mafia factions fighting, a singer and real estate issues.
It's being put out through Madonna's Warner Bros.
It's the exact same trilogy as my preexisting copyrighted script, apart of my Copyrighted Catalog.
That arrogant animal Guy Ritchie and his disgusting wife have stolen and turned a well thought out copyrighted film trilogy, that is far greater in value than their net worth, into pure, unadulterated garbage. He has devalued and destroyed it.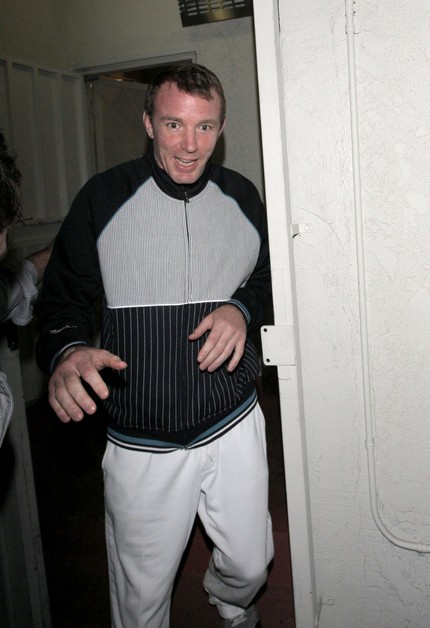 Guy "Loser" Ritchie
Have you no pride and no shame, to be going around criminally ripping of a black immigrant you and your nasty wife have been targeting. You think that's something to be proud of, you animals.
Is there any wonder everything you all have been putting out keeps flopping. People know about the case and are appalled. I keep telling you more people read my sites than read most Warner Bros sites (which is why they keep paying Digilink to try to illegally hack the sites offline).
Everything Guy Ritchie has ever directed, if you can call it that, has been stolen from another writer/director, who later sued him. He needs to retire already, as he is clearly a fake. This is the 6th time he has done this, and under his wife's tutelage no less, who stole just about every song she ever recorded.
Their conduct constitutes criminal copyright infringement, grand theft larceny, fraud, hacking and conspiracy. You're frauds and crooks.
You're no director. What kind of dirty people consistently do this kind of garbage. You belong in prison and I am going to see to it that you end up there. You have my word on it.
Sherlock Holmes Remake

Furthermore, that so-called idea by Guy Ritchie about remaking "Sherlock Holmes" but a modern action version, is not his idea either.
A couple years ago while out running errands, an idea came to me to do a modern remake of Sherlock Holmes. I didn't have my laptop with me, so I popped into Kinkos, bought some computer time, worked on it for a while, then sent a zip file with a public domain text copy of it, among other things, to myself by email, rather than buying a disc from the store and burning the files to it.
Then I cleared out the computer's cache and temp files (Kinkos machines automatically do that anyway when your computer session ends).
I have the record of the email and it is way ahead of your announcement by roughly two years. This once again proves you lot have been illegally getting copies of my business emails from Madonna's hackers over at Digilink, as I have complained of before on this website.
Madonna's Ex-Boyfriend Arrested For Deliberately Trying To Run Over Someone With His Car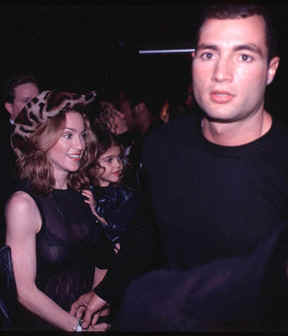 Madonna and mafioso Chris Paciello
Madonna's ex-boyfriend of several years, who is a Miami resident and convicted member of the Italian mafia that I wrote about here, Chris Paciello, was arrested on felony assault charges for trying to run over a man with his car. After striking the man with the vehicle, Paciello got out of said car and viciously beat him.
Paciello and the man had a verbal argument in the club, he waited in his car for him to come outside, then struck him full force with the vehicle. The subsequent unprovoked attack was caught on camera. Paciello was on parole after being indicted and jailed on murder charges in a New York mafia case, when they killed an innocent woman they robbed in her home.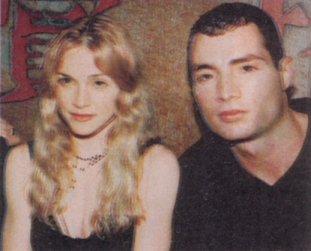 Madonna and mobster Chris Paciello
This is clearly just their way in that Hollywood set. Someone utilizing free speech, says something you don't like, so you try to murder them via running over them with a vehicle. What kind of barbarians and savages are you.
This is an Anthony Pellicano technique, who is Madonna's private investigator, that was convicted this summer on almost 100 counts of illegal wiretapping, harassment, identity theft and witness intimidation, among other things.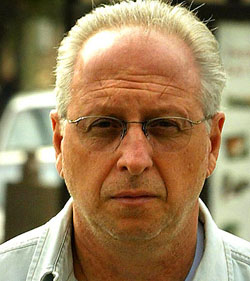 Madonna's PI, Anthony Pellicano, was a member of the Colombo mafia family - known for assaulting people with bats, trying to run people over with cars, illegal wiretapping and burglary

Prior to that information coming out at his trial this summer, I wrote on my sites about that very same thing happening to me more than once, as apart of the harassment campaign Madonna paid a private investigator to undertake against me, as she fears getting indicted for criminal copyright infringement, illegal wiretapping, commissioned hacking and violating the Civil Rights Act.

It happened

again

just last month, while I was out with my mother, who is a Jamaican citizen, as am I ( I have dual citizenship). I wrote about the incident here.

Clearly Madonna is not familiar with international law, as she is

under the impression that if I am not alive I cannot testify and there would be no case. Guess again.

Madonna has a thing for hiring private investigators to spy on, harass and sometimes assault innocent people that rebuff her. In addition to having employed Anthony Pellicano, and separately the vile PI she has harassing, stalking, terrorizing and invading my privacy, she also hired

private investigator Gavin DeBecker to target a man, that ended up suing him and Madonna.

Once again, she needs to be locked up, as she is a criminally insane psychopath, who is a danger to the public, and is using her money to terrorize innocent people, then hide behind her fading fame.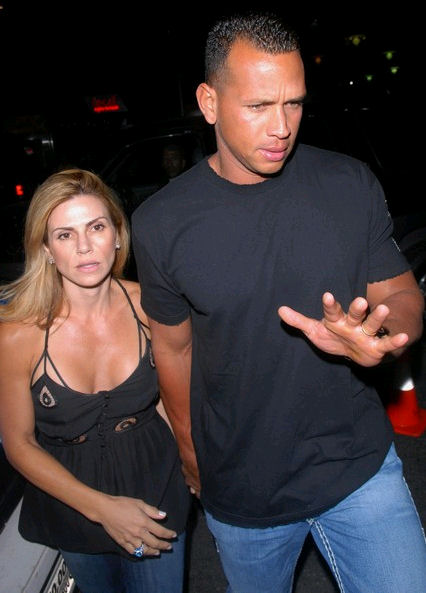 Cynthia and Alex Rodriguez

A-Rod's wife and family need to be very careful, because Madonna

is a very sick, vengeful animal, that

has people in Miami where they too live, as do I, that she pays to terrorize others, for perceived wrongs that she invents in her deranged mind.

She sickly targeted a Miami family called the DeCastros and when the husband rebuffed her, she paid people to terrorize the family and invade their privacy.

That makes three Miami immigrant families she has criminally harassed, stalked through PIs and abused. She is one sick puppy.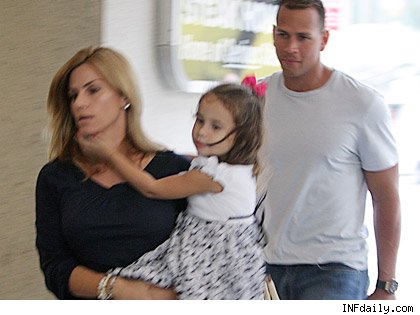 In Denial About Turning 50

According to TMZ Madonna turned 50 last week and she doesn't want to be reminded of that. So, the blogs should write her age in their posts like 50 times. Add flashing graphics that say Madonna is 50.

She doesn't look 50 though, she looks 500. It's probably that deal she signed with the devil

in abusing and robbing people,

accelerating on her, turning her to dust quicker than the average human.

Seriously, aging happens to everyone. It's apart of life. However, Madonna hasn't aged well. Women like Tina Turner,

Diane Carroll,

Christie Brinkley, Fran Dresher and Joan Collins have aged very well and look fantastic, but that's eluded Madonna.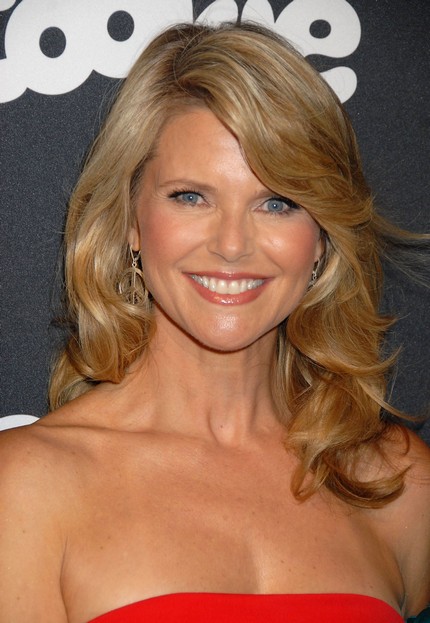 Christie Brinkley

It's probably Madonna's testosterone shots, horse steroids and using the little adopted African boy's DNA for anti-wrinkle injections (sarcasm).

But get this, she bribed someone in the Kabbalah cult to lie to her and say her real age is 36. Talk about denial. If Madonna is 36, I must be 5 (LOL) - a 5-year-old writing about politics

online

(well, sometimes I spell like a 5-year old).

You know what the real problem is, Madonna is a vain, narcissistic, untalented woman, that

All she had was her youth and now that it's gone, she is taking it very hard. Not to mention the graceless note her career is wrapping up on.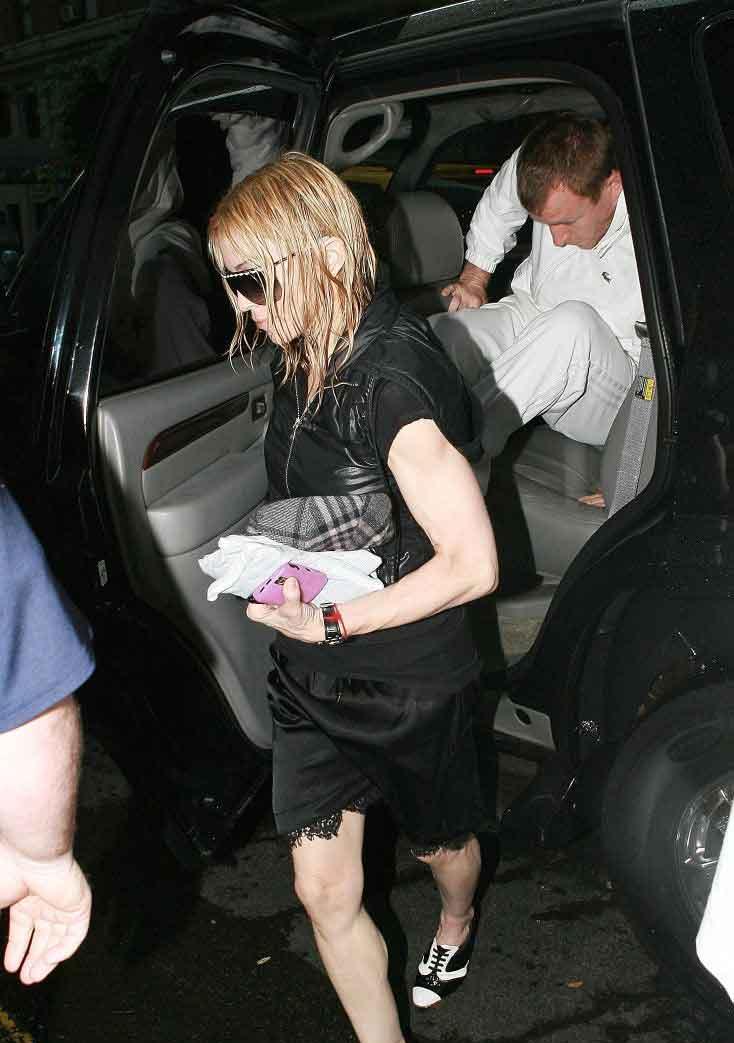 If she had done something meaningful with her life and not plunged the world into ungodly debauchery and materialism, she could actually feel good about her 50 years. She's done so many abhorrent things, what's there to be proud of. She has her priorities all wrong.

God willing, w

hen I hit 50, roughly 20 years from now, I want to be able to look back and say I served God, my family and my community well. I won't care about being 50 the number, as I don't measure my life in vanity and superficiality, but in truth and the things I do that I feel good about.

Script adviser for Guy Ritchie's new mob movie on £100,000 cocaine and cannabis charge

Last updated at 10:30 PM on 16th August 2008 - Guy Ritchie's script adviser on his new gangster film RocknRolla has been charged with possessing more than £100,000 worth of cocaine and cannabis with intent to supply.

Michael De'Hara, 56, an old friend of Madonna's husband, was arrested in the street near his home in South-East London following an undercover operation by detectives from Scotland Yard's drugs squad.

He was allegedly carrying a kilogram of cocaine and when officers searched his home in Kennington, they allegedly found nine kilograms of cannabis and £6,000 in cash.

Last night the Metropolitan Police confirmed that De'Hara was arrested following 'an intelligence-led operation' and subsequently charged with possessing cocaine and cannabis with intent to supply.

He was remanded in custody to Brixton Prison until September 19, when he is due to appear before a judge at Southwark Crown Court.

An unidentified woman was also arrested at De'Hara's home during the police search and was later bailed until next month pending further inquiries.

Ritchie is so convinced that his latest movie will be a success that he revealed last week that he is planning a trilogy and said: 'I've written a sequel so people better go see RocknRolla.'

The victim allegedly exchanged words with Chris and Cuttino. We're told Paciello left Les Deux, went over to Villa, picked up Villa's owner Reza Roohi and, we're told, the two then went on a hunt for the alleged victim.

They found him at San Vicente and Sunset Blvd. We're told Paciello and Roohi allegedly beat up the victim, though the injuries are not life threatening.

A nearby gas station security camera apparently captured the incident and the video is in the custody of the Sheriff's Department.

Paciello and Roohi are currently being booked on felony assault charges. Paciello, who is being booked under the name of Christian Luzwigsen, is currently on parole.

Madonna's 'spiritual age' is 36

London - Madonna claims her spiritual age is 36.

The Give It 2 Me singer - who turned 50 on Saturday - has been told by Kabbalah priests she is 14 years younger than her true birth age.

The star has since banned guests attending her celebrations from referring to her being 50, according to Britain's Daily Mirror newspaper.

Everything Sucks For Madonna Right Now

Madonna gave a 30-minute speech at her 50th birthday party. And frankly she was kind of sad that mainly nobodies showed up and not her celebrity friends. Also, the singer may not be able to get the Malawian "orphan" of her choosing. Madonna consoled herself by going to a strip club.

Madonna "Disappointed" by Friends' Birthday Snub

August 18 2008 - Madonna admitted she was "disappointed" that several of her close showbiz pals failed to attend her 50th birthday celebrations at the weekend.

The Material Girl, who turned 50 on Saturday, celebrated her big day at the swanky Volstead nightclub in London's Mayfair -- but noticeably absent at the $200,000 party were friends Gwyneth Paltrow and Stella McCartney…

In a 40-minute speech to her 90 guests, Madonna thanked Guy, her children and her Kabbalah religion, before admitting: "I'm really disappointed."

"There are a lot of people who are not here tonight, but thanks to everyone who did make it."

I'm still Madonya

Other guests, though, did their best to drink through the £20,000 Guy left behind the bar. They also scoffed the Kabbalah-friendly kosher banquet on offer.

Entertainment was provided by creepy American magician DAVID BLAINE.