Madonna Humiliates Herself Twerking Onstage With Ariana Grande Provoking Thousands Of Terrible Comments Online
Put It Away Already! No One Wants To See That!
December 6. 2016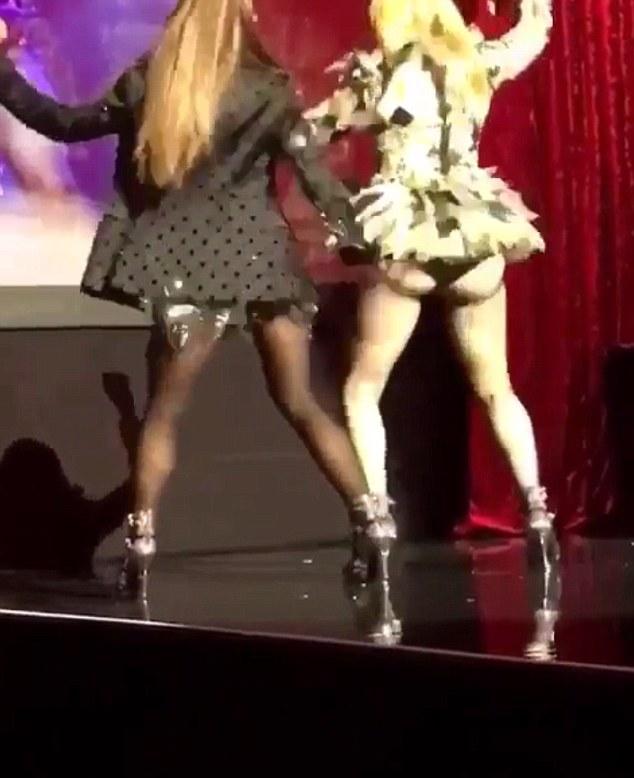 Madonna unleashed her already dreadful, awful looking backside, but this time with ugly, lumpy implants people online are laughing at in feedback sections
Some stars age well and look fantastic from head to toe, like 77-year-old Tina Turner. However, Madonna, 58, is another story. Madonna embarrassed herself (again) on stage last week, exposing her cellulite ridden, sagging, Playdoh butt onstage during a performance where she tried to leech off the popularity of 23-year-old singer, Ariana Grande. The plastic surgery has failed big time and it shows. The deluded, washed up star is constantly trying to compete with and outdo other entertainers and in doing so, always falls flat on her backside, making a fool of herself, as she has no talent.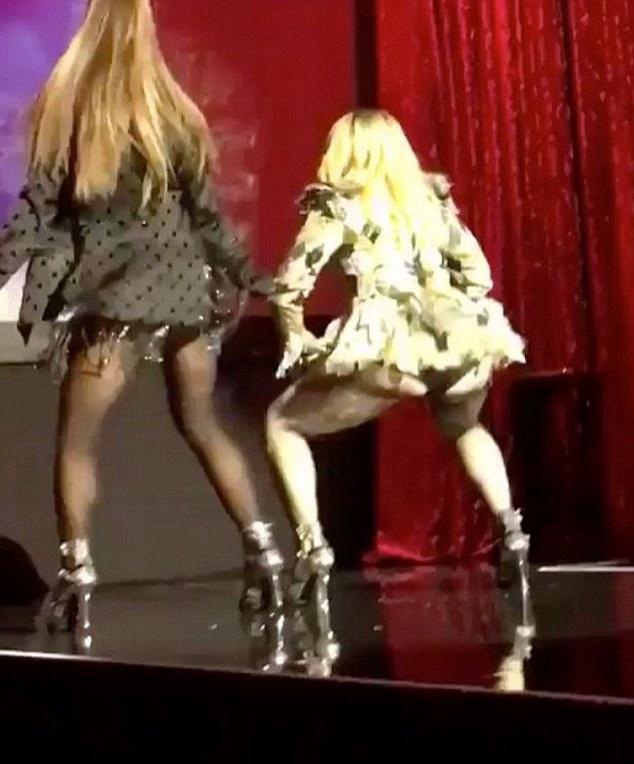 Ariana Grande's butt was covered but Madonna's was not and left people online stating they feel like throwing up, as she tried to twerk, but awkwardly squatted like an uncool, unfashionable, out of it woman, who looked more like she was going to the toilet to take a poo
Hoping to compensate for the lack of talent, Madonna always exposed herself, but she was never attractive and to make matters worse, she has aged horribly. Madonna had countless plastic surgery procedures that have left her looking fake and weird. Rather than turning back the clock, it has pushed it forward.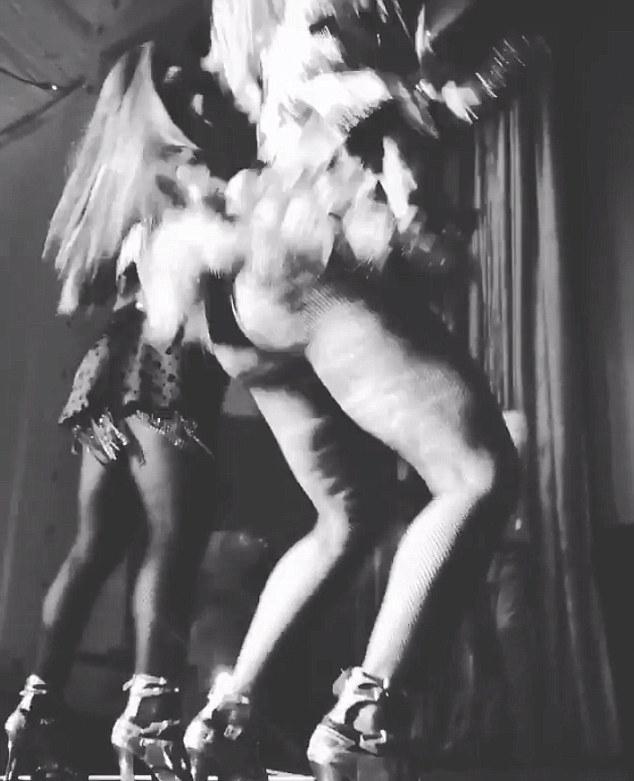 Not hot! Madonna's fake, cellulite ridden butt and legs with weird butt implants left people online grossed out
While trying to twerk against Grande, Madonna unleashed a lumpy looking diaper (nappy) butt that is drawing terrible comments online. The Daily Mail and Instagram were inundated with comments slamming how bad Madonna looks. People made comments about Madonna such as "old granny" "pig" "cellulite pockets" "disgusting trash" "nappy a*se" "nappy a*s" "cottage cheese" "old sponge" "gross" "not even Donald Trump would grab that" "hideous" "repulsive old woman" "dumpy buns" "old bag" "nasty" "dregs of society, zero class" "Madonna is pathetic" "cringe worthy and desperate" "weirdo" "those semi circles of butt she's got on display look mighty strange" "grandma butt" "the most frightening ar*e I've ever seen...get off the stage" "I just threw up a little in my mouth" "she is so gross, she's probably scattering crabs all over the audience" and "she has become a figure of ridicule. Time to retire, as you are an embarrassment to your children."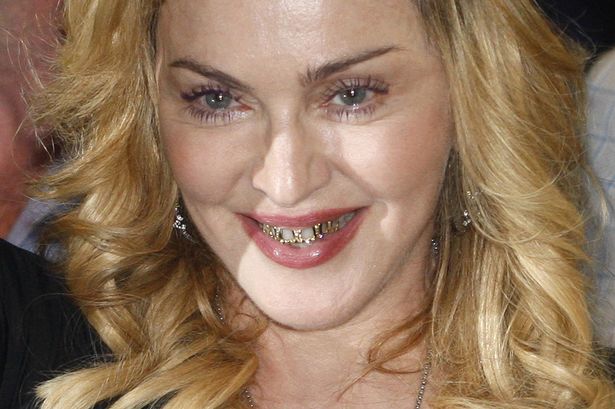 Madonna looks weird and unattractive...all the time
People are saying Madonna should go away, but she's too desperate to do so. She's crazy to think that looks acceptable. Does Madonna not see what she looks like exposing herself and trying to dance like an 18-year-old. She looked like a grandma struggling to position herself over a toilet to take a poo. Does she not own a mirror. What crazy world is she living in that she thinks people find that attractive. She is an embarrassment. Some people just don't know when to leave the party. And for Madonna, the party is over. Isn't she tired of embarrassing her kids. Oops, that's right, they both ran away from her and one ran so far he left America.
RELATED ARTICLES
Obama Administration Wastes Huge Sums Of American Taxpayer Money Breaking The Law In America, Britain And Jamaica On Behalf Of Madonna's Kabbalah Center In Committing Egregious Human Rights Abuses
Madonna, Jay Z, Beyonce, Rihanna, Rita Ora And Jessie J Sued Over Copyright Infringement, Invasion Of Privacy, Commissioned Criminal Harassment And Assault Via The Kabbalah Center
Obama Administration Wastes Huge Sums Of American Taxpayer Money Breaking The Law In America, Britain And Jamaica On Behalf Of Madonna's Kabbalah Center In Committing Egregious Human Rights Abuses
Guy Ritchie Filed Court Request For Custody Case To Be Heard In London Due To Madonna's Penchant For Bribing American Judges
Obama's FBI Is Engaging In A Vicious Criminal Pattern Of Abuse And Brutalization Against Innocent Jamaicans - Part 2 (MURDER)
Madonna's Son Does Not Want To Spend Christmas With Her Fleeing To His Dad's House In London In Defiance Of Court Order
Obama's FBI Is Engaging In A Vicious Criminal Pattern Of Abuse And Brutalization Against Innocent Jamaicans
Madonna Bitter Over Her Son Preferring His Dad's New Wife Over Her
Madonna's Underage Son Arrested In London On Drug Charge
Obama Supports Lawbreaking N-Word Using Madonna (Photo)