Madonna Live Nation Deal Explained
Buyer Beware
October 29. 2007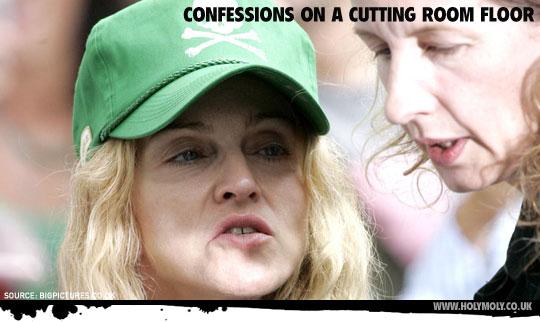 Wall Street and several financial analysts have slammed the Madonna Live Nation deal. A few publications have rendered explanations as to why.
Warner Bros, who called Madonna their drag queen just less than two years ago, are now calling her washed up and not worth the money. What a difference two years makes.
Warner, not convinced they can smooth over the shaky numbers, or her wrinkles according to the age conscious report by their partner Bank Of America, basically balked at keeping her at such a steep price.
Well, if they'd sign artists with talent, they wouldn't have to worry about them aging and trying to sell them to a young audience. Talent transcends age. A gifted artist is a gifted artist no matter what age they are.
Resigning her at $120 million is poor business sense, as Warner has the real books on Madonna's numbers, and knows how much they truly make off her releases.
Live Nation would do well to inquire on the true contents of those accounting books, because when the discrepancies start popping up, they will realize they've been bamboozled.
Furthermore, announcing inflated tour sales of $200 million per jaunt and even worse, not taking into consideration that after expenses, the ventures only bring in $50 million that must be split between you and her, is foolish.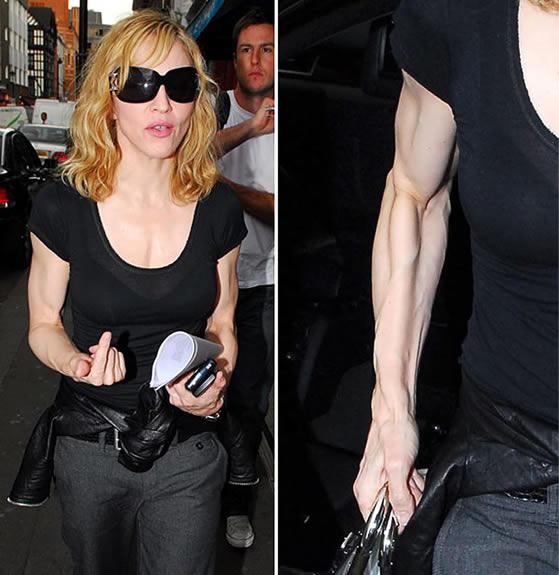 Her last album was branded a flop by Reuters, having sold a little over one million copies in America (1.1 million), and as Jay-Z proved with the record sales manipulation scandal, even that can be corrupted via crooked sales practices, as exposed by the RIAA (arrangements artists have with certain retailers to run one copy of a CD through the register multiple times to inflate sales tallies).
As there is no official sales tracking system for the rest of the world, one can claim any amount sold worldwide, inaccurate and inflated as it may be. Once again, what do the true books say. Live Nation would do well to find out.
I'd be surprised if Madonna's last CD, Confessions on a Dance Floor Flop, even sold 3 million copies worldwide. There were other more successful records that topped the charts during that same time period, when Madonna didn't, and those records did not sell 8 million copies worldwide. That's a dead giveaway.
It's sad when music becomes about perception rather than truth and talent.
Live Nation also needs to take into account a potential sales hit from boycotts if the Materialess Girl starts stealing copyrighted works again, like she always does, already resulting in over two dozen copyright infringement claims around the world against her. They need to see to it that what she is releasing is actually hers, because often it is not.
Buyer beware.
Furthermore, Whitney Houston is the biggest selling female artist of all time, not Madonna, as the latter's sales are grossly inflated.
Lastly, Warner Bros stock has been declining for over a year. Spending that much money on Madonna, who is not worth it, will destroy the company even faster. Regarding the current course they're on, I see that stock hitting the $3 per share realm in the future.
As George Michael said in the song Freedom, "Some mistakes were built to last."
"It also refused to match Live Nation's offer and even issued a memo explaining why she's not worth the money, according to the New York Post.
Warner Music Group boss Edgar Bronfman Jr apparently told employees in the memo: 'We remain committed to maintaining financial discipline.
'We simply will not enter into agreements with artistes that fail this test - whether or not the artistes are well-known, and regardless of media reaction." – New York Post

---
Investors were understandably concerned that losing one its highest-grossing artists would only add to the challenges, such as declining album sales in the industry as a whole, that Warner already faced. Late last month, Warner's stock fell as low as $9.41, or nearly 66 percent below its 52-week high of $27.24, reached in November 2006.
(Remember when EMI offered $28.50 per share for Warner Music last year? As another pop diva, Cher, would say, "If I could turn back time…")
Even so, some on Thursday were seeing a silver lining. Consider the view expressed by Michael L. Savner, an analyst at Bank of America. In a research note called "For $120 Million, She's All Yours," Mr. Savner suggested that it would have been a mistake for Warner to try to keep Madonna on the terms she is reportedly seeking from Live Nation.
The analyst pointed out that, according to Warner, no one artist accounts for more than 3 percent of its revenue, adding that the "loss will not meaningfully impact Warner's near-term sales." (Disclosure time: Bank of America was among the many underwriters of Warner Music's 2005 initial public offering.) -
http://dealbook.blogs.nytimes.com
---
Madonna Has to Perform
October 23, 2007; Page A17
Bernice Schotten missed the point in her Oct. 16 Letter about the proposal to tax stock options. First, she has somehow missed that when Madonna gets $120 million it's because she will generate hundreds of millions in sales over the course of her contract. It is then up to the CEO of the record company to manage that revenue into profit.
Second, if CEO pay is tied to positive performance, then the CEOs deserve a fabulous income. Your readers can rest assured that if Madonna doesn't sell records, she won't make huge amounts of money. Why? As in most personal services contracts there are incentives built upon benchmarks she must meet to collect the entire amount of money. Same as athletes, she will have collected her "signing bonus" and go from there. Chris Stevens
Bradford, Ill. - http://online.wsj.com/article