36-year-old boxing superstar Manny Pacquiao is gearing up for his last fight. The pugilist is recovering from a torn ligament in his arm, after undergoing surgery this past summer. Among his possible opponents is British boxer, Amir Khan, who is keen on the fight. Pacquiao and Khan were seen meeting in London, England in January.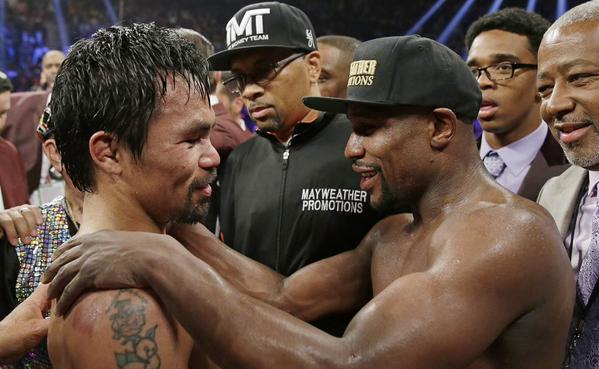 Manny Pacquiao and Floyd Mayweather after historic May 2, 2015 fight
Pacquiao did confirm he is in talks for a rematch against retired boxer, Floyd Mayweather, who won their bout on May 2, 2015. Pacquiao stated on Facebook, "I don't know yet who's my opponent next, but we're still negotiating right now about the rematch with Floyd Mayweather so hoping for that. A rematch would be great.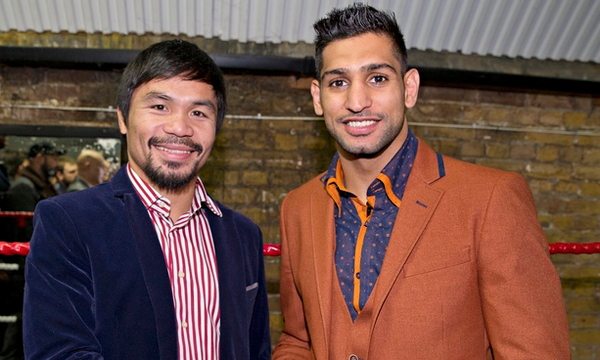 Manny Pacquiao and Amir Khan in London, England in January
Pacquiao is leaving boxing for a full time career in politics in his homeland the Philippines. Pacquiao is currently a member of the Philippine Congress as a congressman. He seeks to vie for the job of President of the Philippines and thus is retiring from boxing. The Judiciary Report wishes Manny the best in his new career.
RELATED ARTICLES
Floyd Mayweather's Top Rivals Manny Pacquiao And Amir Khan Meet Up In London Discussing Potential Fight
Manny Pacquiao To Run For President Of The Philippines In Election