Mariah Carey Body Shamed On Social Networking And Blogs As Tour Flops (Video)
August 25. 2017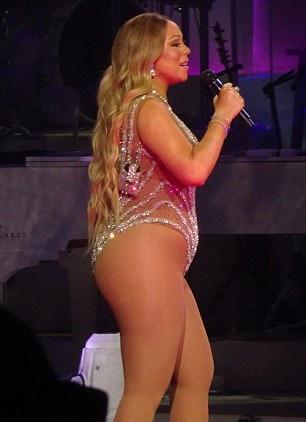 Mariah Carey has been wearing ill-fitting costumes on tour and it is causing her to be body shamed as it is showing her significant weight gain
Mariah Carey is currently on a concert tour with music legend Lionel Richie. The tour is flopping. Tickets prices have been slashed due to lack of demand. The Daily Mail reported tickets are being sold for as little as $9.99 which is unheard of for two major recording artists. Carey has been having vocal difficulty as well.
Months ago in the January 9, 2017 article "Mariah Carey Taking A Break From Social Networking And The Press After New Years Eve Mauling Due To Her Botched Performance" the Judiciary Report warned that Carey should not go on this tour, as she is not at her best and her reputation as a performer has sustained damage. However, she went on tour anyway and the reviews are terrible and ticket sales are low. In the January 9, 2017 article, I suggested that Carey, who reads this site, take a break from music and get her life and career back together before attempting a comeback, but she didn't and it is greatly damaging her career:
"Carey is too stubborn. I've been writing on this site that she needs to take a break, as things are not together and up to par in her career. If things reach to that point for any recording artist, they should take a break and reassess the situation. They need to get things together -whether it be vocal lessons, drug/alcohol rehab, a personal trainer and chef, ect. For a recording artist to put out a project when they are not at their best, is to set one's self up for failure.
Carey has unwisely signed on to perform 40 concerts with music legend Lionel Richie. The shows are slated to begin in March 2017. Carey's voice has become very unreliable due to damage and needs a prolonged rest. I've read Carey fan comments on You Tube where they complained they spent their money on concert tickets and her voice was gone on stage. They complained she struggled to sing and the quality of her voice had become quite poor. That's not fair to the fans." January 9, 2017
Things have also gotten worse for Carey, as social networking, blogs and paparazzi have taken to body shaming her, as she has gained a significant amount of weight and keeps wearing skimpy, revealing clothes that are ill-fitting. If Carey would wear less revealing clothes that does not put her weight gain on display, people would not mock her in the manner they are doing online.
There are many female singers who have meat on their bones such as Aretha Franklin, Barbra Streisand and Adele, among others and they are not being mocked for their weight. However, if a woman puts the weight on display in bikinis and see through leotards as Carey is doing, people will talk and in a very critical way. Carey can't take criticism but she keeps doing things that sets her up for harsh comments to be made. The last time Carey received too much criticism and her career bombed, she tried to kill herself in 2001 and was admitted to a psychiatric hospital for months. She keeps setting herself up for a fall and not listening to sensible advice. Her fans expect a certain standard from her and she is well below it at this time, when it can be corrected with time off and enlisting some good help.
Carey had more or less gotten her figure back for her New Years Eve performance in 2016. However, as the show was a televised disaster that just about everyone mocked and she was reeling from being dumped by her billionaire fiancé, James Packer, she began emotional eating and gained at least 50 pounds in 8-months.
Even paparazzi have taken to mocking Carey. Recently, as she left a restaurant, the paparazzi began making snide remarks about scantily clad Carey's weight stating things like "watch your cholesterol" and "what did you have for dinner, lots of steak."
RELATED ARTICLES
Mariah Carey Taking A Break From Social Networking And The Press After New Years Eve Mauling Due To Her Botched Performance
Mariah Carey In Danger Of Being Dropped From Her Record Deal Due To Flopped Single, Reality Show And Concert Tour
As Predicted Mariah Carey Breaks Up With Boy Toy Who Cost Her Billionaire Fiancé And Is Running Up Bills
Mariah Carey Delivers Another Terrible Performance This Time On Tour With Lionel Richie (Video)
Mariah Carey Postpones Poorly Selling Tour While Under Vocal Strain