Michael Jackson Sued For $1 Billion
December 19. 2008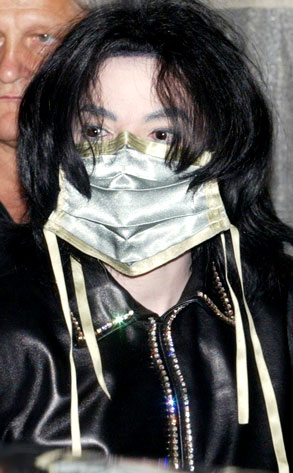 Michael Jackson covering his nose in-between plastic surgery tune-ups
Michael Jackson has been sued by one of the mothers of his children. Billie Jean Jackson, yes like the song, has sued the be-gloved one for $1 billion dollars in child support (LOL).
Now why would she think he has that kind of money, when he is constantly flaking on his debts. Michael will probably give her monopoly money.
If she is indeed the child's mother, what she needs to be concerned with is the type of lifestyle Michael is exposing the boy to, as he has proven he is not stable and is constantly making poor choices.
'Billie Jean' Claims to be Blanket's Mommy
...Billie Jean Jackson says in a suit filed in Los Angeles on Wednesday that she wants joint legal and physical custody of the child. She also wants to participate in Blanket's education plus visits on Friday, Saturday and Sunday.
Oh, and she's asking for a whopping $1 billion bucks in support! Is this for real?!
Blanket was born in 2002 and Jackson would not say the mother's identity, but has said the child was the result of artificial insemination from a surrogate mother and his sperm. - Extra TV