Michael Jackson Sued For Flaking On Deal
November 17. 2008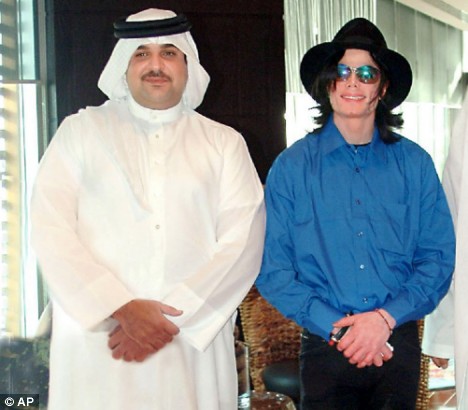 Sheikh Abdulla bin Hamad Al Khalifa (left) and Michael Jackson (right)
Semi-retired pop star Michael Jackson is being sued by
Sheikh Abdulla bin Hamad Al Khalifa for flaking on a record deal he signed with him. The Sheikh bailed Jackson out of financial trouble more than once, to the tune of $7,000,000 and even invited him to live with him for months, at his expense, an offer Michael accepted.
Sheikh wrote a song for Jackson to record, which he did and clips from it leaked to the internet. A website went online for the label, announcing the collaboration as a new venture and it gained much attention.
However, Michael, reverted to his old ways and did not follow through on the agreement to do additional songs, a play and promotional work for each project.

A digital Michael Jackson makeover
Many people all over the world have tried to help Michael with his financial problems, but have failed, as Jackson refuses to change his spending patterns.
He is also falling into the trap Guns N Roses did in not putting out any music for years, not able to focus on the task at hand, due to factors like fear and depression, among other things.
This makes him a high risk signing to any label, as there really is not much one can do to make him honor his contractual obligations, other than sue.
Jacko sued by Bahrain Sheikh

An Arab sheikh suing Michael Jackson for £4.7 million was trying to get the international recording star to sing the sheikh's own songs, it was revealed at the High Court today.
Sheikh Abdulla bin Hamad Al Khalifa, second son of the King of Bahrain, had set Jackson up with a recording studio at his Neverland ranch and then sent him his compositions.
Bankim Thanki QC, representing the sheikh, told Mr Justice Sweeney that the day after Jackson's criminal trial ended over child molestation charges in California, the star recorded one of the compositions which the sheikh wanted released as a charity single to help victims of the Boxing Day tsunami....
The sheikh had plans to revive Jackson's musical career, releasing records through their own musical label.
"Sheikh Abdulla began to support Mr Jackson financially after 2005 when it became clear that Mr Jackson was in very serious financial difficulties, much to Sheikh Abdulla's surprise," said Mr Thanki.
He said the sheikh was first asked by an assistant of Jackson for 35,000 US dollars to pay utility bills at Neverland...
The sheikh is suing the pop music legend for allegedly reneging on a 7,000,000 US dollar (£4.7 million) "pay-back" agreement designed to repay money he advanced to Jackson during his worst financial troubles.
He claims he and Jackson entered into a "combined rights agreement" (CRA) under which the troubled superstar was committed to a recording contract, the production of an autobiography and a musical stage play.
But Jackson is contesting the claim, insisting there was no valid agreement and that the sheikh's case is based on "mistake, misrepresentation and undue influence".
In his pleaded defence, Jackson says the payments he received were "gifts" and that no project was ever finalised.