New Book On The Fast And Furious Scandal Implicates Eric Holder And The FBI In A Cover Up That Killed U.S. Agents
April 25. 2012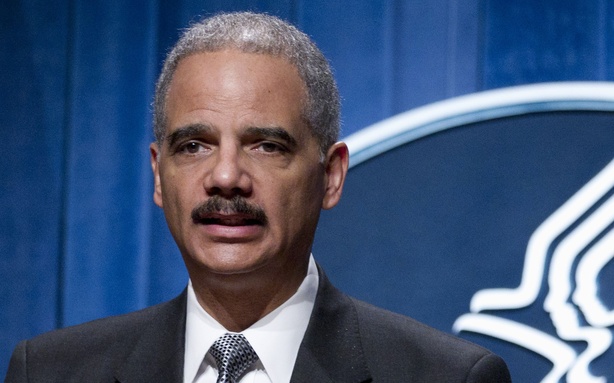 Eric Holder
The "Fast and Furious" gun trafficking scandal has battered U.S. Attorney General, Eric Holder of the Department of Justice (DOJ) and damaged President Obama at home and abroad. A new book entitled "Fast and Furious: Barack Obama's Bloodiest Scandal and Its Shameless Cover-up" is shedding light on what happened.
Holder illegally trafficked guns to the Mexican drug cartels to see what would happen and it ended up causing the violent deaths of hundreds of innocent Mexican civilians and two U.S. Border Patrol agents, who were simply doing their jobs. The FBI, a branch of the Department of Justice, is being accused of criminally hiding one of the weapons from the crime scene, in relation to the death of U.S. Borer Patrol agent, Brian Terry. This criminal conduct constitutes obstruction of justice.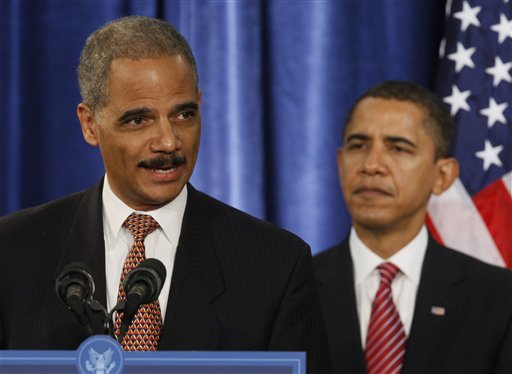 Attorney General Eric Holder and President Barack Obama
Rather than do the decent and honorable thing, coming clean regarding his crimes, Holder chose to launch a massive cover up with the president's permission, dishonoring the dead. However, investigative journalists have been unraveling the cover up and bringing the truth to light for all to see. Holder's conduct violated U.S. and Mexican law and he should be prosecuted for this criminal conduct. No one should be above the law and as Attorney General he should have set an example, not disgrace his post in the terrible manner he has done.
As Attorney General, there are so many great legal initiatives one can under take, in defense of the poor, victimized and downtrodden. For Holder to have recklessly trafficked guns into Mexico, in conduct that would have resulted in lengthy prison terms if an American civilian had done the same, was to show great contempt and disrespect for the post of Attorney General. It betrays his mindset and the fact there is something very wrong with him to have done such a destructive and evil thing. His conduct must not go unpunished as people have died.
STORY SOURCE
The Third Gun - New book claims FBI cover up of third gun in murder of border patrol agent
April 21, 2012 12:26 am - The Department of Justice is using the liberal "watchdog" group Media Matters for America to deflect questions about the Fast and Furious scandal, including those regarding a gun that might have been used in the murder of a U.S. Border Patrol agent.
A new book raises questions as to whether the FBI hid the existence of a weapon recovered at the scene of murdered U.S. Border Patrol agent Brian Terry. Conservative commentator and author Katie Pavlich lays out evidence she says points to a FBI cover-up to protect a confidential informant in her recently released book, Fast and Furious: Barack Obama's Bloodiest Scandal and Its Shameless Cover-up.
In Operation Fast and Furious, federal agents allowed more than 2,000 weapons to be smuggled across the U.S.-Mexican border and into the hand of violent drug cartels, with the intent of tracking them to learn more about the cartels. Two weapons connected to Fast and Furious were discovered at the murder scene of U.S. Border Patrol agent Brian Terry, who was gunned down in the Southern Arizona desert in 2010 by five criminals armed with AK-47s...
http://freebeacon.com/third-smoking-gun-in-fast-and-furious‎
RELATED ARTICLES
120 Congresspeople Call For The Resignation Of Obama's Attorney General Eric Holder
President Obama's Attorney General Eric Holder Connected To Banks Responsible For The Mortgage Crisis
Eric Holder A Massive Liability To Obama In The 2012 Election
Obama Being Accused Of Using Attorney General Eric Holder To Rig The 2012 Presidential Election
91 Members Of Congress Demand The Resignation Of Obama's Attorney General Eric Holder
73 Members Of Congress Sign A Vote Of No Confidence Against Obama's Attorney General Eric Holder Due To 'Fast And Furious' Deaths
Obama's Attorney General Eric Holder In More Trouble As It Is Revealed He Put Cash In The Hands Of The Drug Cartels In Mexico
Obama's Attorney General Eric Holder Retracts Denials He Made And Sent To Congress And Launches Another Cover Up Of The 'Fast And Furious' Deaths
President Obama Criticized For His "Complete Confidence" In Scandal Plagued Attorney General Eric Holder
Obama's FBI And DOJ Used Taxpayer Money To Arm Mexican Drug Cartels