North Carolina Disc Jockey Accuses Justin Bieber Of Spitting In Her Drink And Telling Her To "F*** Off"
January 26. 2013
Justin Bieber
Is Justin Bieber breaking under pressure. The teen pop star has faced a rough few months, being dumped by girlfriend Selena Gomez for constant cheating, leaked photos of him smoking marijuana, a deadly accident involving paparazzo Chris Guerra, who was following him around, one of his sex partners being uncovered by Star magazine and now a disc jockey accusing him of terrible behavior.
North Carolina disc jockey, Colette Harrington, accused Bieber and two members of his entourage of harassing her at the gym in Charlotte's Ritz Carlton. She stated she was told "shut the f*** up" as she counted out reps while exercising in the gym. Shortly after, she states Bieber spit a blue colored sports drink into her bottled water.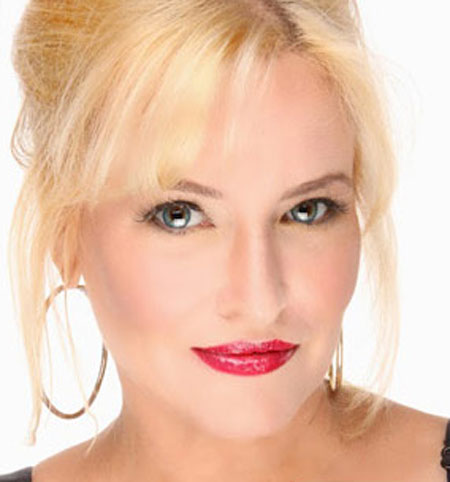 Colette Harrington
The next day Bieber was hit with more problems, as a group of girls engaged in conduct at his hotel that made him angry. So upset was he, Bieber slammed his "fans." A post on his Twitter page read, "To the rude people on my hotel floor never have I had fans be so disrespectful in my life. Smh #berespectful."
The singer did not elaborate on what occurred, but it wasn't a good idea referring to one's "fans" in that manner. It seems Bieber's temper has become short of late. He's clearly going through a number of issues. Bieber needs to remember the fact he is a role model to millions of young impressionable girls. That's something to be taken seriously. He needs to set a positive example for them.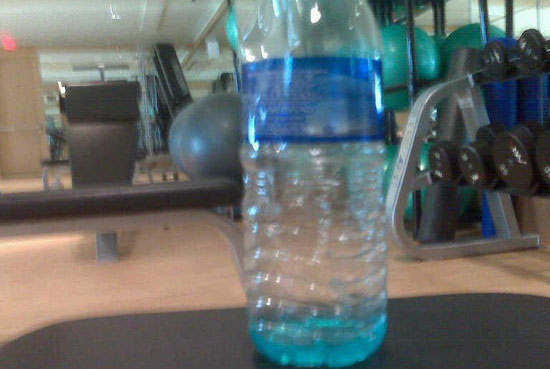 Colette's water bottle she accused Bieber of spitting in
Of late Bieber has been doing troubling things that his young preteen and teen audience are watching. Don't lead them astray. God gave you a platform in life. Use it to do positive things. Getting into confrontations, mooning people, taking drugs, getting drunk and bedding numerous women is not the way. You'll end up like every other former child star who crashed and burned. Learn from them and do not repeat their errors anymore. That's how Lindsay Lohan got started.
Furthermore, if your so-called friends were really your friends, they wouldn't encourage you in this behavior. They are leeching off you, trying to raise their profiles and get attention at your expense, while costing you endorsements and career opportunities. Not to mention, alarming your fans' parents. None of us are perfect, but Bieber you can do better than this. Your fans don't need to see your butt crack, you taking drugs, getting drunk and or speeding. The Judiciary Report is concerned something permanently bad is going to come of this. You can say you are an adult now and can do as you please, which is true, but the consequences are not always the desired outcome. Being an adult means responsibility.
Harrington stated on Facebook, "OMGOSH-wait till you hear this. So I am at the Ritz Carlton where I am a member in Charlotte. I get there and guess who is working out? Justin Bieber. Which is rather ironic since I yesterday posted about yesterday about wanting to meet him. He is with a trainer and I think one of his back up dancers. I lay low waiting for a chance to introduce myself and get a photo with him. "Hi I am Colette Harrington I host the Sweet Carolina radio show." He said, "good for you." I asked, "would be okay if I got a picture?" and he told me "no." Which was fine with me since I can understand not wanting someone taking my picture when I am sleeveless and sweaty.
I continue with my workout. I always count out loud my reps. Then Justin starts imitating me and whenever I'd get to 20 he and his buddy would say "Shut the F'ck up." I was stunned. They start complaining how they are so hungover from drinking-some drink that I never heard of before. I ignore them and keep doing my counting only in a quieter voice but they keep saying "Shut the F'up" when ever I get to 20. I am ready to punch one of them in the face or cry. I could not decide which since I felt like I was back in grade school and being made fun of. Then they start talking about spitting in people's drinks and that tonight at their concert yell, "remember when you drank my spit."
Justin guzzled his blue gatorade and spits in it. So I think that their finally off of my back but NO! They start imitating my counting again even though I am whispering. I keep on ignoring them because I am not going to cause a scene at the Ritz or lower myself to their level. Much to my relief the back singer started talking about his GF. But then started saying things about her being a virgin because she is a Muslim and has a strict Father. And so he knows that when he marries her- he'll be the first. FINALLY I had enough. (30 minutes of this crap) I left my workout station, my water bottle, mat and weights and go to the other room. I rolled my eyes at them but said NOTHING.
After a few minutes I hear the door slamming so I know they left. I go back to working out and a take drink from my water bottle only it is Justin's blue gatorade. I spit it out right way thinking about his disgusting spit. I did not look at my water bottle before taking a drink. Ty Justin-I am putting your bottle and spit up on E BAY.
Hopefully it will raise enough money to re build the kitchen at the Ronald Mc Donald House in Charleston. I go there to cook for the families of sick children. They need a better kitchen. If there is any money left over I will use it to help make a Christian movie I wrote, Like Perfume Poured Out. www.likeperfumepouredout.com I understand you have a Bieber perfume but trust me-there is not enough of it in the world to cover up the smell of a skunk. You stink!"
STORY SOURCE
Radio Host Claims Justin Bieber Spit in Her Water Bottle, Mocked Her Workout