O.J. Simpson Facing Years In Prison
December 5. 2008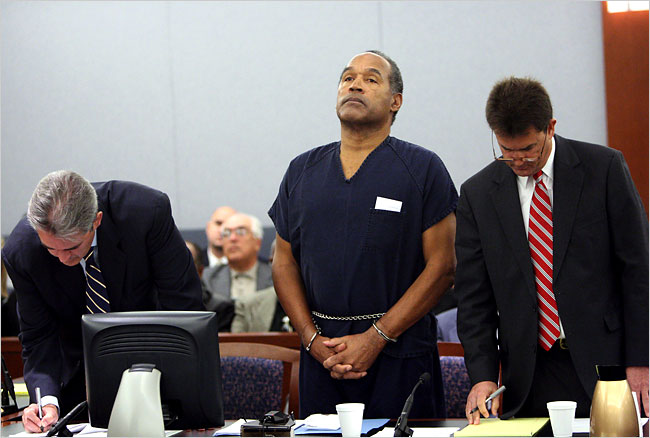 O.J. Simpson (photo courtesy of the New York Times)
According to the New York Times, former athlete O.J. Simpson is facing at least 9 years in prison, over a hotel room incident, where he stated he sought to retrieve stolen sports memorabilia from a crooked dealer. The sentence is pretty high considering others have received far less time for doing the same and Simpson is a first time offender, which usually lessens the prison time decreed. It appears the judge, Jackie Glass, is quietly trying him for the murders of Nicole Simpson and Ron Goldman all over again, for which he was acquitted a decade ago. The judge clearly could not separate the two trials or her bias from her judicial duties.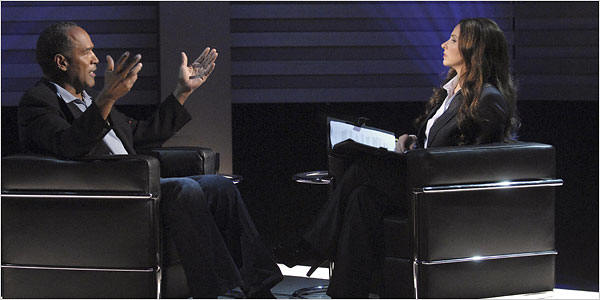 Don't get me wrong, I do believe O.J. knows more than he is saying regarding the murders of his ex-wife and Ron Goldman. His book "If I Did It" was appalling and didn't help his claims of innocence. Not to mention, some even stated he sicced psychopathic, now incarcerated private investigation Anthony Pellicano on her, who a witness placed outside her home the night of the murders.
However, the punishment doesn't fit the crime in this current case. It is excessive. O.J. was wrong to go to the hotel room, with a member of his entourage reportedly brandishing a gun, whilst threatening the sports memorabilia dealer of theft. If his property was stolen as he claims, he should have filed a lawsuit or reported the matter to the police. Choosing the path he did, O.J. put himself in a situation that brought about this case. O.J. should also have retired from public life years ago, but he refused. He was partying, drinking, smoking cigars and carousing with two women on his arm on different occasions, angering many that believe he had something to do with the murders of his wife and Ron Goldman.

STORY SOURCE
Simpson Sentenced to at Least 9 Years in Prison
LAS VEGAS — Four times, in a halting, broken voice, a humbled O. J. Simpson said Friday, "I'm sorry." O.J. Simpson with his attorneys Gabriel Grasso, left, and Yale Galanter at his sentencing. Yet for all his compunction about the September 2007 raid and armed robbery at a casino hotel for which he was convicted of 12 felonies, Mr. Simpson also continued to insist he had done nothing illegal.
And so Judge Jackie Glass of Clark County District Court, facing down the man acquitted in perhaps the most-watched murder trial of the 20th century, scolded Mr. Simpson for his arrogance and stupidity and sentenced him to a minimum of nine years in state prison.