Otto Warmbier Was Murdered
June 22. 2017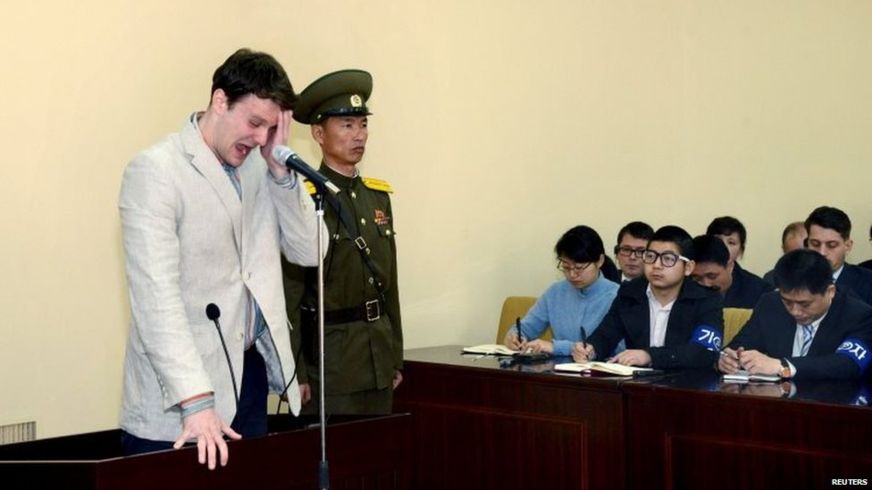 Otto Warmbier on trial in North Korea
22-year-old university student, Otto Warmbier, died on June 19, 2017, after being subjected to acts of abuse in a North Korean prison. In 2015, Warmbier, a tourist from Cincinnati, Ohio in America, visited China as a tourist. Warmbier safely completed his vacation to China. He then decided to visit North Korea, run by dictator, Kim Jong-un.
CCTV captured a video of Warmbier tearing down a government propaganda poster in a North Korean hotel and he was arrested for theft. Warmbier was prosecuted and outrageously sentenced to 15-years in a hard labor prison. During Warmbier's 16-months of unjust incarceration he was allegedly exposed to botulism and took a sleeping pill, which left him comatose. Doctors in Ohio found no evidence of botulism, though it could have dissipated during incarceration. Moreover, where would he have gotten the sleeping pill in prison. Kim Jong-un's story does not wash.
U.S. President Donald Trump negotiated a deal that led to the release of Warmbier. However, people were shocked to discover the once bright and energetic young man had suffered irreparable brain damage due to the human rights abuses that occurred in the North Korean prison. Within six days of Warbier's return to America, he passed away. Doctors discovered Warmbier had suffered cardiac arrest, which led to respiratory arrest and a comatose state in North Korea.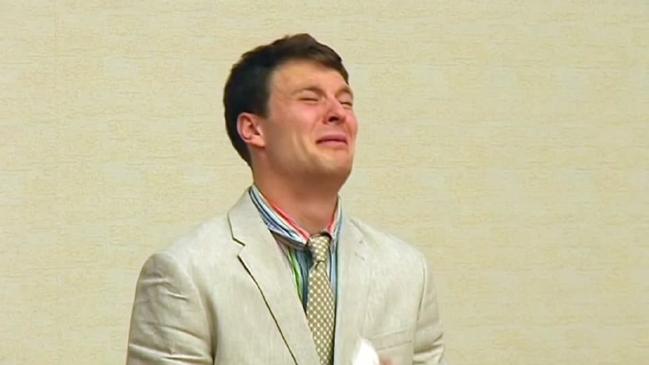 Otto Warmbier crying on the stand
It is infuriating that Warmbier died over a poster. I cannot adequately put into words my sheer disgust for what transpired against this young man. It was deemed a poster, worth a few cents, is of more value than a human life. The line of reasoning that led to Warmbier's death is incomprehensible and asinine.
If Kim Jong-un was that upset over his poster, he could have contacted the U.S. government regarding removing Warmbier from North Korea and ask that he be charged in America with theft. He would have received community service. To sentence him to 15-years in prison and abuse him while he was incarcerated is inexcusable. It is a horrible reflection on Kim Jong-un.
No one should be surprised this behavior came from Kim Jong-un, who executed his own uncle in brutal fashion and insidiously had his half brother poisoned, for being an alleged threat to his dictatorship. Who could respect such barbarism. Furthermore, North Korea is a nation steeped in poverty and starvation, yet rotund Kim Jong-un lives in absolute luxury and decadence. Why not sell the luxury goods,stop wasting money on nuclear weapons and use the funds to feed your starving people.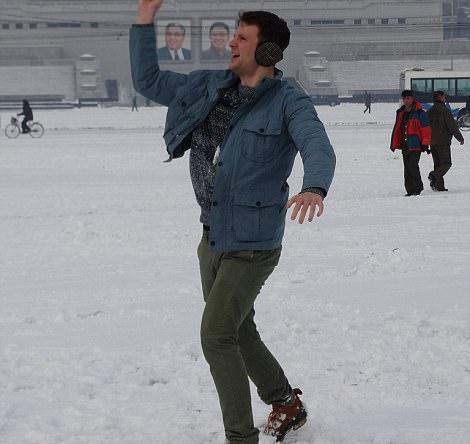 Otto Warmbier in North Korea in 2015, prior to getting arrested
Instead, Kim Jong-un is repeatedly launching missiles, needlessly damaging the earth/environment in the process. He is polluting the earth and seas, which will create adverse weather effects. These things go hand in hand. His behavior is disrupting active fault lines, creating additional friction on tectonic plates.
These missile tests are alleged show of force and military might. However, nations in the west are not afraid of Kim Jong-un. There are western nations whose militaries and nuclear capability far surpass that of North Korea. The west is not impressed.
Warmbier's death should serve as a reminder not to visit nations whose governments are hostile towards the west. It is not worth the risk. It could cost you your freedom or very life. Do not give them your tourist dollars, if they are intent on behaving this way towards westerners.
RELATED ARTICLE
Iranian Government Arrests British Journalist Labeling Her A Spy And Detains Her 2-Year-Old Demanding Ransom For Their Release