Paramount Defends Michael Bay's Reckless Stunts
September 6. 2010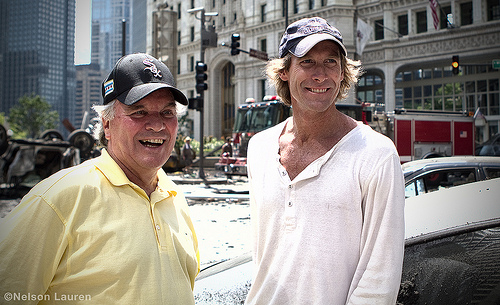 Chicago Mayor, Richard M. Daley and "Transformers" director, Michael Bay
Paramount Pictures, the studio behind the "Transformers" films, is defending its director, Michael Bay, in an interview today, contradicting an article the Judiciary Report released last week, on September 3, 2010, entitled "Transformers 3 Being Investigated For Safety Violations."
The aforementioned Judiciary Report article, questioned Bay's on-set safety practices and reiterated the fact, last year, fired actress, Megan Fox, slammed him as a director, endangering those that work on his movies, via dangerous stunts that left others injured.
Paramount is now claiming the serious on-set injury of extra, Gabriella Cedillo, was a "freak accident." However, the studio's statements contradict police reports on the tragic incident.
STORY SOURCE
Paramount defends Bay's safe stunts
(UKPA) – 5 hours ago - Paramount have jumped to the defence of Transformers director Michael Bay, saying he ensures the safety of his cast and crew, after an injured extra was reported to be in a critical condition.
Gabriella Cedillo was previously said to have been hit by a flying object as she filmed a stunt for Transformers 3, but Paramount told Deadline the injured extra was "not involved in the stunt" and that "a freak accident caused her injury" - she was "struck by a flying metal object whose welding had come apart"...