Police Officer Fired For Arresting Nurse Who Lawfully Refused To Draw Blood Sample From Unconscious Patient
September 8. 2017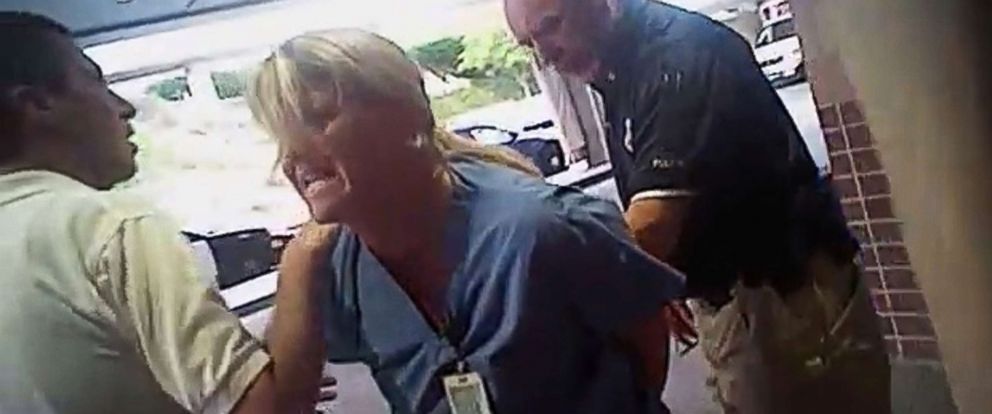 Alex Wubbels unlawfully placed under arrest by police for doing her job
Utah detective Jeff Payne, has been fired from his post with the Salt Lake City police, for aggressively arresting and removing nurse Alex Wubbels from the University Hospital. Wubbels was protecting an unconscious patient's rights, regarding the inability to grant consent to give a blood sample, as was demanded by Payne and his colleagues. Wubbels followed the law in refusing to allow police to draw a blood sample from her unconscious patient. She really should consider suing, as her civil rights were violated in a traumatic incident that left her screaming and crying.
America has become lawless due to acts being condoned or committed by the federal government. What Payne did pales in comparison to the civil rights violations committed by the Federal Bureau of Investigation (FBI), who sets the standard in national law enforcement, but for bad behavior.
For example, the FBI has gone into medical clinics and hospitals and obtained blood samples without the proper legal authority to do so. They have also illegally obtained medical test results that were not pertinent to any investigation, but sought as leverage to discredit or coerce innocent people into doing their bidding.
This makes it all the more ironic that prosecutors are asking the FBI to join the Payne investigation, after learning the agency opened an investigation into the matter, despite the fact they are specialists at illegally obtaining blood samples and medical records, as attested by illegal behavior they engaged in at Miami hospitals and clinics. People in America really don't have rights anymore.
STORY SOURCE
Utah asks FBI to investigate police in nurse's rough arrest
Sep 7, 2017, 6:09 PM ET - Prosecutors have asked the FBI to join an investigation into the rough arrest of a Utah nurse after video of her being dragged screaming from a hospital drew widespread condemnation, authorities said Thursday. Salt Lake County District Attorney Sim Gill is overseeing a criminal investigation into officers involved in the handcuffing of nurse Alex Wubbels. He is asking for FBI help in part because his office can't prosecute possible civil rights violations like wrongful arrest, Gill said.
"This is a very important issue, and it's of great concern in our community," he said. A federal probe could also look for any larger systematic problems that contributed to the arrest, Gill said. The FBI opened its own civil rights review after the video surfaced last week and has agreed to assist the county investigation, FBI spokeswoman Sandra Yi Barker said...