President Obama Had Anti-Beyonce Knowles Petition Removed From The White House's Website
January 18. 2013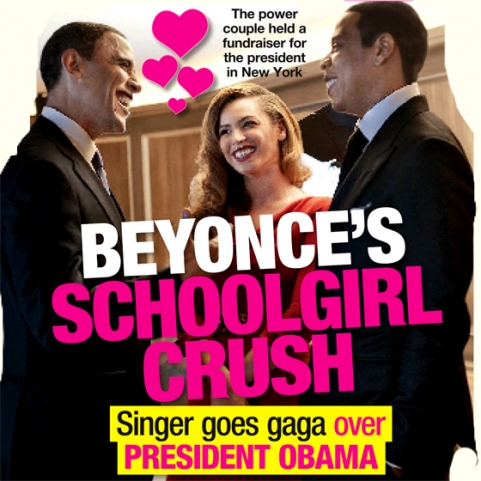 Barack Obama, Beyonce Knowles and Jay-Z
President Barack Obama has controversially removed a petition on his free speech White House website titled "We The People" as it portrayed his rumored mistress, Beyonce Knowles, in a very negative light (Keep it up and Mrs. Obama is gonna cut her anyway).
The petition demanded the removal of Beyonce from the Inauguaral concert line up, as she signed a deal with soda maker Pepsi that goes contrary to the principles of First Lady Michelle Obama and her "Let's Move" health initiative.
People online are upset the petition was removed, labeling it a violation of free speech. It's also not helping the "Beyonce is haing sex with Barack" rumors online. It is thought the White House did not want Beyonce facing the humiliation of a successful petition to have her kicked off the inaugural line up, as the threshold is 100,000 signatures and with the general public disdain for the singer, it would have hit that number with ease.
The White House's response to removing the petition is as follows, "It is not something the White House actually has jurisdiction over. Since the Presidential Inaugural Committee is a whole separate entity that handles the Inauguration … the White House doesn't control who is singing at the inaugural ceremony."
Yada, yada, yada. On to more important business. The Judiciary Report wants to start its own petition titled "Bring Back Reggie Love." Why you ask? Because he looks good. Does everything have to be about politics.
STORY SOURCE
White House Removes Anti-Beyonce Petition