Ray Lewis Retires In Style As He And The Baltimore Ravens Take The Super Bowl
February 4. 2013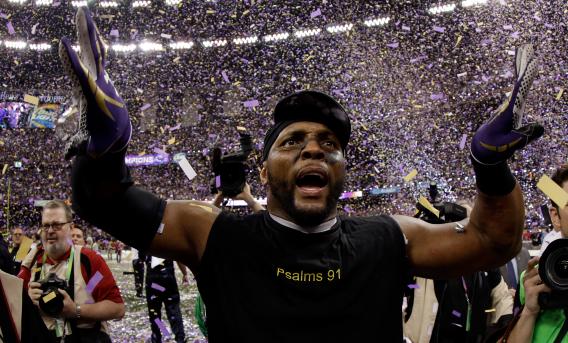 Ray Lewis
Christian football player Ray Lewis retired from the game of football last night in Louisiana on a high note, as a two time Super Bowl winning champion. Lewis and the Baltimore Ravens battled through a tough game against the outstanding San Francisco 49ers and came out on top. Congrats.
Many noticed Lewis' undershirt had "Psalm 91" on it, which began trending on Twitter and was featured on other websites. For some, Psalm 91 is a prayer of blessings, for others it's a prayer of protection. If I were standing on a field and the 49ers were charging towards me, I know I'd need all the "protecting" I could get (LOL).
I usually pray Psalm 91 for protection, especially the line "He (God) will give His angels charge over you" because in life, you never know what could happen. I admire men like Lewis, Tim Tebow and others, who are humble enough to give God thanks for their lives and stand up for the faith. God bless you guys.