Rihanna And Rita Ora Slammed Again As Music Industry Mattresses In ASAP Rocky's New Song 'Better Things'
May 28. 2015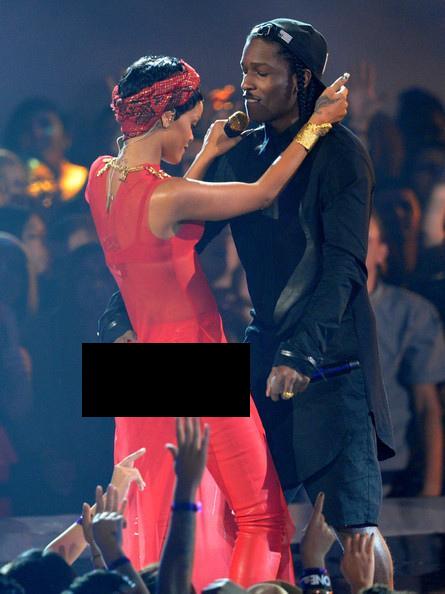 Rihanna and ASAP Rocky (Photo redacted by the Judiciary Report)
Rapper ASAP Rocky has released a rap song outing rapper Jay Z's recording artists Rihanna and Rita Ora as entertainment industry mattresses. As previously revealed on the Judiciary Report, rapper Jay Z has been pimping out Rihanna and Rita Ora twofold (Jay Z Is A Pimp (Rihanna And Rita Ora and Boxer Adrien Broner Says F**k Jay Z, Rihanna And Her P***y After The Rapper Pimps Her Out Again).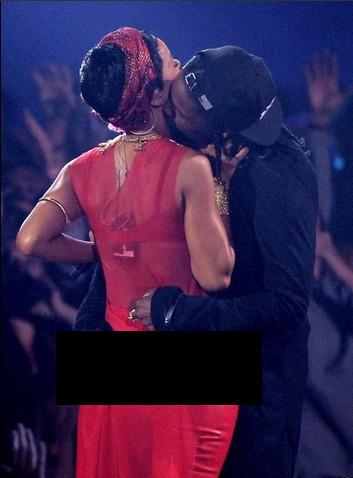 Rihanna and ASAP Rocky (Photo redacted by the Judiciary Report)
Jay Z sends Rihanna and Rita Ora them to have sex with music producers, songwriters, executives, singers and rappers in exchange for hit songs, guest appearances and promo opportunities, as well as film industry executives, for film roles and music placement on soundtracks. Jay Z has also been sending Rihanna and Rita Ora to have sex with professional athletes as apart of an inducement to sign with inept, incompetent and dishonest Roc Nation Sports. The whole thing is prostitution, which is illegal in America and Britain.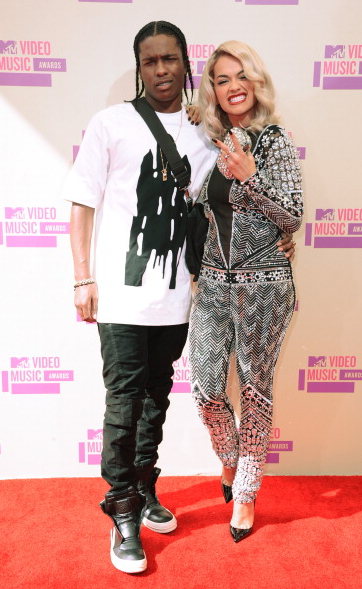 ASAP Rocky and Rita Ora
Rocky rapped that Rita Ora performed oral sex on him and then he kicked her out of the room. He also talks about sex with Rihanna and her "big forehead." It's a disgrace what the entertainment industry has turned into when prostitution and not talent is the order of the day. They should be ashamed of themselves, but Rihanna and Rita are two cocaine fiends who will go anything for fame, money and drugs, including promiscuous, unprotected sex with married people, engaged men and those who are in relationships. What terrible role models.
Excerpts from ASAP Rocky's "Better Things"
I swear that b***h Rita Ora got a big mouth
Next time I see her might curse the b***h out
Kicked the b***h out once cause she b***hed out
Spit my kids out, j**zed up all in her mouth
And made the b***h bounce
Ride with a n***a mane, and you know I stay fly like the jigga mane...
Jiggling baby, nah, go ahead b***h
Ain't nothing better than the pretty big forehead b***h
RELATED ARTICLES
Jay Z Is A Pimp (Rihanna And Rita Ora
Boxer Adrien Broner Says F**k Jay Z, Rihanna And Her P***y After The Rapper Pimps Her Out Again (Video)
Rihanna's New CD Pushed Back For The Umpteenth Time But This Time Over 'B***h Better Have My Money' Copyright Theft Scandal
Rihanna Buys House In Chris Brown's Neighborhood To Be Close To Him (Confirming This Site's Previous Claim)
Rihanna's Lawsuit Against Her Accountant Not Settled As Previously Reported In The Mainstream Press
Chris Brown Arrested In Rehab On Probation Violation (Confirmed: Likes Someone In Rehab)
Rihanna Slams Blogger's Report And In Doing So Confirms This Site's Claims
Eminem Confirms This Site's Previous Claims That He Had Sex With Rihanna
Rihanna Visits Chris Brown In Rehab Just As The Site Previously Stated