Slain FBI Agent Was Sent In Without Proper Gear
November 24. 2008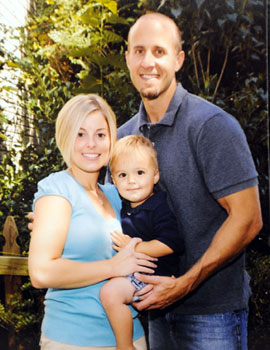 FBI Agent Samuel Hicks pictured with his wife and son
This is a follow up to the November 20. 2008 article "FBI Agent Killed By Drug Suspectís Wife" where I wrote, "Many FBI agents have served warrants on white collar and violent criminals in business suits, with little protective gear, which is not the best practice. It is usually SWAT that is dressed in full protective gear (head gear included)."
Two days later the Pittsburgh Tribune did a revealing article wondering much of the same things I did. They brought in a retired FBI supervisor, who gave an explanation as to why FBI Agent Hicks was sent into a dangerous situation with inadequate protective gear.
"'A lot of things are taken into consideration, and you have to weigh a suspect's propensity for violence'," said Kenneth McCabe of Cranberry, who spent nearly 21 years in the FBI running SWAT teams. McCabe retired in 2004 as special agent-in-charge of the Pittsburgh field office."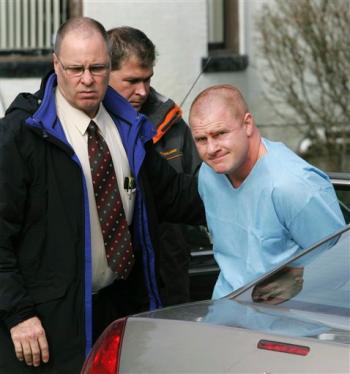 Robert Korbe
All good and fine, but the FBI grossly miscalculated in this case, as the suspect has a known propensity for violence, previously fighting with 10 officers. He clearly hates cops.
That should have set off some alarm bells when planning the raid/round-up and SWAT should have been sent in first, not a plain clothes agent wearing an inadequate vest. Clearly you, FBI hq, need to be told this, as a man is dead and over foolishness.
Furthermore, what is the logic of having plain clothes FBI agents in such dangerous situations, so some criminal's bullet can pick them off. That makes absolutely no sense. Why send them in there like that. The head, neck and chest should be protected. Save for the femoral artery, they would be better protected.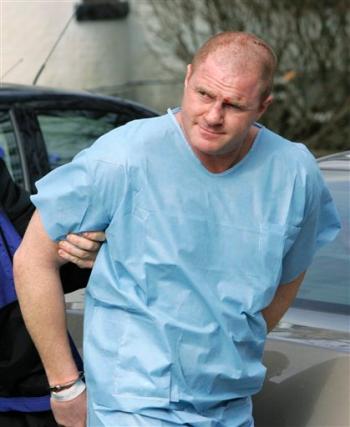 smirking

suspect

Based on the Pittsburgh Tribune article, the type of vest he was given was not the best either, as it allowed the bullet to strike near the collarbone and enter the chest cavity. According to the article there is a better type bulletproof vest SWAT uses that covers the collarbone.

It is the FBI's responsibility to make sure their employees are protected. His wife should sue the FBI, as they sent him in there ill-equipped and unprotected.

According to reports, he'd only been working there a year and a half. They took a big risk with his life as, "The agent they send in first."

Nationwide, o

ther agents they send in first need to think about that. While it can be commended as brave, is it worth your life.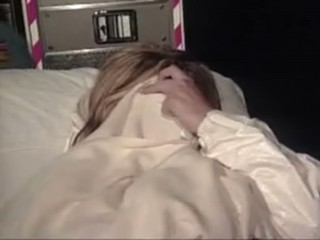 Christina Korbe shot and killed FBI agent Samuel Hicks
Regarding the suspects, the shooter should do jail time. In light of her husband's 17 year criminal history, his previous run-ins with the law where he tried to fight cops, the presence of copious amounts of cocaine on their property and the fact that when he was arrested during the round up he smirked at what his wife had done in killing an agent, says this couple is not blameless. She paints the picture of someone complicit to chronic criminal conduct.
They set the stage for this tragedy via their unwillingness to follow established law and now a child is without a father as a result. The shooter's husband should face considerable jail time as well.
As someone who has written about the Bureau's dangerous flaws on several occasions (, here and here), it still astounds me the great state of disarray FBI director Robert Mueller keeps the agency in. What do they pay you for, Mueller. Is that your idea of thinking, brainstorming and security.
Officers in fatal raid not clad in full gear

Saturday, November 22, 2008 - Police knew Robert Korbe fought with officers before, but they didn't consider him heavily armed.
So federal agents and local police officers weren't wearing full SWAT tactical gear when they broke down the door of Korbe's Indiana Township home early Wednesday to arrest him on drug trafficking charges.
"A lot of things are taken into consideration, and you have to weigh a suspect's propensity for violence," said Kenneth McCabe of Cranberry, who spent nearly 21 years in the FBI running SWAT teams. McCabe retired in 2004 as special agent-in-charge of the Pittsburgh field office.
The full SWAT gear, resembling a soldier's battle outfit, usually covers the collarbone area. That's where a bullet that police say Korbe's wife fired struck FBI Special Agent Samuel Hicks, 33, who led the team through the door.
Hicks died a short time later. Police charged Christina Korbe, 40, with homicide.
"It looks like they followed all the procedures and did everything right in this case," said McCabe, who detailed the process the FBI uses to determine how to coordinate arrests. "But it wasn't the suspect they were after who is accused of shooting Agent Hicks. It was his wife. You can't plan for every possible outcome."
Robert Korbe, 39, was one of 35 people sought on federal indictments charging them with involvement in a cocaine distribution ring suspected of bringing five to 15 kilograms of the drug into the area as often as twice a month.
His criminal record stretches back 17 years, including an arrest in May for fighting with 10 officers during a traffic stop in Sharpsburg. But he was never charged with using a weapon.
When numerous officers are part of a multi-jurisdictional roundup like Wednesday's, they divide into teams, McCabe said. Each team has a leader, and a detailed "arrest plan" is written, including what protective gear officers will wear; what weapons and other equipment they'll use; the target's arrest history; and the building's layout.
Officers are briefed on details ranging from locations of the nearest hospitals to radio frequencies and whether the suspect has children or dogs in the house, McCabe said.
"It's very detailed, and it must be signed by supervisors from every agency participating in the raid," McCabe said.
Pittsburgh police detectives and a SWAT team were involved in the raids, but police Chief Nate Harper, speaking through spokeswoman Diane Richard, declined to say how many SWAT officers were assigned to the roundups.
Drug suspect's wife charged in FBI agent's death
...Robert Korbe appeared briefly in federal court Wednesday and was represented by a public defender but told the judge he planned to hire his own attorney.
He had told reporters at his home as he was being led into a police car that "they shot their own guy."
FBI agent William Crowley, an agency spokesman, said, "Based on the information we have right now, every indication is that no shot was fired by law enforcement at the crime scene."