Sony Movie Studio Lays Off More Than Expected
March 11. 2009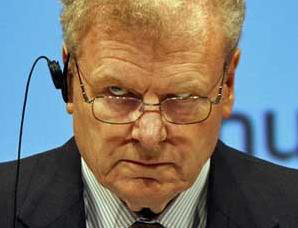 Howard Stringer looking like the devil
Sony Pictures has laid off more people than expected – 350 to be exact, when the original estimate was 250-300. It is the first in a wave of layoffs to come, as they are simply shuffling deck chairs on the Titanic.
All that copyright infringement was definitely false economy, but you illegally and unethically ripped off and dismantled my entertainment company, to criminally steal its copyrights, therefore you shall not extract any sympathy from me.
On the road you currently trod, there shall be no Sony movie studio in the future. You better wake up and realize what's facing you.
My boycott has been viewed by millions of people all over the world, according to website statistics and links and none of your competitors have been hemorrhaging money like you have with massive sales declines - people who clearly realize you are thieves that committed a series of deplorable financial and social crimes against me, reminiscent of slavery, when blacks worked for free against their will and were denied privacy. This is 2009 not 1709.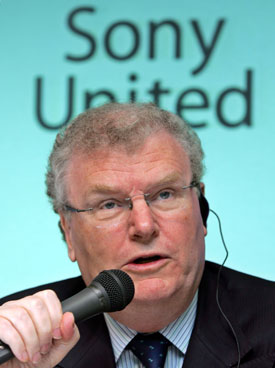 Rather than make amends in the face of the boycott which my lawyer would facilitate, you've
opted to go down swinging and fighting and stealing, when you are 100% in the wrong. That is insanity and you deserve the criminal charges coming to you.
You all need to get rid of Stringer and straighten out that board and its corrupt policies or Sony is going to go under. He's been on a massive criminal stealing spree since he got the top post in 2005.
Sony Pictures cuts 350 jobs
04:10 PM PT, Mar 10 2009 - Sony Pictures, as expected, today told employees that it is cutting about 350 jobs at the company, both through layoffs and leaving open positions unfilled. The cutbacks amount to about 5% of Sony's workforce of 7,000 employees.
Of the 350, layoffs account for 250 and closing open positions comprise the remainder. The layoffs include about 120 people who work at Sony's studio in Culver City and other offices in Los Angeles.