Swine Flu Outbreak Baffles Governments
May 2. 2009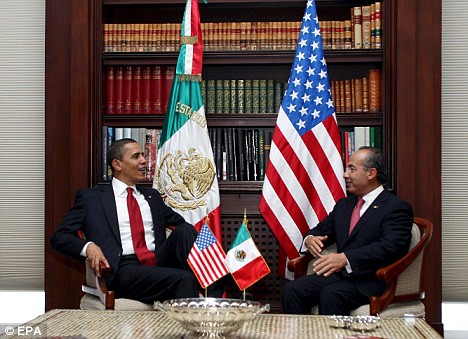 President Barack Obama (left) and Mexican president Felipe Calderon (right) in Mexico this month
Health authorities have been struggling to contain the swine flu outbreak that began in Mexico. Scientists have experienced difficulty calculating the precise behaviors of the disease and its potential cure, but released information yesterday, stating there are less deaths than previously claimed. Some diseases are smart (in the manner one uses the term "smart" as in a "smart bomb") and will mutate and morph in a bid to evade eradication. This strain of swine flu appears to be a stronger reboot of its predecessor.
NEWS REPORT:
Swine Flu Case in Spain May Point to Global Pandemic, WHO Says
April 30 (Bloomberg) -- A swine-flu patient in Spain who hadnít traveled to Mexico may signal a new front of the outbreak, potentially heralding the first influenza pandemic in 41 years.