Talk Show Host Aisha Tyler Forced To Pay Her Husband Monthly Alimony And $500,000 Lump Sum Which Totals $2,000,000
May 24. 2017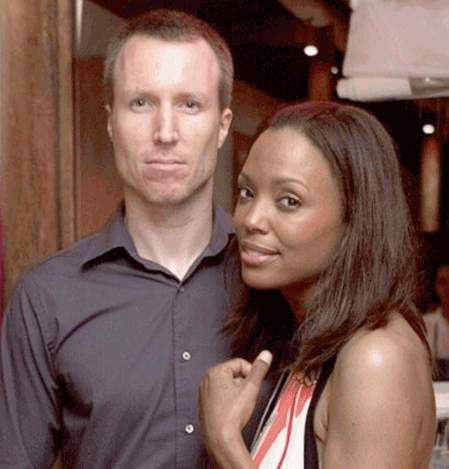 Aisha Tyler and husband Jeff Tietjens
Aisha Tyler of the annoying "The Talk" daytime show (except Cheryl Underwood), has been ordered by a judge to pay her husband, Jeff Tietjens $31,250 in alimony per month for the next four years in divorce proceedings. She has also been ordered to pay him a lump sum of $500,000. Though they are both university educated, which is where they met, Tietjens has not been working for the past 6-years. Unless he is sick and reports on the divorce do not indicate that is the case, he really should have been working.
The couple have no children to support and he has been living off her for no apparent reason. He also did not contribute to her career, where she earned the money he is seeking a share of in court. In light of these facts, that monthly alimony payment and half a million dollar lump sum is a mess and undeserved.
It's not like the case of actress, Megan Fox, who had filed for divorce from her husband, who requested alimony, as he is sick. Additionally, when Megan was broke, couldn't even afford a razor to shave her legs (she said it) and had her big nose before plastic surgery (yea I said it), Brian took care of her, paid for her expenses and helped Megan with her career. He also moved her into his mansion.
Later, Megan became rich from doing movies such as the "Transformers" film series. He met in an accident, developed vertigo, had trouble working and requested spousal support in court. They have since called off the divorce and are raising their 3 children (oh and Megan, stop dressing your little boys like girls, lest you give them mental issues in conduct top psychologists do not recommend).
Tyler should have obtained a prenup, but they were both young and not wealthy when they wed and saw no need for one. However, I've repeatedly written on this site, regardless of one's financial situation, a prenup is important. It can save a significant amount of stress and distress in the regrettable event the marriage is dissolved in court. Prenups are also difficult to challenge.
STORY SOURCE
Talk Show Host AISHA TYLER Got Taken To The CLEANERS . . . Has To Pay Her UNEMPLOYED EX-HUSBAND $31K A Month . . . In 'HUSBAND SUPPORT'!!!
May 19, 2017: The TALK host Aistah Tyler's husband Jeff Tietjens just got a NICE COME UP. A judge has ordered Aisha to pay him monthly "husband support" payments, to compensate him for what he's done in the marriage. The couple has no children, and to the best of our knowledge, Jeff has been unemployed for years. Here's how TMZ is reporting it:
"The Talk" host and "Archer" actress has been ordered to pay her ex-husband $31,250 per month in spousal support over the next 4 years, plus an additional $500k. Do the math … that's $2 mil for Jeff. The 2 will split everything else. Tietjens gets half the money they made from selling their house. He gets the 2012 Lexus and she gets the 2013 Tesla. Aisha also keeps her companies — BTDO Media and Hot Machine.