The Global Bush Effect
Not Content With Messing Up One Country Bush Extends His Reach To Other Nations
September 4. 2008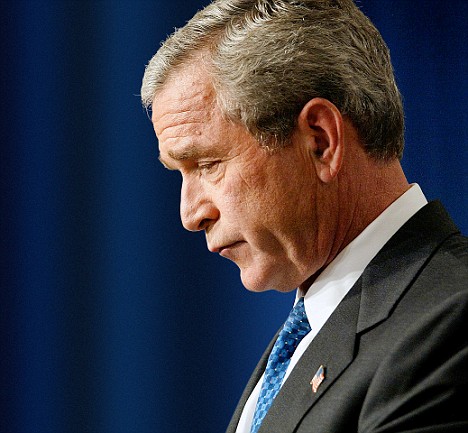 George Bush

George W. Bush governed America with such criminal negligence, he let his cronies run amok in the banking industry and other sectors of corporate America (Enron), decimating the U.S. economy. This cronyism and negligence has not only harmed America, but other nations as well.

Iraq

Iraq has basically been bombed into the proverbial Stone Age. Their country's infrastructure was destroyed.

Their economy has been severely weakened and m

illions of their citizens have fled to neighboring nations to escape the war and financial woes that have accompanied it.

Reconstruction in Iraq is under way, but billions in American tax dollars have been squandered and misappropriated by U.S. and Iraqi companies charged with the task of rebuilding the nation.

Germany

Germany is feeling the pinch of having underwritten a number of U.S. bank loans that are now as worthless as a Bush speech full of promises.

Britain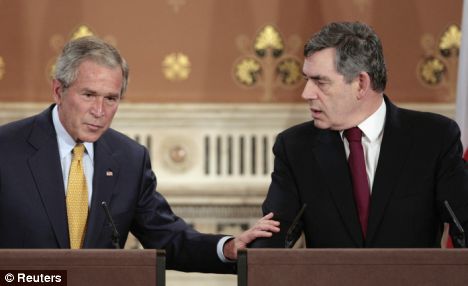 George Bush (left) British PM Gordon Brown (right)

Britain is now facing serious financial trouble, because of Bush Administration related entanglements and detours. The

financial information released over the last few days is showing the profoundly negative impact Bush's conduct is having on Britain.

Five months ago on April 2, 2008,

in the Judiciary Report article titled Bush And Britain,

I voiced my concern about something of this nature transpiring, due to a newly announced, terrible idea of a financial alliance between George Bush and British PM Gordon Brown, to

help alleviate the economic

crisis in America

.

I did not get the logic behind what they were proposing, nor did I

view it as the answer to the crisis, warning that it would, "

A few days ago, on August 28, 2008, chancellor

Alistair Darling, via an article in the UK's Guardian newspaper announced, "

Britain is facing 'arguably the worst'" economic downturn in 60 years which will be 'more profound and long-lasting' than people had expected."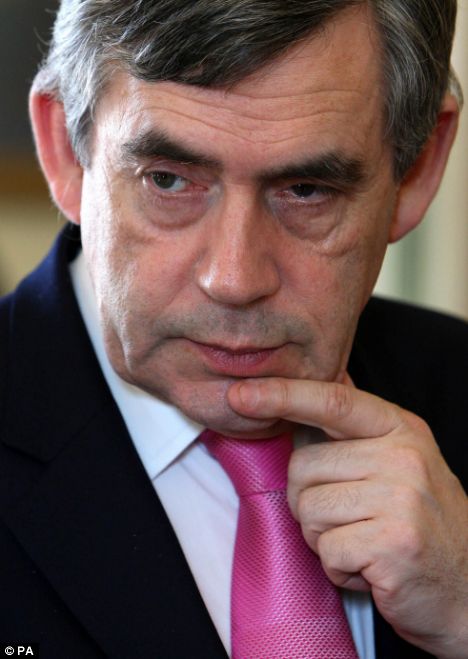 Mr. Brown should have seen this coming. Britain already had financial obligations to its citizens and other preexisting fiscal commitments concerning the nation that had to be met. Taking on America's financial crisis, brought on by George Bush, was a serious liability.
America's financial crisis should have been dealt with via containment by way of reduced spending, less outsourcing, home loan restructuring, lower credit card interest rates, tax cuts for lower income citizens and most importantly, end that money draining Iraq war as soon as possible, not extend it for 3 1/2 more years, as was announced recently.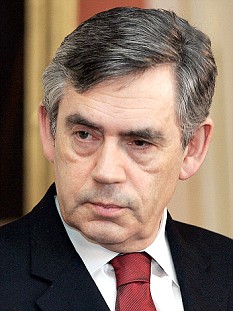 Instead, the problem is spreading to other nations, whose citizens are being financially harmed by a problem George Bush is no closer to solving than a Rubik's cube. It is the proverbial equivalent of throwing money in an incinerator, as most of America's cash is going to the ever extending Iraq war.
It's a financial cancer, that due to international cross collateralization and open-end monetary instruments, is metastasizing, when the problem should have been detected early, and there were symptoms, isolated, contained, then the appropriate treatment applied.
In short, the Queen is going to kick your butt.
Previously I wrote on
It was announced a few days ago that President Bush will be meeting with British Prime Minister Gordon Brown, for help in dealing with the terrible financial crisis that has hit America.
Brown should be careful in following Bush on such matters. It's one thing to work with Congress, which would be the better solution, as it's quite another to work with Bush, who has shown himself to be very dishonest in very important matters, such as the costly war in Iraq and public declarations he made about Iran, which a later released government report refuted.
It is my hope that he will not utilize the same blind allegiance Tony Blair did that got Britain involved in the war, which has turned out to be disastrous.
Mr. Brown needs to act in the best interest of the British people, not a corrupt president thatís on his way out and into the history books as the worst ever. One should be careful following Bush's lead,
as that could mean a second economy down the drain.
Mr. Brown would be better off speaking with Congress.
Now, five months later, the signs are starting to show that Britain is headed for serious financial trouble. British businesses are going under at a greater rate and the government this week forecasted that 2 million Brits could be out of work by year's end.
Britain needs to stop the international cross collateralizing, open-ended lending and get out of the Iraq war. Britain has 60 million people who don't need this.
Economy at 60-year low, says Darling
And it will get worse Chancellor says Labour failing to communicate with voters
Saturday August 30 2008 - Britain is facing "arguably the worst" economic downturn in 60 years which will be "more profound and long-lasting" than people had expected, Alistair Darling, the chancellor, tells the Guardian today.
In the government's gravest assessment of the economy, which follows a warning from a Bank of England policymaker that 2 million people could be out of work by Christmas, Darling admits he had no idea how serious the credit crunch would become.
His blunt remarks lay bare the unease in the highest ranks of the cabinet that the downturn is making it all but impossible for Gordon Brown to recover momentum after a series of setbacks.
His language is much starker than the tone adopted by the prime minister, who aims to revive his premiership this autumn by explaining how he will help struggling families through the downturn.
The chancellor, who says that Labour faces its toughest challenge in a generation, admits that Brown and the cabinet are partly to blame for Labour's woes because they have "patently" failed to explain the party's central mission to the country, leaving voters "pissed off".
In a candid interview in today's Guardian Weekend magazine, Darling warns that the economic times faced by Britain and the rest of the world "are arguably the worst they've been in 60 years". To deepen the sense of gloom, he adds: "And I think it's going to be more profound and long-lasting than people thought."