The Masturbating Judge
Freaky Judge Gets 4 Years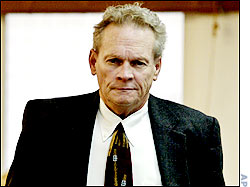 Judge Donald "Penis Pump" Thompson
Judge Donald "Penis Pump" Thompson got 4 years in prison for his freaky conduct in masturbating while presiding over cases that he clearly was not paying attention to and to think, this man was presiding over serious cases in U.S. Federal Court. They found semen under his desk on the carpet.
"Judge Gets 4 Years for Exposing Himself"
A former judge convicted of exposing himself while presiding over jury trials and accused of using a sexual device under his robe was sentenced Friday to four years in prison. Donald Thompson had spent almost 23 years on the bench and had served as a state legislator before retiring from the court in 2004. Thompson, a married father of three grown children, testified that the penis pump was given to him as a joke by a longtime hunting and fishing buddy...
Police built a case against the judge after a police officer testifying in a 2003 murder trial saw a piece of plastic tubing disappear under Thompson's robe. During a lunch break, officers took photographs of the pump under the desk. Investigators later checked the carpet, Thompson's robes and the chair behind the bench and found semen, according to court records.. (Forbes, August, 8, 2006).